Whether you have a New Year's resolution or you already love being active, these free — and affordable — activities in Coquitlam can add some fun to your fitness routine.
Get Fit for Free in Coquitlam This January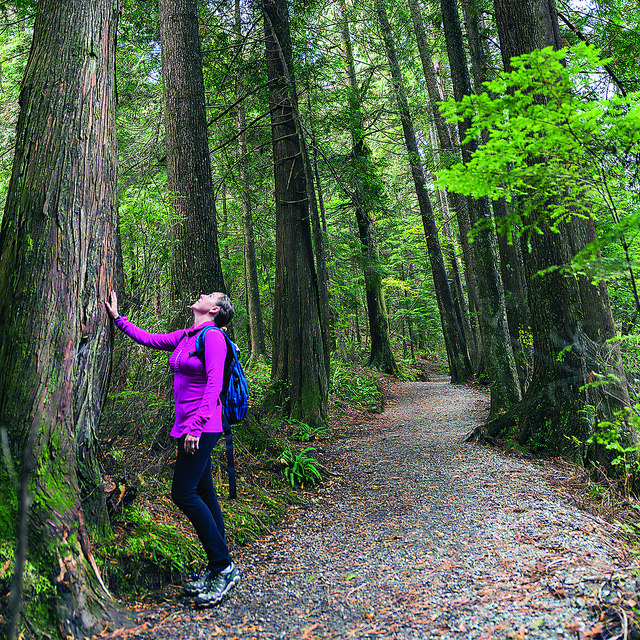 Go for a Hike
Zip in to Coquitlam by SkyTrain and within minutes you can be trekking through old-growth forest with incredible scenery.
If you're looking for a challenging experience with steep terrain in a dense forest setting, with great views, try the Ridge Park Trails on Westwood Plateau. The trails, totalling approximately 23 km, can be accessed from a number of locations including Parkway Blvd. and Hampton Park. To get here, hop on a bus from Coquitlam Central SkyTrain Station. Click here for the PDF schedule »
Another top hiking location is the 200-hectare Minnekhada Regional Park. Beginners can stick to a flat path meandering through the wetland into the forest, while the more adventurous can tackle the uphill climb to the High Knoll lookout (allow yourself at least 2 ½ hours round-trip). If you want to take transit, car share options (Modo and Zipcar) are available at Lafarge Lake-Douglas SkyTrain station.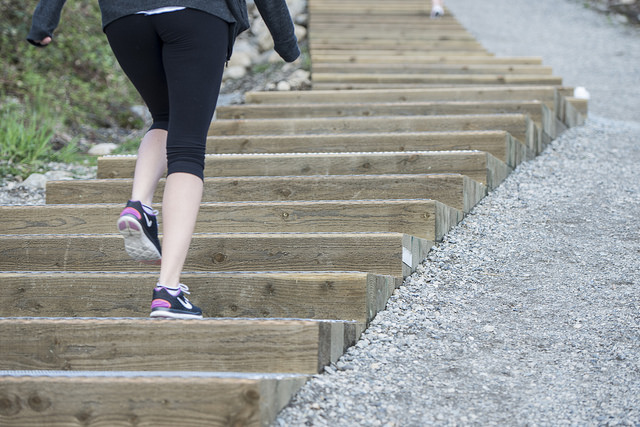 Do the Crunch
The Grouse Grind may be closed for the season, but if you want to keep your calves in killer shape, why not tackle the Coquitlam Crunch? This uphill hike features more than 400 stairs followed by an uphill trail, gaining 250 metres in 2.2 kilometres. Carry on past the stairs to climb the urban trail that follows the power lines up a hill to Westwood Plateau, with a circuit to the top and back taking 1-1.5 hours to complete.
Best of all, it's open year-round and it's free, with no gondola ride needed for the descent. The Crunch is accessible by transit (by bus from Coquitlam Central SkyTrain station), also with free parking in the lot off Lansdowne Dr.
Light Up Your Walk
While the thought of going for a power walk after work – in the dark – may not sound appealing at first, what if we mention that your trail will be lit up with hundreds of thousands of lights? Coquitlam's Lights at Lafarge Winter Lights Display remains on until Sunday, January 21st.
The loop around the lake is 1.2 km can get busy in the early evening but you can also pop out onto the paved 2.7-km Perimeter Trail around Town Centre Park if you'd like to tack on some extra clicks. Or channel your inner Andre de Grasse and Melissa Bishop and do some sprints at the well-lit rubberized track at Percy Perry Stadium, also at Town Centre Park, 1299 Pinetree Way.
It's all located near Lafarge Lake-Douglas SkyTrain station, also with free parking off Trevor Wingrove Way.
Gym with a View
Save yourself the cost of a gym membership and get those muscles moving with a quick burn on Town Centre Park's outdoor fitness equipment. Located near the children's playground off Trevor Wingrove Way, you'll find a chest press machine, rowing machines, elliptical cross trainers and more. They're a short walk from Lafarge Lake-Douglas SkyTrain station.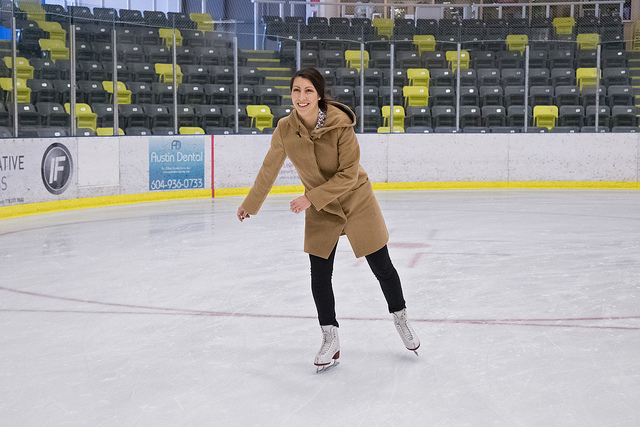 Skate & Swim on a Budget
Okay, these may not be free, but they're definitely affordable. Practice your Scott Moir or Tessa Virtue figure skating moves during a toonie skate session at the NHL-sized rink at Poirier Sport & Leisure Centre, 633 Poirier St. This impressive facility also has a lap pool, indoor fitness track and drop-in fitness classes.
If you feel like hitting the treadmill, you can drop in at any of the rec centres, including City Centre Aquatic Complex – located at Lafarge Lake-Douglas SkyTrain station – and pay a drop-in fee to use the 3,000-square-foot fitness centre. This facility also has an eight-lane Olympic-sized lap pool, a wave pool, and relaxation area with a whirlpool, steam room and dry sauna.
While you're here…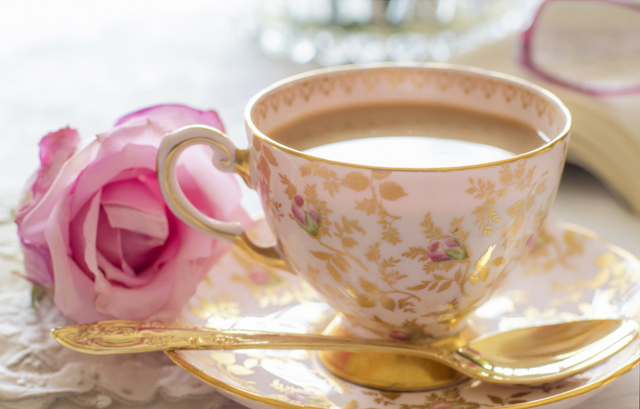 Treat Yourself with High Tea
Now shower off and put on your finery for a civilized cup of tea served with tasty sweets. High Tea is served in the traditional British manner, alongside scones topped with Devonshire cream and jam, at Cakes N Sweets in Coquitlam. Note: Reservations are required.
More of a coffee drinker? Be sure to check out Creekside Coffee Factory next door, where they roast their own organic beans. Coffee at its freshest. Both of these must-visit spots are located about a 10-minute walk from Coquitlam Central SkyTrain Station, also a short walk from Coquitlam Centre shopping mall.
Read about all of these events and more online, and share your fun summer photos using #explorecoquitlam.