Once again this year you can send a CandyGram to a special someone while supporting a great local cause. A Loving Spoonful CandyGrams are now available to order for Valentine's Day, with proceeds going directly to assisting those living with HIV/AIDS in Vancouver.
Send a CandyGram with A Loving Spoonful
All CandyGrams include: A special edition card with a unique message, two Purdy's Chocolates, postage, and exciting gifts.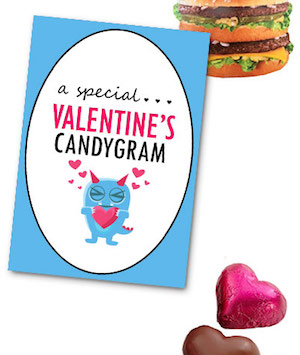 Order online now, they'll mail it for you anywhere in Canada:
For Eastern Canada order by February 5, 2018
For Western Canada order by February 6, 2018
For Metro Vancouver order by February 8, 2018
A Loving Spoonful is a volunteer-driven, non-partisan society that provides free, nutritious meals to people living with HIV/AIDS in Greater Vancouver. Each year, A Loving Spoonful's volunteers deliver over 100,000 meals to those in need, and with very little government funding, they rely on the generosity of the community.
Follow A Loving Spoonful on Facebook and Twitter (tag: #candygram) for more information.