BC's largest outdoor carolling competition, Yule Duel, takes to the streets of Gastown on Thursday, December 7, 2017 to fill the neighbourhood with holiday cheer, for a great cause! Wander from show to show, and for a $5 donation to May's Place Hospice, you can purchase a button and vote for the choir you enjoy the most.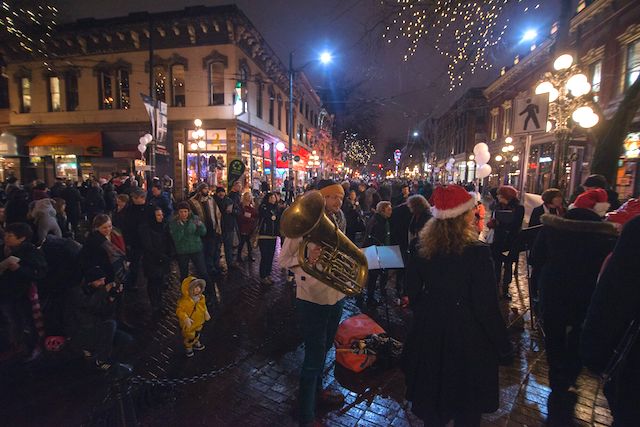 Where: Water Street in Gastown
When: Thursday, December 7, 2017 6:00pm to 9:00pm
Yule Duel Participating Choirs
Choir
Higher Ground Women's Ensemble
Vancouver Pops
Real Treble Makers
Collage
Langara Student Choir
Collingwood Warblers
Vancouver Gaelic Choir
Songcology
50% In French, SVP
Los Parranderos de Vancouver
Notre Dame Platinum Girls
Lakehouse Community Choir
Notre Dame Iron Men
Zing! Children's Choir
UBC Med Choir
Choralations
Quayside
Mulgrave Chamber Choir
LCC Ambassadors
Sweet Scarlet
KPMG Caroling Crew
Location
150 Water St (East of EasyPark)
141 Water St – Kit & Ace
139 Water St – Imperial Furs
Vancouver Film School (In front of windows)
131 Water St – The Courtyard
Vancouver Film School (left of Choir 4)
131 Water St – Smart Mouth Cafe
110 Water St – Volunteer HQ
111 Water St – Aveda Institute
Abbott & Water St intersection
97 Water St – Inform Interiors
66 Water St – Rain Ultra Club
65 Water St – Fluevog Shoes
50 Water St – Inform Interiors
38 Water St – M0851
47 Water St – Filson
18 Water St – COS
21 Water St – The Packing House
12 Water St – Coee Bar
2 Water St – Peckinpah
203 Carrall St – 6 Acres (next to Gassy Jack)
Form 6:00pm to 7:15pm the street carolling battle takes place. The Carnival Band will lead everyone to the main stage afterward for the finale and duel. The most creative, best vocal performance, people's choice, and top fundraisers will be awarded.
Follow Yule Duel on Facebook, Instagram and Twitter.
Miss604 is a proud sponsor of Yuel Duel for the second year.