BC's largest outdoor carolling competition, Yule Duel, returns to the streets of Gastown for a third consecutive year. Hundreds of voices from more than 20 of Vancouver's best choirs will again echo down the cobblestone streets in support of May's Place Hospice.
Yule Duel Choir Battle in Gastown
Where: Water Street in Gastown
When: Thursday, December 7, 2017 6:00pm to 9:00pm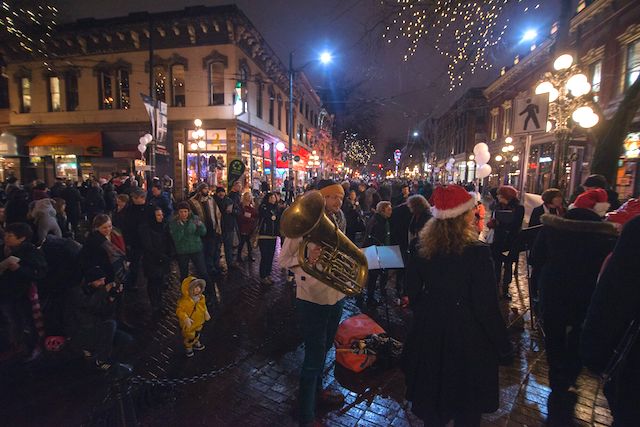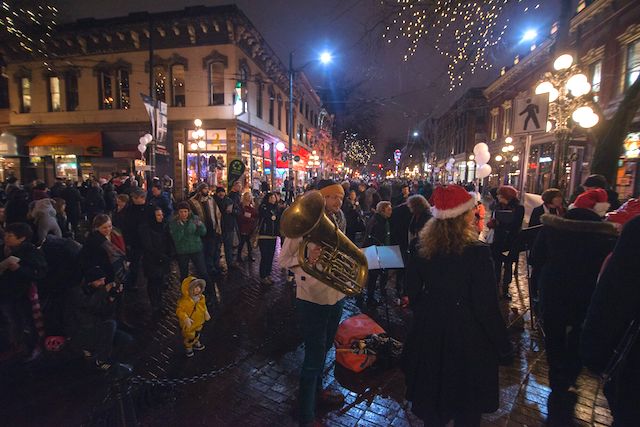 Yule Duel, which has attracted thousands each year to hear a choral "battle royale", will be hosted this year by Christopher Gaze, Artistic Director of the Bard on the Beach Shakespeare Festival.
Visitors wandering down Water Street will see choirs with singers of all ages stationed along the way. They'll be performing holiday season favorites sung in a range of languages and choral styles including rock, pop, gospel, and barbershop, as each choir tries to stave off elimination in the competition.
For a donation of $5.00, spectators can buy voting ballots to help their favorite choirs get into the finals for the dueling sing-offs. Funds raised will go to May's Place, a hospice providing compassionate end-of-life care to the most vulnerable in Vancouver's downtown eastside.
Gastown merchants will also be open during the event which runs from 6:00pm to 9:00pm. The Tacofino Food Truck will also be in operation for those looking for a hot bite to eat during the event.
"Last year Yule Duel raised $58,000 for May's Place. The funds raised are vital to helping us provide the best hospice care to some of Vancouver's most vulnerable citizens," said Michele Sutherland, Manager of Hospice Services at May's Place, "It's wonderful to be part of an event that helps capture the kind-hearted spirit of May's Place."
Coming back to defend their titles are past Yule Dule champions Saint James Music Academy, Sweet Scarlet, and the Notre Dame Platinum Girls. "The competition is surprisingly fierce as there are so many talented vocal groups in Vancouver. The choirs have to step up their acts and get more creative every year. The entertainment is outstanding. It's a must-see," said two-time judge Mona Edmunson.
Additional highlights include a haunting vocal arrangement called "ice" created by local composer Bruce Sled and performed by The Real Treblemakers that uses sung syllables and spoken sound effects to capture the distinctive sounds of winter weather, and live performances by the Jen Hodge All Stars and Marcus Mosley and his Gospel Choir.
Follow Yule Duel on Facebook, Instagram and Twitter.
Miss604 is a proud sponsor of Yuel Duel for the second year.