During select hours on Tuesday, November 28, 2017 (Giving Tuesday) admission to Science World will be by donation in support of Super Science Club.
Giving Tuesday is an International Day of Giving where charities, companies and individuals join together to share commitments, rally for their favourite cause and think about others. In the same way that retailers take part in Black Friday, the giving community comes together for Giving Tuesday.
Visit Science World by Donation on Giving Tuesday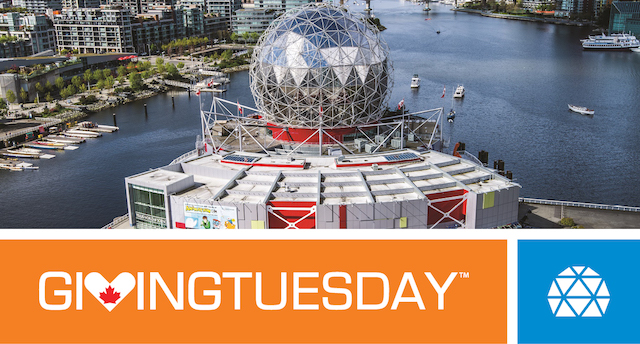 In celebration of Giving Tuesday, Science World is extending its hours from 5:00pm to 8:00pm on November 28th with admission during this time by donation.
All proceeds will support Science World's Super Science Club — an after-school program for kids attending underserved elementary schools, in the Lower Mainland and the Fraser Valley. This program inspires at-risk children to be inquisitive about the world around them and to develop a long-term interest in science and technology.
All donations are tax-deductible and will be matched by Science World's Board of Directors. For those who cannot make it to Science World on Tuesday, online donations are accepted online.
Follow Science World on Facebook and Twitter for more information about their #GivingTuesday participation.