Just in time for the holiday rush, a new history book has been released about my hometown, the City of Surrey! Add it to your wish list, shopping list, and even the list you send to the Santa in your life. It's a history book but not the kind I would have found in my history class at West Whalley Junior High.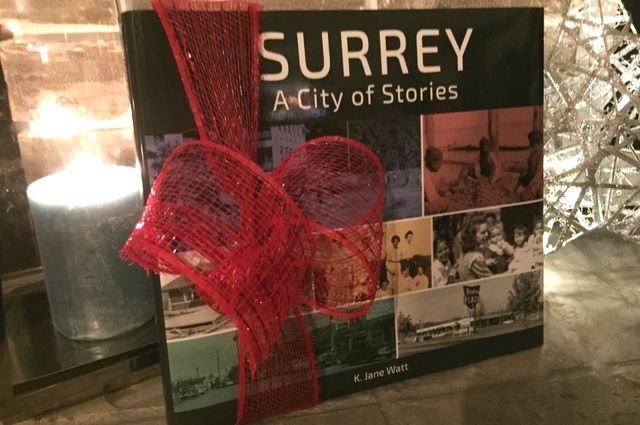 Surrey: A City of Stories
They're calling it a coffee table book and that is the perfect description. Written by award-winning author K. Jane Watt, Surrey: A City of Stories was designed so you could flip to any page, take in an amazing old picture, read a quick story and be transported to a different time.
Boomers and their parents will remember the scenes and sites featured in the book, while Gen-X and Millennials will be amazed by the change. It's a colourful "then and now" look at the City beaming with nostalgia.
I highly recommend it for that memorable present the whole family will be looking at post-Christmas dinner. You can pick yours up for $25 at virtually any City of Surrey facility or have it shipped for an extra $10 when you purchase online or over the phone.
Every Surrey resident, past or present, should have a copy. You really need to see the book to appreciate it. Here are a few highlights…
Four Convenient Ways to Purchase the Book
Order online and have it shipped to your home (plus $10 shipping within BC)
Call 604-501-5100 Monday to Friday and have it shipped to your home (plus $10 shipping within BC)
In person at Black Bond Books in Semiahmoo Shopping Centre or Central City
In person at any of the City of Surrey facilities below:
Historic Stewart Farm – 13723 Crescent Rd
Surrey Archives – 17671 56 Ave
Surrey Arts Centre – 13750 88 Ave
Surrey City Hall – 13450 104 Ave
Don Christian Recreation Centre – 6220 – 184 St
Cloverdale Rec Centre – 6188 – 176th St
Cloverdale Arena – 6090 – 176 St
Fleetwood Community Centre – 15996 – 84 Ave
Chuck Bailey Recreation Centre- 13458 107A Ave
Bridgeview Community Centre – 11475 – 126A St
Guildford Recreation Centre – 15105 – 105 Ave
Fraser Heights – 10588 – 160 St
Newton Recreation Centre – 13730 – 72 Ave
Newton Seniors Centre – 13775 – 70 Ave
Newton Arena – 7120 – 136B St
Grandview Heights Aquatic – 16855 – 24 Ave
South Surrey Rec and Arts Centre – 14601 – 20 Ave
Kensington Prairie Rec Centre – 16824 – 32 Ave
South Surrey Arena – 2199 – 148 St
South Surrey Indoor Pool – 14655 – 17 Ave
Purchase online today or pick one up in person at one of these locations. Follow Heritage Surrey BC on Facebook for more information.