The Forum for Women Entrepreneurs ("FWE") is hosting Pitch for the Purse™ to address a key concern facing women entrepreneurs: access to capital. The program is divided into four sections designed to educate and mentor every step of the way: Pitch Training, Semi-Finals, Mentorship + the Pitch Finale.
You might need $1M to grow your business, or $150,000. What matters is that you want to grow your business, and need help to craft your pitch. That's where FWE comes in.
FWE's Pitch for the Purse™
Next Event: Pitch for the Purse™ Semi-Final.
Where: The Vancouver Club (915 W Hastings St, Vancouver)
When: Thursday, November 30, 2017 from 8:00am to 11:30am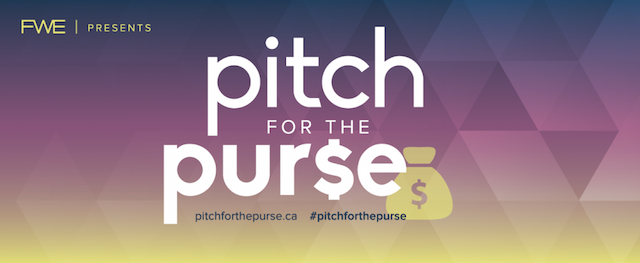 At this breakfast event, emceed by Christina Brown, 10 Semi-Finalists will pitch to 3 Judge-Mentors and a live audience for a chance to reach the Pitch for the Purse™ Finale. Esteemed Judges, Tracey McVicar, John Montalbano and Ali Pejman will select the 3 Finalists, and each will choose a Finalist to mentor for the coming months.
Pitch for the Purse™ Semi-Finalists
AVA Technologies Inc. – Valerie SONG
Dr Mom's Natural Health Inc.- Dr. Rida WANG
Fidget Toys Ltd. – Renishaki KAMAL
Flytographer – Nicole SMITH
Holy Napoli Pizza Inc. – Francesca GALASSO
PROtect – Merideth SCHUTTER
Quupe – Angela HAMILTON
The Soular Backpack- Salima VISRAM
Squiggle Park – Julia DEXTER
VITALI Wear Inc. – Cindy GU
One of the three finalists will be awarded $25,000 at the Finale, The Odlum Brown FWE Gala: Pitch for the Purse, on February 15, 2018. Follow FWE on Facebook and Twitter for more information.