This post has been contributed by Ben Hill, Communications Volunteer with the Stanley Park Ecology Society ("SPES").
For many of us swallows are synonymous with summer. They arrive as the days get longer and disappear for the warmer weather of South America as summer turns to fall. One of the most memorable parts of a summer visit to Lost Lagoon is watching the lightning fast, acrobatic flight of the swallows as they swoop low over the water to catch insects.
Although the swallows that nest in Stanley Park have left on their fall migration, Stanley Park Ecology Society ("SPES") is still hard at work to make sure they have the best possible conditions for nesting in the Park next year.
SPES constructs and maintains nest boxes along the edges of Lost Lagoon that are used by tree swallows and violet green swallows. Additionally, we install larger boxes on poles around Beaver Lake for the cavity nesting wood ducks. With the number of old trees suitable for these cavity-nesting birds in short supply in the Park, our nest boxes provide critical nesting support for this duck species.
Over the winter our volunteers clean and repair the boxes and also continue their work in improving the habitat for all our nesting birds. This involves removing invasive plants, planting native species and enhancing habitat. One recent project involved rehabilitating the habitat of islands in Lost Lagoon to provide safe resting and nesting spots for all birds that frequent the lake.
You can help our work to make a home for these special birds by donating on Giving Tuesday on November 28th. Giving Tuesday is a day where charities, companies and individuals join together to share commitments, rally for favourite causes and think about others – a community alternative to the sales of Black Monday.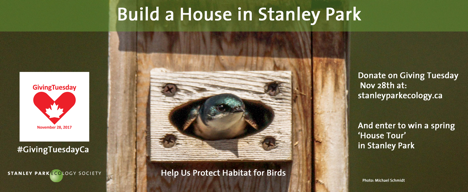 A gift of $30 builds and installs a nestbox in the Park
A gift of $75 builds a nest box and supports our work monitoring swallow populations
A gift of $200 funds a nest box building workshop for the public, to help spread this valuable work across the Lower Mainland.

One of the province's other swallow species, the barn swallow, provides an indication of how vulnerable our nesting birds can be. Unlike the tree swallows, it doesn't use nest boxes but rather makes a nest of mud and straw on rafters and edges under roofs of buildings and barns. The horse barn in Stanley Park hosts an important colony that this year had 54 nests and raised 77 fledglings.

However, changes to building methods in the last half-century have reduced available nesting areas for these beautiful birds and an increase in pesticides on agricultural land has impacted their insect food supply, so the province now officially classifies them as threatened. In fact, all swallow species have shown a dramatic decline since 1970 and that decline is speeding up.

You can help us ensure that swallows remain a part of summer in Stanley Park in the future by supporting us on November 28th. Please donate online here.

Chirp!

As a member of the Stanley Park Ecology Society ("SPES"), I wanted to offer the organization an opportunity to share their news, events, and work so I created the "SPES Series" years ago. This is where SPES can contribute and share stories with my audience once a month. Follow SPES on Facebook for more information.