Celebrating 20 years, the Bright Night Christmas Train in Stanley Park is a highlight of the holiday season in my eyes. Not only does everyone get to share in the the magic of Stanley Park, but under millions of sparkling lights this event raises funds for such a worthy cause.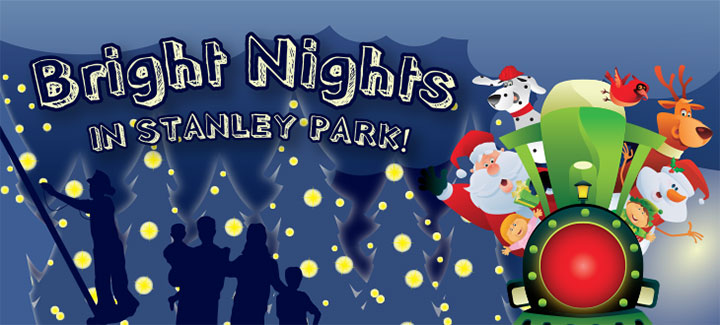 Bright Nights Christmas Train in Stanley Park
Dates
Matinee train
Night train
November 30 – December 14
Friday to Sunday
10:00am – 2:30pm

Monday to Sunday
3:00pm – 10:00pm

December 15 – 24
Daily
10:00am – 2:30pm
Daily
3:00pm – 11:00pm
December 25
Closed
Closed
December 26
10:00am – 2:30pm
3:00pm – 11:00pm
December 27 – January 1
Daily
10:00am – 2:30pm
Daily
3:00pm – 10:00pm
January 2 – 6
(train only, no live actors)
Closed
Daily
4:00pm – 9:00pm
Admission
Admission to the train plaza is by donation ($4 suggested). Enjoy three million twinkling lights, displays, live performers, and get photos with Santa. Purchase snacks, hot and cold drinks, and light meals at the Railway Café concession stand. Or buy hot buttered popcorn at the Stanley Park Ecology Society's Cob House in the plaza.
The matinee train ride is a great daytime activity for families, school groups, and groups with children. Journey through the forest with holiday music past magical displays. Note: There are no live performers during matinee train rides.
Train Tickets
You must buy a ticket to ride the train. Tickets are sold in half-hour time slots. Several trains will depart within each time slot. Your ticket is valid for one Bright Nights ride during the time slot shown on the ticket. Buy online or phone 604-252-3700 with TicketLeader online. Ticket sales start at 10:00am (12:00pm when there no matinee trains).
Bright Nights has on-site and overflow parking lots. All parking is free. Overflow lots include the Info Booth, Yacht Club, Totem Poles, Brockton Point, North Pipeline Road, and Beaver Lake lots.
Bright Nights Charity Partners
Proceeds support the Greater Vancouver Food Bank Society and the BC Professional Fire Fighters' Burn Fund. Bring non-perishable food items for the food bank and a suggested $4 donation for the Burn Fund (upon admission).
Tips
Avoid the crowds and come out Monday to Thursday in the first two weeks.
Purchase your ticket online in advance, it's going to be busy!

Follow Bright Nights in Stanley Park on Facebook and Twitter for more information.