The following has been contributed by Steffani Cameron, who is in the middle of a 5-year worldwide adventure that she is chronicling at FullNomad.com.
Where to Eat and Drink in Kelowna
As a freelance writer, I got the best magazine assignment ever this past summer: Eating and drinking my way through the Okanagan, with a focus on wine and cheese. Thank God for pants with elastics.
Along the way, I got to sample some restaurants outside of my cheesy-mission, too, thanks to hanging with my aunt and uncle in Kelowna for a couple weeks. It being "the Summer of Smoke" hampered my explorations some, but I still made it out to a few great places before I hit the Bottleneck Drive to the South Okanagan.
Here are a few foodie experiences I noshed on in Kelowna.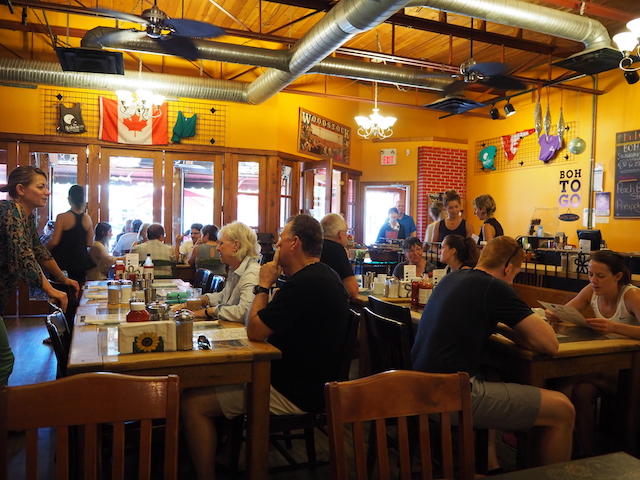 Breakfast: The Bohemian Cafe
Those of us who tap into the vibe of a place can read the staff and know, before we sit down, if the food's any good. That's vibe is electric at Kelowna's beloved "Boh," the kinda place where they make their own bread, jam, and even their own Canadian/back bacon. I excel in brunch snobbery and consider an Eggs Benny the big test for any brunch hotspot, because Hollandaise ain't rocket science, but you'd think it was. The "Boh Benny" had everything a good Benny should: real Hollandaise with a good butter/citrus balance, great (housemade!) bacon, fresh English muffin, tasty shredded hash browns. Nothing pretentious here, just good food made honestly.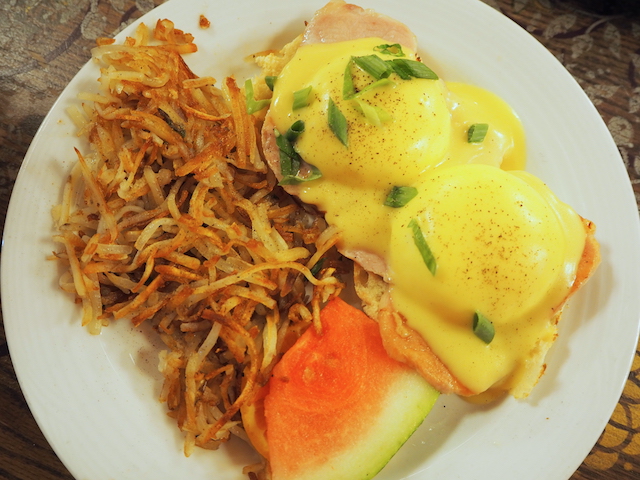 While I didn't get to stack it up against the competition, right across the street sits The Grateful Fed, which locals also love. In K-Town, they tell me you're either a Fed-head or a Boh fan, so they're both solid choices.
Snackies and Drinks: Micro Bar Bites
When it comes to eating the Okanagan, one of the chefs who's put the place on the map is Rod Butters. In fact, he wrote the book on it – The Okanagan Table Cookbook! "RauDZ Regional Table," named for Rod and the eatery's co-owner, wine pro Audrey Surrao, is considered one of Kelowna's most forward-thinking farm-to-plate experiences.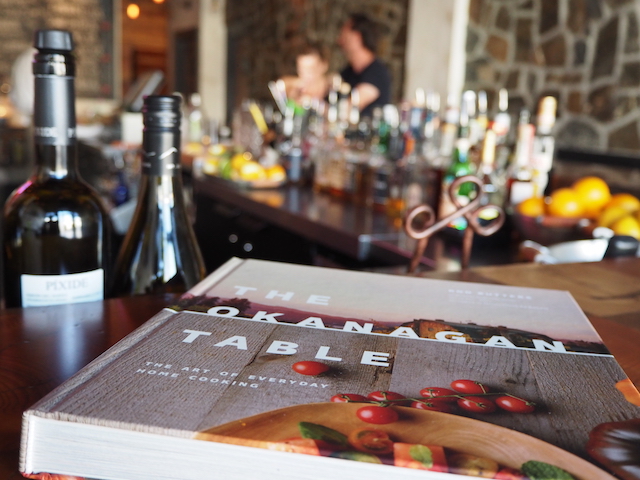 Micro, three doors over, is their "small bites" concept. Think duck-fat popcorn, bone marrow, cheese selections, gnocchi, and whatever else is jibing with what's in season, which means some of the offerings change regularly.
The wine list is small but kick-ass, thanks to Audrey's smart pairing choices. I enjoyed the Moon Curser Dolcetto (a cherry-licious unoaked Italian-style red) with the bone marrow, sherry luge, and crostini. Decadent and amazing. I've paid twice as much for bone marrow in Vancouver that was half as good. This was roasted better, had pronounced seasoning, and the sherry luge poured into the cleaned-out bone for a salty, fatty final taste as a "luge" was a revelation. Total? Just $17 including the sherry and crostini.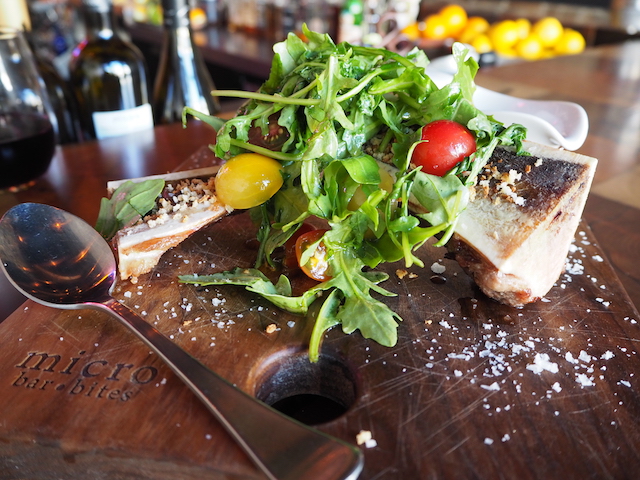 Where to Beer: SmackDab
Manteo Resorts boasts what's arguably the best deck in Kelowna with their SmackDab eatery. Looking for a sunny afternoon beer location? Hey, you found it. The food? No minds will be blown, but it's solid. I ordered a steak sandwich that turned out to not be an open-faced thing, and sometimes you just wanna eat with your hands, am I right? When my fries, however, seemed under-done, my server apologized and returned with awesomely crispy, sea-salty fries. My dining companion was a regular, and had one of the salads she always loves. It looked fantastic. I don't mind if something's "off" when the staff sort it out, so I left happy.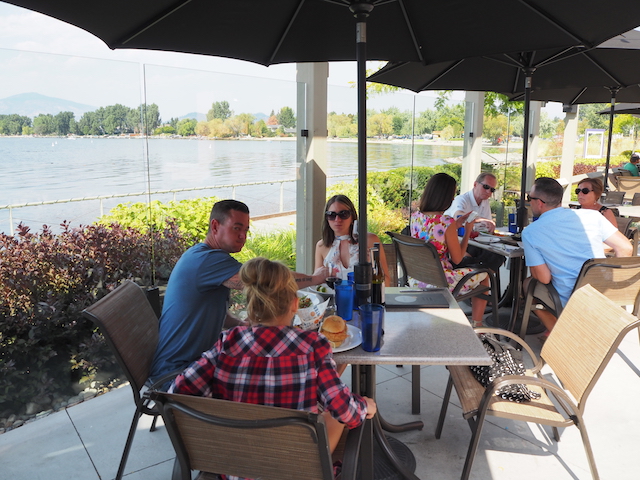 If it's a pint in the sun you're after, with a decent meal, SmackDab's patio is a great choice. Speaking of pints, I fell hard for the caffeine-packed Lighthouse Brewery Night Watch from Victoria, a coffee lager made with local café chain Discovery Coffee's dark roast. Hands-down, the best coffee-brewed beer I've ever had, and I've had many. Unfortunately, it's a special brew for them, so you likely won't find it on shelves.
Where to Beer: Train Station Pub
Another popular place to dine, it's got a patio that pales in comparison to SmackDab's, but the interior's more inviting. Kelowna's first train station boasts that it's been "connecting people since 1926". They had a serviceable beer list and a wide variety of eats on hand. I chose the "Dickel No. 12" burger and fries, and was completely satisfied. The menu pushes the fries hard, claiming they're famous locally, thanks to a beer batter coating. The result? Super-tasty and super-crispy. Yeah, great fries! The menu offers a wide range to suit everyone – from flatbreads and salads to appies and other pub fare. An easy walk from the City Park in Downtown Victoria, the Train Station Pub offers daily Happy Hour drinks and bites. With terrific service and good eats, it's the kind of pub I'd be a regular at if I were a local.
A Wee Sip: Okanagan Craft Distillery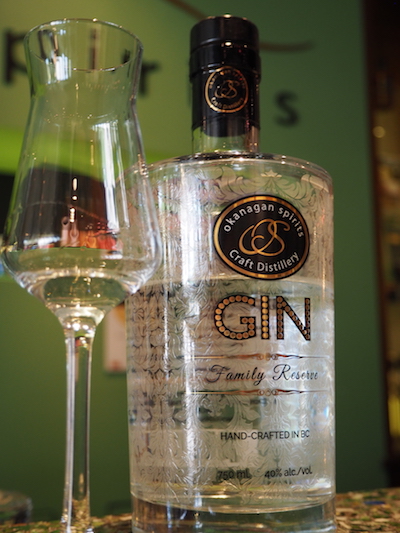 Right downtown Kelowna, on Bernard by the lake, sits the beautiful tasting room for this Vernon-based distillery. Pop in, because they'll let you taste product free. If you pony up, you can have tasting flights and whiskies and cocktails featuring their spirits on their sidewalk patio and lounge too. If you enjoy all things boozy, I'd be surprised if you left empty-handed. From bourbon and gin to fruit brandy and liqueurs, the Okanagan Craft Distillery, also known as Okanagan Spirits, is doing the province proud. With 100% BC-grown fruits and grains, this is truly home-brewed goodness.
Their single-malt whisky is so popular you'll need to enter a lottery to buy a bottle (and there's an 85% chance you'll be out of luck, it's so sought-after). The bourbon's got the smoke and heft bourbon fans love. What knocked me out was the beautiful balance in their Poire Williams, a Bartlett pear brandy. When Manager "Papa Mike" poured for me, he told me their fruit brandies really wowed European visitors, because they're made more traditionally and truly speak to the fruit in the bottle. Damn right they do.
All Things Foodie: Kelowna Farmer's Market
For my magazine article research on cheese, I had to visit the weekly Farmer's Market in Kelowna (Saturdays, April to end of October, then biweekly indoors). If you go, get out there early, because the blazing-hot Kelowna sun means the market packs up and closes by 1:00pm. From free range egg and meats to preserves and flowers and prepared foods, you gotta buy big. And hey, keep an eye out for local biz "Smoky Castle Coffee," Canada's first fire-roasted coffee roasters, who'll redefine "dark roast" for you.
If you love cheeses, there are three terrific providers there. Terroir is the easiest one to find, available in a few regional stores, serving up terrific French Gruyere, among others. Bella Stella is well-regarded by all the regional cheesemakers I've met, because the husband-and-wife team are chasing their European roots to make things like their Monashee Gold, authentic quark, and a creamy Alps-style cheese similar to brie, called Formaggella. Then the third cheesemaker you'll find there is so popular they don't even have a website or marketing plan – Triple Island Cheeses, a Dutch family recreating the Gouda that patriarch Johann Tuitjel's grandmother once made.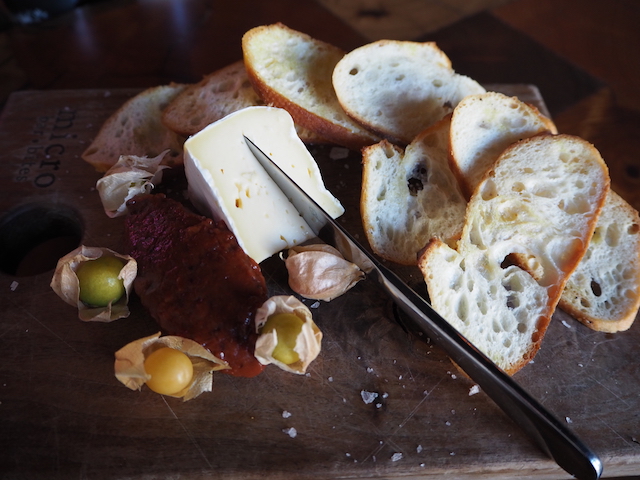 As I chatted up the owners, a German woman arrived. She'd driven nearly 150 kilometres, as she does a few times a year, to pick up all her Gouda – which she claims is the best she's had since her youth in Germany – along with Maasdammer and Edam, and she forked out nearly $200 for two shopping bags full. The Tuitjels' secret? They raise their own cows for their unpasteurized, raw milk, which are strictly grass-fed, with a supplement of barley and beet pulp! Yes, beet pulp! Their aged Gouda is hotly sought-out by customers and restaurants, so show up by 10am if you hope to snatch a wedge. It goes that fast.
And So Much More!
My work and family obligations, plus some summer bronchitis, kept me down for the count and I didn't get to explore as much as I would have liked. I'd have been happy to chow down on Antico Pizza Napoletana, or have a light meal at Basil & Mint, a favourite of the wine industry staffers. Or visit Salted Brick, or splurge at RauDZ Regional Table, or go for the French touch at Bouchon's Bistro, but that's how it rolls.
If you're not into checking out peer-reviewed sites for restaurant grades, a great way to get recommendations is to talk to people in the industry. When enjoying a meal somewhere, always ask servers where you should visit, what's getting talked about in the industry. Kelowna's a serious "industry" town and they'll turn you on to the right eateries and cafes.
It wasn't long ago that Kelowna was mostly a chain restaurant kinda town, but the quality of local products means they're a rising culinary destination. So, sure, go wine tasting, but get out there and chow down too!
* Prices listed are those available at the time of publishing.