Did you slide into October, through delicious turkey dinners and muddy pumpkin patches, and somehow just realize that the 36th annual Vancouver International Film Festival is wrapping up tomorrow? No need to panic! VIFF is bringing back 22 of its most popular films this week so if you missed them, or want to see them again, you can.
VIFF Repeats
Repeats will screen at the Vancouver International Film Centre (1181 Seymour St, Vancouver) and give festival-goers one more chance to catch these audience favourites.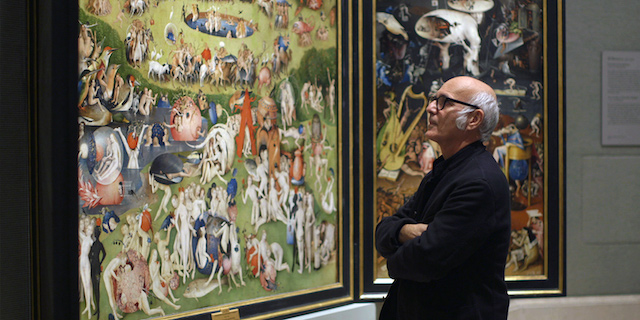 Saturday, October 14, 2017
Film: Bosch: The Garden of Dreams
Time: 11:45am

Film: Meet Beau Dick: Maker of Monsters
Time: 1:45pm

Film: The Farthest
Time: 4:15pm

Film: Loving Vincent
Time: 6:45pm

Film: Indian Horse
Time: 8:45pm

Sunday, October 15, 2017
Film: Angkor Awakens: A Portrait of Cambodia
Time: 12:30pm

Film: Faces Places
Time: 2:30pm

Film: The Valley of the Wolves
Time: 4:30pm

Film: Lucky
Time: 6:30pm

Monday, October 16, 2017
Film: Sami Blood
Time: 12:30pm

Film: Azar
Time: 4:30pm

Film: Clive Davis: The Soundtrack of Our Lives
Time: 6:15pm

Film: c̓əsnaʔəm: the city before the city
Time: 8:45pm

Tuesday, October 17, 2017
Film: Django
Time: 6:30pm

Film: Where You're Meant to Be
Time: 4:45pm

Film: The Queen of Spain
Time: 9:00pm

Wednesday, October 18, 2017
Film: The Venerable W.
Time: 2:30pm

Film: Leaning Into the Wind: Andy Goldsworthy
Time: 4:30pm

Film: Dalida
Time: 6:30pm

Film: The Square
Time: 8:45pm

Thursday, October 19, 2017
Film: Reel Youth Film Festival
Time: 12:30pm

Film: Bombshell: The Hedy Lamarr Story
Time: 4:30pm

Film: Meditation Park
Time: 6:30pm

Film: Sour Apples
Time: 8:45pm
Tickets are available online or at the Vancity Theatre Box office (30 minutes before showtime). Follow VIFF on Facebook, Twitter, and Instagram for more information.
Please note All VIFF Passes, VIFF Ticket Packs, VIFF Exchange Vouchers, Vancity Guest Passes, and Cinematheque volunteer passes will not be accepted for the VIFF Repeat screenings. A VIFF or Vancity Theatre Membership is required. Unless a films is classified, attendees must be 19+.