Houses, pop-up attractions, and historic sites are ready to offer Halloween fun (and fright) for all ages this season. From North Vancouver to the Fraser Valley, spooky fun and bone-chilling adventure await all those who dare enter these haunted houses: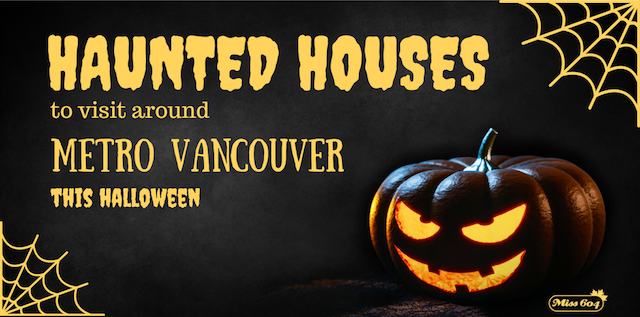 Haunted Houses to Visit in Metro Vancouver
Click the links provided below to go to the full websites for each attraction. Prices are listed on the attraction websites, along with age appropriateness/recommendations for each event.
Surrey
What: Potter's House of Horrors
Where: 12530 72nd Ave, Surrey
When: October 6th through October 31st from 4:00pm to 10:00pm nightly. 4:00pm to 7:00pm is for Li'l Haunted (12 and under), 4:00pm to 6:30pm is Family Hour, and 7:00pm to 10:00pm is the ultra scary show.
About: Two Ultra-Scary Haunted Houses: House #1 Monstrosity. House #2, new for 2017, is Devil's Descent. A terrifying vortex of rotted wood, rickety mine-shafts, punishing industrial machines, monsters and zombies. There's also the Li'l Haunters, a kids-only attraction with two mini haunted houses that aren't too dark or scary and contain no animatronics or actors. Additional features: Coffin Ride, Haunted Photo Booth, Xtreme Paintball Haunted Shootout.
North Vancouver
What: The Valley Haunt
Where: 1311 Appin Road, North Vancouver
When: October 20th to October 31st
Mon-Fri 7:00pm to 10:00pm; Saturday 6:00pm to 10:00pm; Closed Sunday
About: The Valley Haunt has taken off as one of must-see haunts in the Vancouver area. Karen and her 15 year old daughter, Paisia, have strived to upgrade and improve the haunt as the years go by. Two years ago, we began taking donations for the BC Professional Firefighters' Burn Fund, an amazing organization. We were able to raise over $4000 for the fund and would love to increase that number in the following years. For the 2017 Halloween season, THE VALLEY HAUNT: CONTAINED will be returning with new themes and spine-tingling scares. Get ready for an even more blood-curdling, hair-raising, and bone-chilling experience.
What: Belmont Haunted House
Where: 1006 Belmont Ave, North Vancouver
When: October 23-31, 2017. Monday to Thursday 2:00pm to 9:00pm; Friday to Sunday 12:00pm to 9:30pm.
About: The Haunted House features over $100,000 of spine‐tingling animatronic special effects and live actors. While offering creepy fun for the whole family, the event also makes a difference to BC families. Admission to the Belmont Haunted House is by donation and all proceeds benefit Ronald McDonald House BC. Built at their home by North Vancouver residents Jim and Danielle Myers, the Belmont Haunted House is now in its 7th year. Over the years donations from this event have raised almost $30,000 for RMHBC.
Vancouver
What: Barclay Manor Haunted House
Where: 1447 Barclay St, Vancouver
When: Friday, October 27,2017 from 7:00pm to 9:00pm; Saturday, October 28,2017 from 6:30pm to 8:30pm.
About: For bigger, braver souls. Barclay Manor has been converted into a spooky scary house. Being a heritage home, it has its own natural creepiness. It takes approximately 5 min to make your way through the house. Pre-purchase your tickets or pay at the door.
What:Waldorf Haunted Hotel
Where: 1489 E Hastings St. Vancouver
When: Saturday, October 28, 2017 9:00pm until late
About: Named for the iconic East Van institution's spooky vibe and mysterious past, this Halloween party combines world-renowned talent, three floors of music, theme rooms, incredible cocktails and surprises to create an original halloween experience that is sure to leave you with chills.
Burnaby
What: Haunted Village
Where: Burnaby Village Museum, 6501 Deer Lake Ave, Burnaby
When: Friday, October 27, 2017 to October 30, 2017 6:00pm to 9:00pm
About: Explore the Village in the dark of night. Come wonder at the curious, find the unusual and discover the unexpected. Visitors are encouraged to wear their costumes and dancing shoes! Everyone is invited to join the beautiful, Madam Monarch, for the Hill Street Bash. It'll be a spooktacular time. The newly opened "Dead & Breakfast" at the Love Farmhouse will appeal to those who love adventure and off-the-beaten path experiences.
What: PirateHouse Fundraiser
Where: 5970 Portland St, Burnaby
When: Public night is Tuesday, October 31, 2017 from 5:00pm to 8:00pm
About: Consisting of an annual Halloween pirate-themed yard display and an online auction, PirateHouse began in 2013 as the brainchild of Dr. Julie Desroches to raise funds for St. Stephen Children's Centre in Uganda.
Coquitlam
What: Coquitlam Halloween House
Where: 332 Draycott St, Coquitlam
When: Friday, October 20, 2017 until October 31st, 6:30pm to 9:00pm nightly.
About: Celebrating 18 years! This family-friendly haunted house is wheelchair accessible. There are lots of spooky attractions suitable for all ages, lights and lasers, pumpkins and ghouls, and much more. Proceeds support Variety BC – The Children's Charity.
Richmond
What: Halloween at the Cannery
Where: 12138 Fourth Ave, Richmond
When: October 28th & 29th from 11:00am to 4:00pm daily
About: A Spooktacular Halloween weekend at the Cannery. Dare to explore the haunted house, encounter ghoulish cannery characters along the way, and see what tricks you have to play to get some treats.