by

Disclosure: Sponsored Post

— Posted in partnership with the City of Coquitlam Please review the Policy & Disclosure section for further information.
Hockey and wild salmon are about as Canadian as toques and maple syrup. You'll find the first two in Coquitlam these next few weeks, not to mention some pretty tasty craft beer and wine to wash it all down.
Stanley Cup in Coquitlam
Canucks fans will be streaming in by SkyTrain in the hopes of viewing the Stanley Cup and their hockey heroes at the NHL Centennial celebration from October 21-22. Coquitlam will be its only BC stop, with buzzing crowds filling the parking lot at Coquitlam Centre (at Lincoln SkyTrain station).
Not only can you view the holy grail of hockey, but you can walk through an extensive collection of hockey memorabilia and play interactive games. Plus, Canucks alumni will be in attendance (names yet to be announced). There will even be a temporary rink on site for street hockey.
After getting your Canucks fix, you might be wondering where you can go close by to grab a bite to eat or a cold drink. Read on for more entertainment ideas, including an upcoming craft beer festival, and a food and wine festival.
See Salmon in the Wild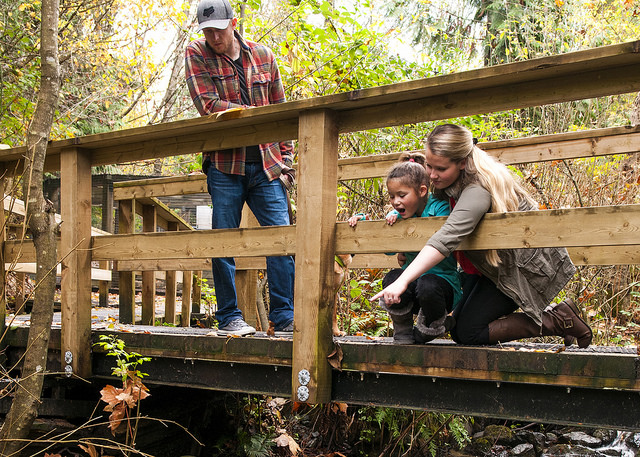 Within walking distance from the mall, one of nature's greatest spectacles will be on display in the coming months. The salmon run is on, and if you want a close-up view of jumping fish, one great spot to try is Coquitlam's Hoy Creek.
After spending much of their adult lives at sea, salmon begin their epic journey to return to the creek where they were born. Some will swim thousands of kilometres, battling many obstacles and even leaping upstream through rushing water, in order to return home for the last time.
Whether you're a young child, an international visitor seeing spawning salmon for the first time or a seasoned wildlife spotter, this scene never fails to impress. Watch for chum from early to mid-October to early November and coho from late October to late December.
Where to Go
If you're at Coquitlam Centre, walk north to Guildford Way and duck into the Hoy Creek Trail. If arriving directly by SkyTrain, hop off at Lafarge Lake-Douglas station, where it's a short walk east to the trail, which leads to Hoy Creek Hatchery (closest street is Princess Crescent). If you're driving, free two-hour parking is available in Lot D at Town Centre Park, across the road from the trail entrance (enter the trail off Pinetree just north of Douglas College and walk left).
Don't Miss these Events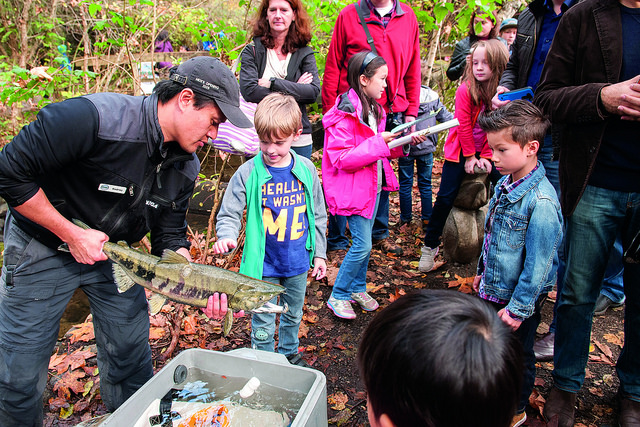 Salmon Come Home
Sunday, October 22, 2017 from 11:00am to 3:00pm
Celebrate the return of chum salmon to Hoy Creek at this free family event. Entertainment includes live salmon demonstrations, music, interactive children's activities, food and educational exhibits. It takes place at Hoy Creek Hatchery (closest street is Princess Crescent).
Coquitlam Craft Beer Festival
November 3-4, 2017
Sample craft beer from more than 40 breweries and taste fare from local restaurants and caterers at the spectacular setting of Westwood Plateau Golf & Country Club during the Coquitlam Craft Beer Festival.
TriCity International Food and Wine Festival
November 4-5, 2017
Coquitlam pops a cork on a brand new wine event. The TriCity International Food and Wine Festival is the perfect pairing of wine, food and scenery at Westwood Plateau Golf and Country Club.
While You're There
Near Lafarge Lake/Douglas SkyTrain: Need to fuel up with a hot coffee? Pop in to Caffé Divano at 3003 Burlington Dr., just steps from the station, or try Papparoti at 1196 Pinetree Way.
Near Lincoln Station: Take a short walk north on Pinetree Way until you reach Glen Dr., where you won't believe the variety of restaurants on offer. You'll find everything from Persian to Vietnamese restaurants, a Korean taco place, waffles, a vegan café and upscale pub fare.
Near Coquitlam Central SkyTrain: Thirsty? Coquitlam is home to a new craft brewery, Mariner Brewing, which is about a 10-minute walk from Coquitlam Central Station. If it's a cup of joe you're after, head across the street to Creekside Coffee Factory, where they roast their own beans in-house.
Explore and Share
Pick up your copy of the Coquitlam 2017 Travel & Adventure Guide at any City facility, or read it online, and share your photos online using #explorecoquitlam.