The Gathering Place presents the 2017 Festival of Hallows on Tuesday, October 31st. In the Spirit of Day of the Dead (Dia de Los Muertos) and Halloween, the Festival of Hallows honours and memorialized deceased friends, loved ones, volunteers, ancestors and community members.
Taking place in Emery Barnes Park, shrines for the dead will be installed throughout the park. Made by community members for community members, each shrine honours one or more person or group of people who have passed away.
Festival of Hallows in Yaletown
Where: Emery Barnes Park (Davie and Seymour Streets)
When: Tuesday October 31, 2017 from 5:00pm to 9:00pm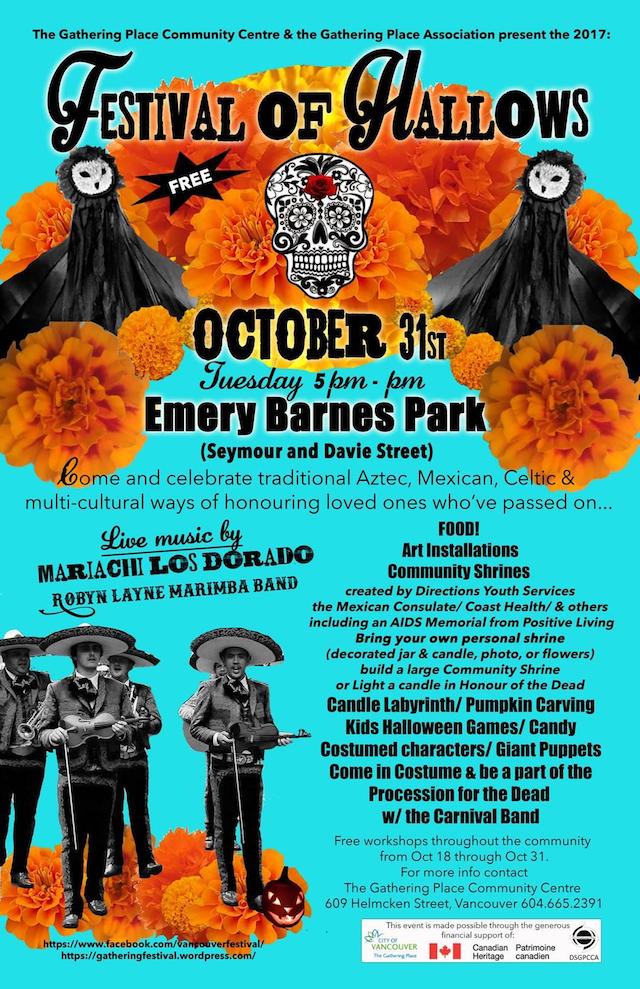 The Festival of Hallows is inclusive and open to all cultures and practices that honour ancestors. Anyone interested in a presentation on shrines, shrine building, or sharing other cultural practices can contact the community centre at, 609 Helmcken Street, Vancouver or call (604) 665-2391.
Community shrines will be made that honour victims of HIV (Aids Memorial, by Positive Living), the victims of the Mexican Earthquakes (with approval and participation from the Mexican Consul), Community Volunteers (Gathering Place), along with plans to include shrines for the aboriginal community, victims of the Fentanyl crisis, Iranian community members, and personal shrines by street youth and others.
Everyone is invited to bring a small personal shrine (candles in a decorated glass jar, flowers or a shoe box shrine) to honour beloved family members, friends, or others.
Other activities include Halloween Candies and Games for children, a Candle Labyrinth Walk, Pumpkin Carving, Live Music by Mariachi Los Dorados, the Carnival Band, and the Robin Layne Band, Costume Characters, Stilt Dancers, Food, and more. Everyone is encouraged to come in costume.
The Festival is produced by the Gathering Place Community Centre (609 Helmcken St) and the Downtown South Gathering Place Community Centre Association. The Gathering Place Community Centre serves vulnerable and disadvantaged inner-city community members by providing free and low cost art, social, recreation, and health programs and services.