Dress for Success Vancouver ("DFSV") will host their 5th annual Success Luncheon Thursday, November 2, 2017 at the Fairmont Pacific Rim in Vancouver. The event celebrates dynamic corporate culture that fuels employees and encourages leaders to flourish.
Dress for Success Luncheon
When: Thursday November 2, 2017 11:15am to 1:30pm
Where: Fairmont Pacific Rim, 1038 Canada Place, Vancouver
Tickets: Individual tickets $125 & include a $50 tax receipt. Tables of 10 available for $1,500.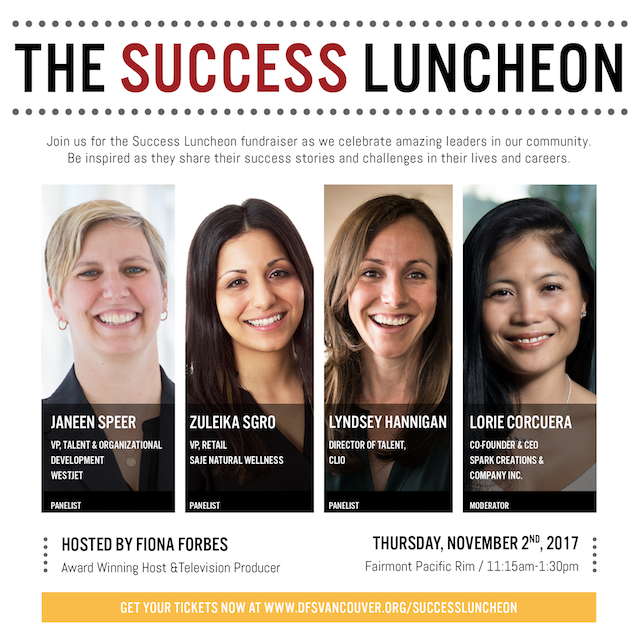 The event features a panel of female executives sharing ideas and personal stories on corporate culture. DFSV will also recognize their client, Miriam Linderman who has overcome challenges and is now building her own success by inspiring and coaching others. Miriam will be awarded the DFSV Inspiration Award, acknowledging her journey and achievements with the support of Dress for Success programs. The Success Luncheon is an annually anticipated opportunity to bring together the Dress for Success Vancouver corporate community and supporters.
Panel speakers are Janeen Speer, Vice President of Talent & Organizational Development at WestJet, Zuleika Sgro, Vice President of Retail at Saje Natural Wellness and Lyndsey Hannigan, Director of Talent at Clio. The discussion will be moderated by Lorie Corcuera, Co-Founder & CEO of SPARK Creations. The event is again hosted by TV personality and producer Fiona Forbes.
In addition to the panel discussion, guests are invited to a pre-lunch networking event where they will meet with speakers and local corporate supporters across sectors. Raffles tickets and opportunities to support a DFSV woman will be available.
About Dress for Success Vancouver
Dress for Success Vancouver is a registered charity committed to empowering women into the workforce by providing
professional attire, career development tools and a career advancement program. An affiliate of the international
organization Dress for Success, DFSV was established in 1999 as the first international affiliate and has served over 25,000 women in the Lower Mainland.