Benjamin Hertwig will read from his debut poetry collection "Slow War" at the historic Seaforth Armoury on Friday. Nominated for this year's Governor General's Award in Poetry, "Slow War" is only the second collection of poetry to be published by a Canadian veteran of the war in Afghanistan.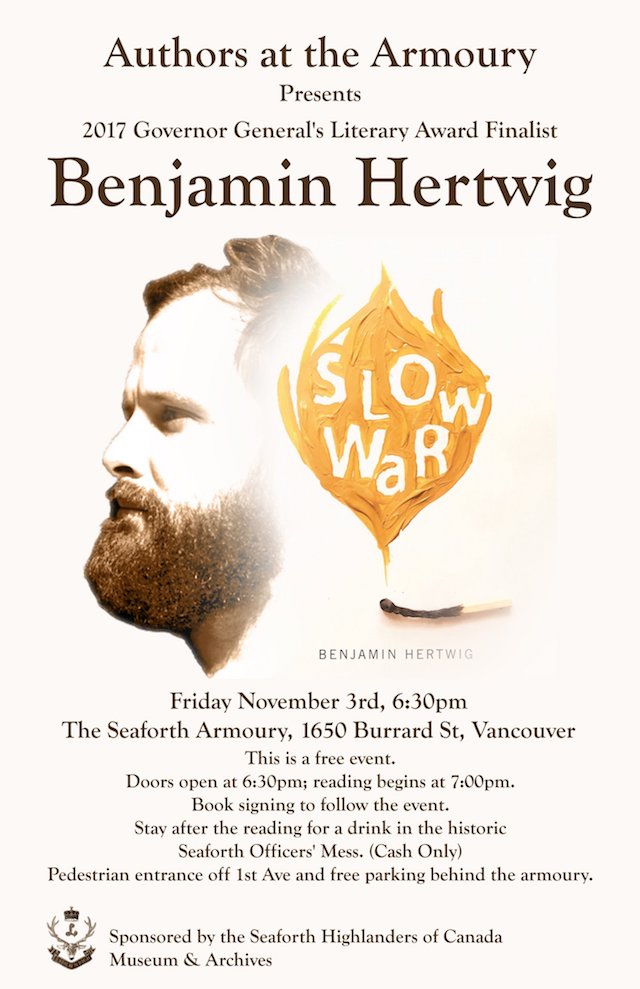 "Slow War" is at once an account of contemporary warfare and a personal journey of loss and the search for healing. It stands in the tradition of Wilfred Owen's "Dulce et Decorum Est" and Kevin Powers's "Letter Composed During a Lull in the Fighting."
"I know of few books that deal with the experience of combat in such a humane and almost tender way. Benjamin Hertwig's Slow War is a powerful and moving work of art." —John Skoyles, poetry editor of Ploughshares, author of Suddenly It's Evening
Authors at the Armoury: Benjamin Hertwig
When: Friday, November 3, 2017 from 6:30pm (doors) 7:00pm to 8:30pm
Where: The Seaforth Armoury (1650 Burrard St, Vancouver)
Tickets: Free event. RSVP on Facebook. Cash bar in the Officers' Mess.
The pedestrian entrance is off 1st Ave and there will be free parking behind the armoury. Following the reading, Benjamin Hertwig will do a book signing. This event is sponsored by the Seaforth Highlanders of Canada Museum & Archives. Follow on Instagram and Twitter for updates.