by

Disclosure: Sponsored Post

— Published in partnership with ZenSeekers Please review the Policy & Disclosure section for further information.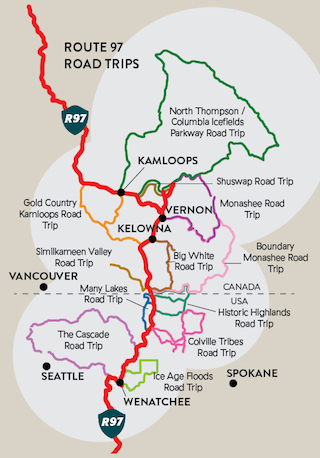 The following has been contributed by Dax Justin in partnership with ZenSeekers, exploring the Okanagan Valley and #Route97.
#Route97 is a collection of experiences and destinations you will find within the Okanagan Valley and into Washington state.
ZenSeekers challenges you to explore the region this fall and have a series of stories to help make that happen.
A Full Okanagan Valley Experience with Dax Justin
A bird's eye view and a palate-pleasing tour of the Okanagan Valley
What a way to start the day – hopping in a helicopter and soaring over the beautiful Okanagan on a crisp, clear fall day.
It's doesn't' get much better than that, kicking off a weekend getaway to this BC wining and dining destination, just little more than a four-hour drive from Vancouver.
This was my first time in a helicopter with the doors off, making me feel a bit like James Bond. With my legs dangling over the side of the helicopter, the shutter on my camera was going non-stop as I took pictures of Lake Okanagan, Mission Hill Winery and the changing fall colours bathed in the golden light of a September morning.
Be curious. Explore more amazing Okanagan Valley adventures along #Route97 here »
My aerial experience with Valhalla Helicopters left me with a whole new perspective on this pretty central B.C. region known for its dozens of wineries, farm-to-fork food, vibrant dining and craft brewery scene and an all-round relaxed vibe. Valhalla offers two tours – full- and half-day scenic heli-wine tours, worth checking out. Talk about arriving in style.
I could have hung out in the helicopter for much longer, but it was time to explore Kelowna's food and beverage scene on foot. A walking food tour is always a great way to get an on-the-ground experience of any city's restaurant landscape. The folks from Okanagan Foodie Tours offer several itineraries. We did an abbreviated sampling of two pubs and a favourite Mexican spot, called El Taquero.
We walked along Kelowna's pretty waterfront during the tour on a warm fall day, priming us for a cold one and more food sampling. First stop, The Train Station Pub, a favourite of locals and visitors alike. The cosy pub with an energetic vibe has been around since 1926. These days it serves up thoroughly modern pub fare and a nice selection of beers on tap.
Rose's Pub right on the waterfront was our next stop. On a beautiful fall (or summer) day, the patio is the place to be enjoying the sunshine.
I was getting a bit full, but knew I could find some room for authentic Mexican. That's what is served up at El Taquero, specializing in Mexican street food – mostly tacos, but lots of other options, too. Izzy "The Taco Maker," from Mexico City is the man behind the taco bar, getting inspiration from his family's recipes. There are 14 tacos every day to choose from, plus tasty margaritas in creative flavours.
Be curious. Explore more amazing Okanagan Valley adventures along #Route97 here »
I'd spied Mission Hill from the helicopter and one of my missions was to get some great photos from the winery's iconic bell tower.
I couldn't wait to climb up there to shoot the sun setting over the winery and beyond.
Walking around the winery, I felt like I could had been transported to Italy. The layout of the buildings with its columns, perfectly symmetrical vineyards, looked beautifully Old World.
But of course, it's not just the architecture that Mission Hill is famous for. It's mainly the wine and food. Anyone who's interested in both should sign up for the Culinary Workshop Series. It's an evening you'll never forget as a chef prepares a series of dishes paired with the perfect wine match. It would make a fun friends getaway. There are many workshops to choose from, some focusing on French, Thai or Indian cuisine, or how to make better gluten-free meals.
It's such a cool experience, getting to watch a chef in action, preparing a series of courses that you get to enjoy, while sampling Mission Hill's extensive wines. The vibe in the room was fun and relaxed and you could tell everyone was having a wonderful time.
The sun was setting and I wanted to get back to that bell tower to watch the sun set and grab some more photos. It was just getting to be the golden hour for perfect photos and a gorgeous way to end ta beautiful fall day in the Okanagan.
If You Go
About the Author: Dax Justin on Behalf of ZenSeekers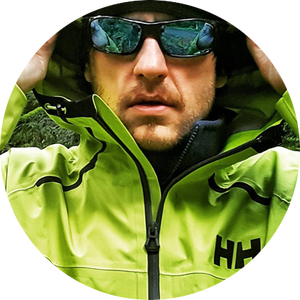 Dax Justin is a Canadian explorer, adventure/landscape photographer, visual content creator, and destination storyteller based in Alberta, Canada.
His photographic work focuses on outdoor adventure, landscapes, mountain lifestyle, people and sports. The photography captured on expeditions bring the adventure to a worldwide online audience in real time, expanding brand reach through social media and travel networks including Seekers Media.