Inspiring greater public participation in arts, culture and heritage, Port Moody, Coquitlam, and Port Coquitlam will host over 25 free events during Culture Days, September 29th to October 1st.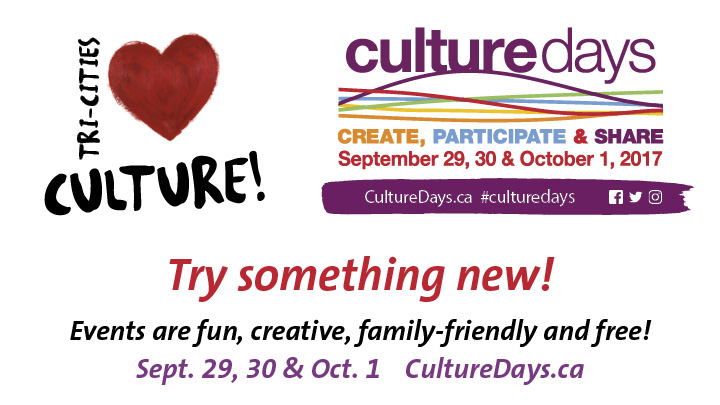 Culture Days in Coquitlam
The 8th annual Culture Days celebration is where thousands of artists, individuals, organizations and communities across Canada host free, hands-on, interactive activities that invite people to create, participate and share.​ Here's what will be happening in Coquitlam:
Salmon Scavenger Hunt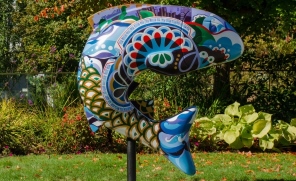 Register now for the Spot the Salmon Scavenger Hunt! 12 salmon sculptures were installed throughout Coquitlam in prominent public spaces as a legacy public art project for Coquitlam 125 anniversary celebration.
Coquitlam is inviting residents to track down all 12 salmon sculptures during Culture Days for a chance to win the Grand Prize, which includes a $100 gift card to Coquitlam Centre, $100 art pack from Opus Art Supplies and four all-day Compass ride passes.
Those who visit and correctly answer the questions for 6 of the salmon locations will have a chance to win a Second Prize, including a $50 Coquitlam Centre gift card, $50 art pack and 2 Compass ride passes. Participants should also be on the lookout for pop-up prizes at random locations.​
More Events in Coquitlam for Culture Days
Friday, September 29, 2017
Drawing with Water-Soluble Pencils
Special book Club
Saturday, September 30, 2017
Coquitlam Heritage Tours
Celebrating Diversity – Canada 150
Geocaching
Glen Pine Culture Days Open House
Sunday, October 2, 2017
Coquitlam Farmers Market
Cutie Circle Ukulele Jamboree
Maillardville Walking Tour & Mackin House Tour
Make Your Tickets to the Show
Special Fibre Arts Demonstration
Family Day
Read full event details, view schedules, and registration info here »
Culture Days represents the largest-ever collective public participation campaign undertaken by the arts and cultural community in Canada with over 7,500 free, hands-on, interactive activities that invite the public to create, participate and share. Miss604 is proud to be a media partner of the Tri-Cities Culture Days weekend. Stay tuned for more event listings in the coming days.
Follow Culture Days on Facebook, Twitter, and Instagram for more information.
Miss604 is proud to be a media partner of Culture Days in the Tri-Cities