The following has been contributed by Steffani Cameron, who is in the middle of a 5-year worldwide adventure that she is chronicling at FullNomad.com.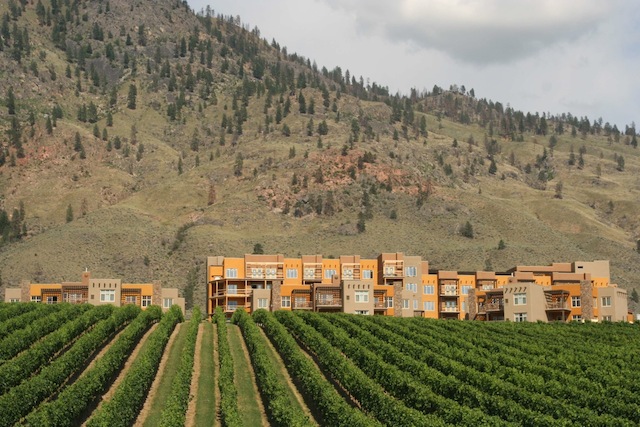 Spirit Ridge at Nk'Mip in Osoyoos
Spirit Ridge at Nk'Mip invited me to stay as a base for my explorations in the Osoyoos-Oliver wine region, so naturally I said "Heck, yeah!" With a great apartment complete with balcony and barbeque, I overlooked the vineyard for three nights and that's a beautiful thing.
As a giant estate, Spirit Ridge has much to offer. Hiking trails abound, horse-riding opportunities exist, golf is nearby, and wine-tasting is on premises. Mica Restaurant offers great meals, and the sunset patio gives you a chance to enjoy the late-afternoon sun moving over the Nk'Mip Desert.
Well-appointed suites with space for two to four people make it a perfect stay for families and friends enjoying a getaway from the big city.
The beds were the perfect state of medium-firmness. Standing just 5'6, I had to hoist myself up onto the plush, high beds, finishing up with a comical roll to get myself situated in comfort, but once in place, it was exactly the luxurious bed one anticipates in a resort.
Unlike many places in the Osoyoos-Oliver region, Spirit Ridge offers year-round lodgings, so it's fitting the suite sports a fireplace and covered balcony, for those looking for winter weekends away.
Personally, I consider myself a food nerd, so when there's a kitchen, I love to see what's kicking around. This was a great kitchen with everything from a coffeemaker through to a blender, in case you'd like to gather that wonderful local summer fruit for a wicked smoothie. With local harvests like they have in Osoyoos-Oliver, it seems crazy to go without a kitchen for preparing cheese plates or other light meals. I made myself a tomato salad and grilled ribeye and sat on the balcony overlooking the vineyard. Not too shabby.
Pots, pans, serving dishes, wine glasses, utensils – everything you could need for basic cooking is right there. Beyond cookware and tools, though, you'll need to tote your meal requirements, from spices to foodstuffs. Coffee, though, is on-hand. Then there's a dishwasher with detergent too so you can skip the dish-pan hands on your getaway. Just off the kitchen sits a washer-dryer for those needing to run a load of laundry after a day of hiking dusty trails. (Just watch out for the rattlesnakes! It's Canada's only rattlesnake territory, and signs admonish visitors to be vigilant).
Those who are familiar with the Nk'Mip ("Inkameep") brand are those who have drunk their wines. With over 30 years of grape-growing history, the vineyards are among the oldest in the Okanagan region. First, the Osoyoos Indian Band grew the grapes for others, but, ultimately, they decided to make their own wines to expand their band's business horizons… and, boy, have they!
Today, they're producing over 15,000 cases a year and belong to the "Great Estates" group of vineyards that includes Inniskillin, See Ya Later Ranch, Jackson-Triggs, Black Sage, Sumac Ridge, Sunrock, and Stellar's Jay.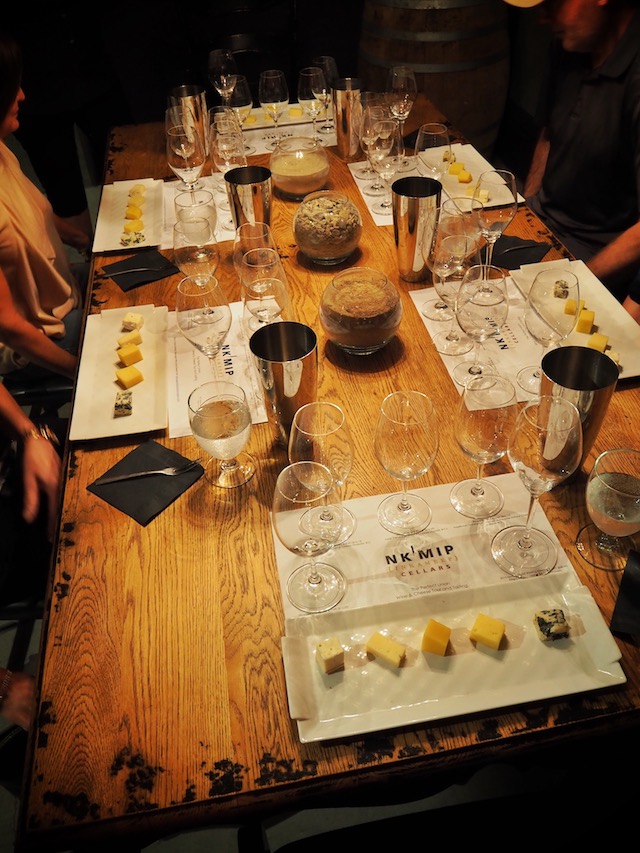 Their wines are strong and consistent in quality in all price-points, and nowhere will you learn that better than by taking one of their wine-and-cheese pairing tours of the cellars. At a mere $25, I feel this is the kind of wine education everyone needs to experience once in their lifetime. The brutal reality is most people bungle pairing wine with cheese, and learning how to do it right, and why it works, can be a mind-blowing experience that sets you up to better enjoy vino for the rest of your life.
The Nk'Mip Cellars wine-and-cheese pairing session is insanely well-priced*. I experienced something for $75 a person once, so I was surprised to find so much given at Nk'Mip for so little cost, especially with the experience limited to parties of six for 90 minutes. Tastings of five wines were included, which ranged from $18 through $70 a bottle. There were two reds, two whites, and the pricey, beautiful ice wine.
Cheryl, our lovely guide, poured each wine and taught us how to get the most out of the pairing in how we drank it and ate the cheese. She told us what to look for in the wine before nibbling the cheese, then helped us to understand how the cheese transformed the wine.
The Chardonnay, for example, went from having bright acidity before we had the Upper Bench UB Brie Cheese to becoming rounded, peach-forward, and a touch nutty afterwards. But nothing could prepare us for the incredible transformation of the ice wine after experiencing Upper Bench's gorgonzola-like King Cole Blue. I expected the flavours to transform, and they did, going from singularly sweet and approachable to a deeper, more complex sweetness, but I did not expect the mouthfeel of the wine to change so radically. Suddenly it was elevated from being light and fruity to syrupy-rich, coating my mouth and throat with deep decadence.
On top of all these offerings, Spirit Ridge at Nk'Mip also boasts a fantastic cultural centre where you can learn about the history, art, and culture of the Osoyoos Indian Band, and I highly recommend seeing it so you can understand the roots of this brilliant, entrepreneurial band.
With everything Nk'Mip and Spirit Ridge offer, it seems wrong to stay for anything less than two nights. With all the wine-tastings you'll find nearby and so much to do, you might be hard-pressed to enjoy the resort properly with even two nights' lodgings.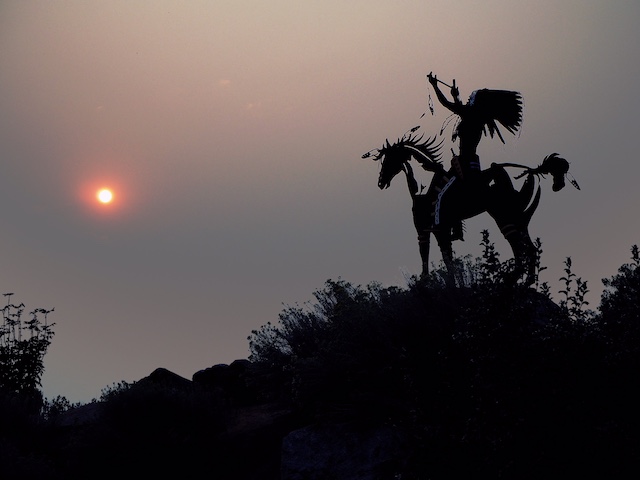 Honestly, I was devastated to be "smoked in" by the smoke from the West Coast's worst fire season in my lifetime, because the scenery around Spirit Ridge is stunning, and is truly one of the perks to staying there – the views are spectacular.
But what I lacked in clarity and scenery was made up for by the great hospitality I enjoyed. From the front desk to the grounds crew, it seems to me that everyone was proud of their contribution to this unique resort.
On one night, when I was shooting photos of the fire-smoked sun over the steppe, one groundskeeper asked me if I'd seen the views from the roof, then led me into the building and took me there himself. We talked for 15 minutes before he went back to his tasks. He was hardly the exception in attentiveness. Nearly everyone I ran into on the grounds – who didn't know I was part of a "media stay" – asked me if everything was all right with my room, if there was anything they could do to make my stay better.
That friendliness, I find, makes all the difference in the world. Perhaps that's the "spirit" of Spirit Ridge.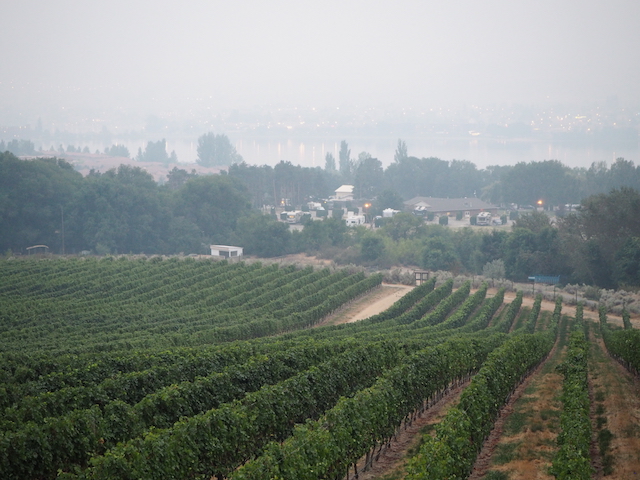 * Prices listed are those available at the time of publishing. In the event of any discrepancies with pricing at the winery, the winery pricing should be deemed correct.