The following has been contributed by Steffani Cameron, who is in the middle of a 5-year worldwide adventure that she is chronicling at FullNomad.com.
Old Vines Restaurant at Quail's Gate Winery
Quail's Gate Winery is one of the Okanagan's early upstarts, and now it's a grand old dame. On the scene for 61 years, they have been delivering solid wines for three decades.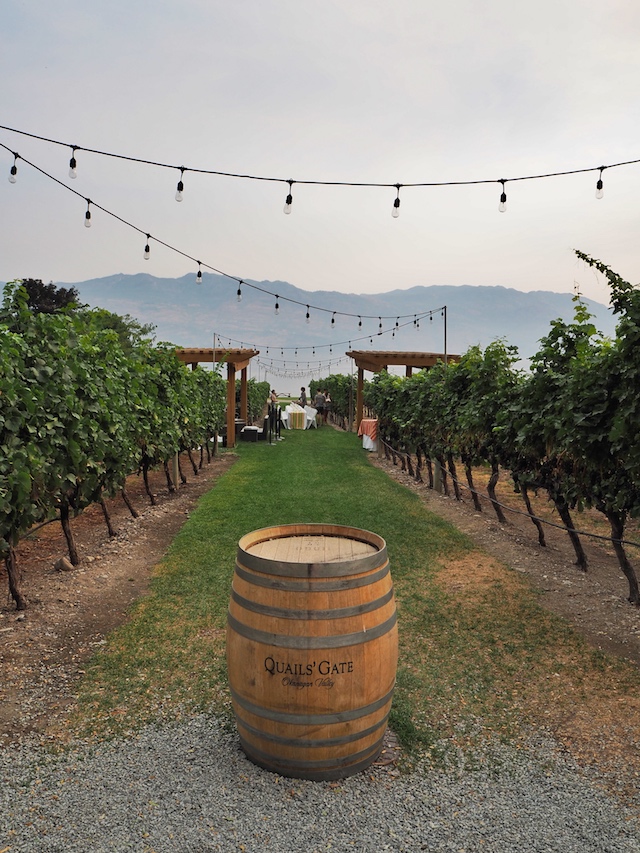 Quail's Gate's Old Vines Restaurant is also a long-standing, high-delivering player in the BC wines foodie scene. In fact, in 2016, more than 275,000 verified patrons through Open Table ranked Old Vines as one of Canada's Top 100 restaurants – a well-earned achievement.
Here's something you might not know: Many restaurants operating under the guise of being a "winery restaurant" in BC are business arrangements between independent restauranteurs and winery brass, with the latter providing the former with space and a marketing hook. This isn't a bad thing – it results in some spectacular unions in places like Terrafina at Hester Creek and Vanilla Pod at Poplar Grove.
But there's something to be said for the relationship that blooms under steady in-house management and that interconnectivity between the kitchen and what grows on the land.
That's what you get when dining with Quail's Gate's Old Vines Restaurant, where they've had the same chef for over a decade, and where the family that owns Quail's Gate, the Stewarts, pride themselves on their culinary output playing partner to their wines.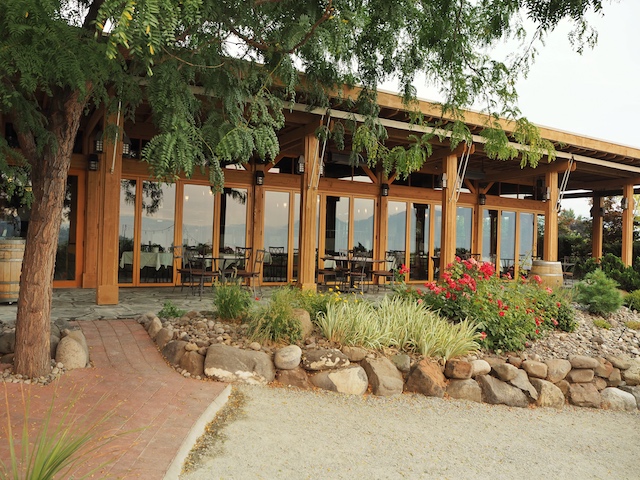 I've known about that love of this region's land that's embraced at Quail's Gate since I first dined there in 2009. Until this year, I've only had their cheese plate, because the view is stunning and the wine is lovely, and because cheese! It's become a special place for my aunt and me.
So, naturally, when I learned I would be writing about Okanagan cheeses for a cheese magazine, I contacted Old Vines. They invited my aunt and me for a lovely lunch, so I was quite excited to experience my beloved Old Vines with their guiding hand.
The view was still lovely and the atmosphere is great, which was great to experience, since, unlike a lot of winery restaurants in the Okanagan, Old Vines operates year-round.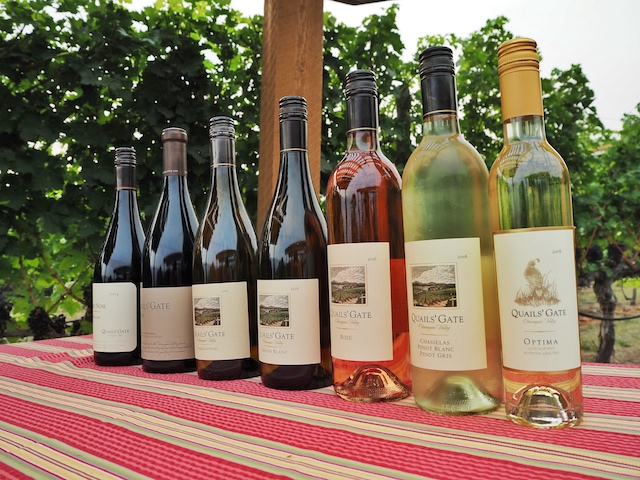 Our server was Christian, and his goal was to teach us about wine pairings throughout the meal. First off, he poured us a glass of the 2016 Gewürztraminer, which is a semi-dry but incredibly crisp and light wine that's perfect to enjoy solo on a hot Okanagan day. We both loved the Gewürtz so much that I bought a bottle afterwards ($20.99).
We sipped while pondering mains. My aunt is celiac, so she was limited to gluten-free options, which Christian said could be most of the dishes. The chicken appealed to her, so he offered to sub out the house-made herb gnocchi with baby roasted local potatoes. I went for the butcher's cut, some steak with a tarragon jus.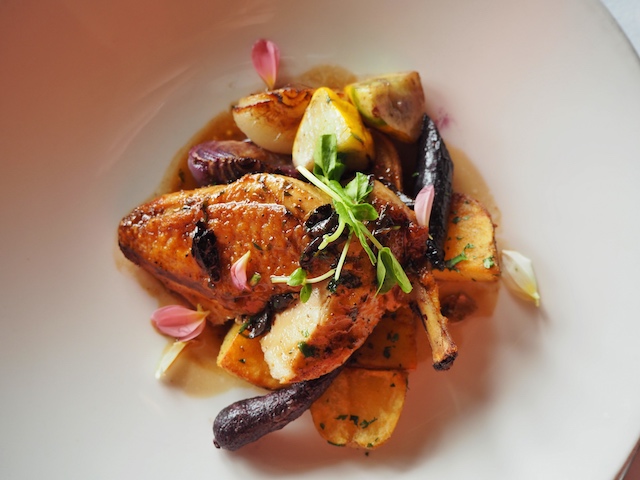 My steak was small but melt-in-your-mouth tender Cache Creek free range beef. My aunt raved and raved and raved about her chicken, calling it the best chicken she had ever eaten. I snatched her chicken skin as a taster, which I found salty and herby in the best way. Mm!
Christian took charge on the wines again. For Aunt Eileen, he chose a 2015 Stewart Family Reserve Pinot Noir. For me, he explained that the family holds vineyards in Napa and Sonoma, in California, so I got a rare treat: the 2011 Napa Plume, a bold peppery Cabernet Sauvignon that contrasted their rich, melty beef. My aunt loved her Pinot Noir, too, which turns out to be $49.99 a bottle in the tasting shop and held its own against the bold herby, salty roasted chicken. My Napa Plume, though, is not a fully-registered Californian wine legal for sale on store shelves, so it's served in the restaurant, but that's the only place in Canada you'll drink it!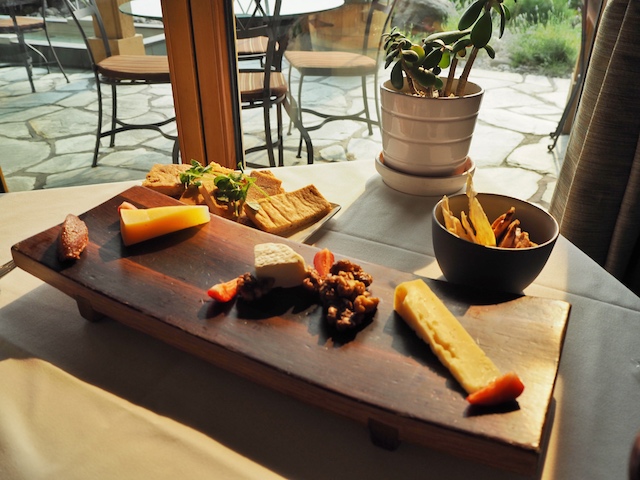 Next: Cheese! They have 11 cheeses from coast to coast in Canada. From Salt Spring Island's Blue Juliette and Little Qualicum's Blue Claire through to PEI's Avonlea Cheddar, the winner of world's best vintage cheddar in 2015 in England, 10 of the 11 cheeses are from BC, Quebec, and PEI. Spain's Manchego rounds out the list. We went for the Kootenay Alpindon from Creston, Farmhouse Naturals' Brie from Agassiz – a rare instance where I enjoyed the moldy rind! – and the PEI Avonlea Cheddar. (Avonlea cheddar is the real deal. Give it a try if you ever spot it at a cheesemonger's).
The delightful thing was that, when Christian brought the cheese plate, he'd forgotten about the gluten-free scenario for my aunt. Without a beat, he apologized and returned to the kitchen. 15 minutes later, he returned, but with a first-time experience for my aunt: fresh-baked gluten-free flatbread. With a beautiful rosemary and parmesan finish, it was a gluten-free bread I wouldn't have minded having as the only bread on the platter. What a way to make someone with a critical alternative diet feel like a valued customer. I was also given crunchy flatbread and stout-and-raisin crisps.
Paired with our cheeses was the fortified Marechal Foch, Quail's Gate take on a ruby-port-like dessert wine, and gosh, how I loved it. I've tasted wine from several houses in the birthplace of port wine, Porto, Portugal, and the Marechal Foch could go toe-to-toe with most ruby ports I had there. Bought a bottle of that too!
After our lovely lunch, we took a stroll up and down through late-season vines among grapes bursting with promise and mottled smoky skies. It was sad our Quail's Gate experience had to end.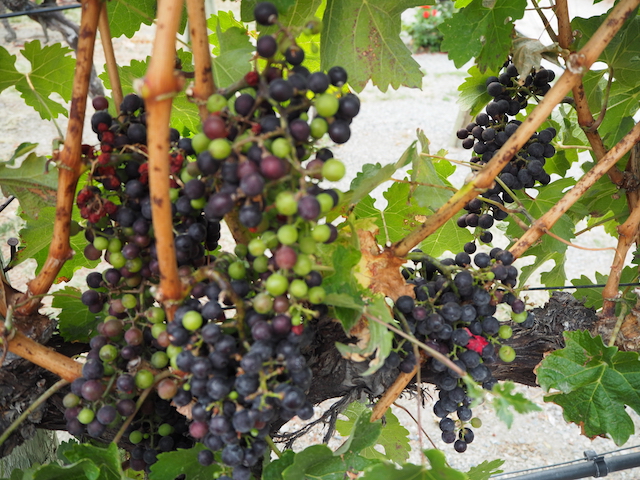 If you're looking for a year-round winery to visit in Kelowna, Quail's Gate is perfect. Besides their restaurant, they have a huge tasting room where you can chat with knowledgeable sommeliers who'll pour you anything they've got worth drinking. Whether you want to sip a nice full red as snow falls on the peaks surrounding Kelowna or you're looking for a chilled white to cool you off under the blazing Okanagan sun, Old Vines awaits you.