The Granville Island Turkey Trot has become a Thanksgiving Day tradition in Vancouver, and registration is now open for the 20th annual event that inspires active lifestyles and supporting the community around you.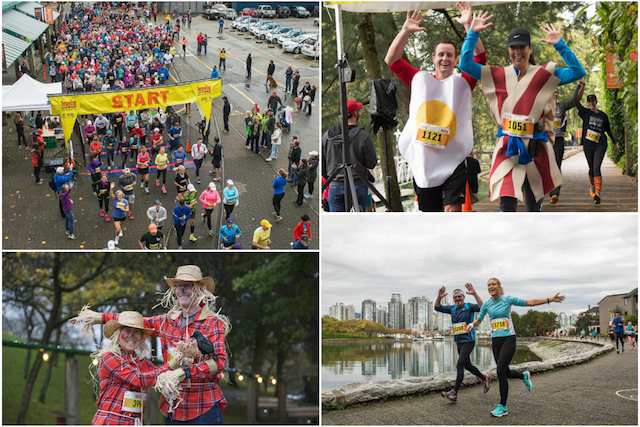 Presented by RUNVAN®, this year's Granville Island Turkey Trot will once again have a Kids Run on Sunday followed by the 10KM run on Thanksgiving Monday.
Granville Island Turkey Trot
Sunday, October 8, 2017 Kids Run at 11:00am
Monday, October 9, 2017 10KM at 8:30am
Register today »

Included in Registration
10KM medal for all finishers
Free $20 Gift Card from Rackets & Runners valid on New Balance product with no minimum spend
Race bib with built-in timing chip
Free, convenient and secure gear check
Free drinks
On-course services including water
Exciting Finish Line on Granville Island
Expo at Performance Works with free yoga
Post-race celebrations with free hot food and lively entertainment
Age category and fun team prizes
Plus your race entry supports local charity
Rackets & Runners will donate two pounds of food to the Greater Vancouver Food Bank for every $20 Gift Card redeemed at the Expo or at Rackets & Runners until November 30th! Donate to The Greater Vancouver Food Bank and you are also eligible to win draw prizes.
All abilities welcome. Participants are encouraged to run, walk, or even stroll with baby strollers. Great food will be available post-event, along with live entertainment inside Performance Works post race.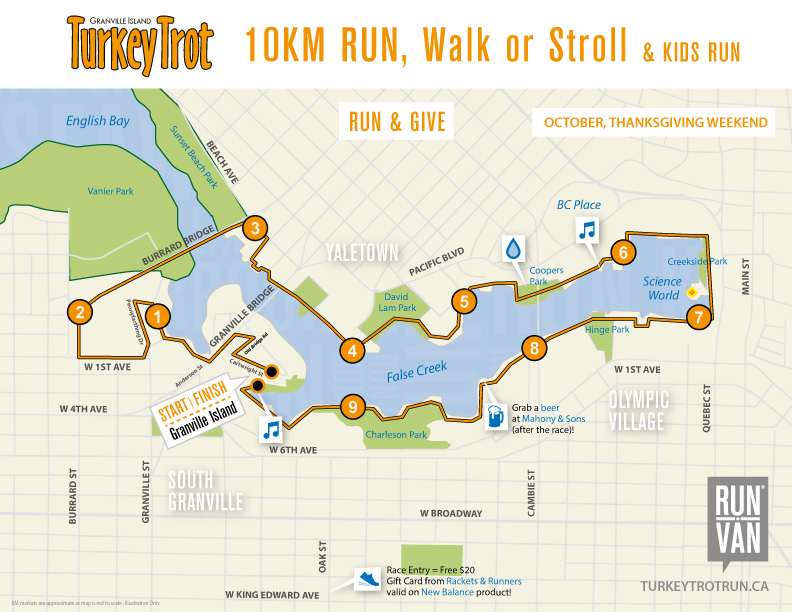 Community Challenge
The non-profit Vancouver International Marathon Society now annually organizes the Granville Island Turkey Trot. To acknowledge the special role communities play in bringing race day to life, they feature a Community Challenge Program – the goal of which is to create a movement that will ignite support and excitement for sport.
The Community Challenge presented by Chevron recognizes and rewards communities that support the event. Cash prizes are up for grabs! $250 will be awarded to each of the following categories:
Team with the Largest Number of Runners wins $250
Best Team Costume, runners or spectators, wins $250
Best Volunteer Team wins $250
Additionally, RUNVAN® will randomly award one lucky team of 10 more runners $250!
Greater Vancouver Food Bank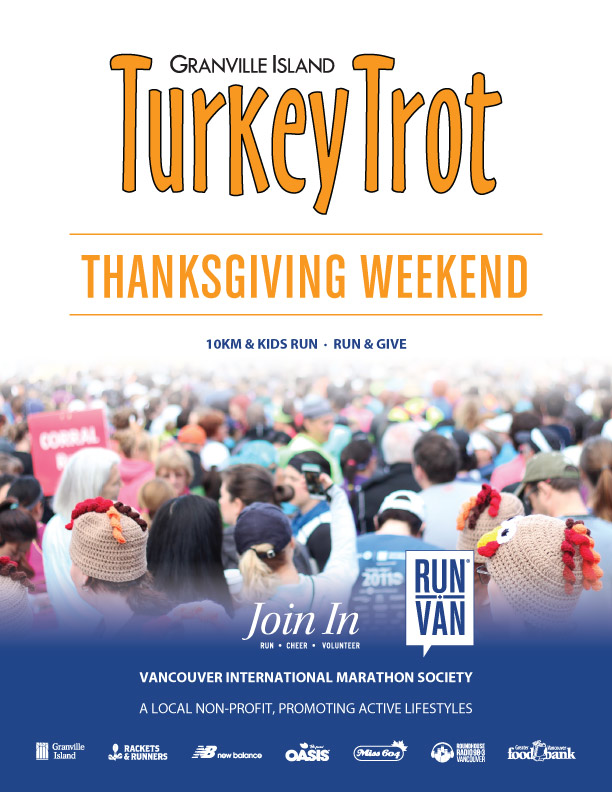 The Granville Island Turkey Trot is annually organized over Thanksgiving in the spirit of community and giving back. When you register, please consider donating to the Greater Vancouver Food Bank or bring non-perishable food items to the race to support the Greater Vancouver Food Bank.
The GVFB provides assistance to over 26,500 people weekly through 13 distribution locations and more than 80 community agencies located in Vancouver, Burnaby, New Westminster and North Vancouver. For every $1 donated, the GVFB is able to purchase $3 of nutritious food. The GVFB is committed to its vision of accessible, healthy and sustainable food for all and through community collaboration, is pro-actively working to help end hunger.
Follow RUNVAN
The Granville Island Turkey Trot is part of the RUNVAN® race series, which also includes the BMO Vancouver Marathon in May and Fall Classic Run at UBC in November. All events are organized by the local non-profit RUNVAN®, with the goal to inspire healthy, active lifestyles.
Register today! Follow the Granville Island Turkey Trot on Twitter and Facebook, plus RunVan on Twitter and Facebook #runvan #runandgive for more information.
Miss604 is the proud digital media sponsor of the Granville Island Turkey Trot