The following has been contributed by Steffani Cameron, who is in the middle of a 5-year worldwide adventure that she is chronicling at FullNomad.com.
God's Mountain Estate in Penticton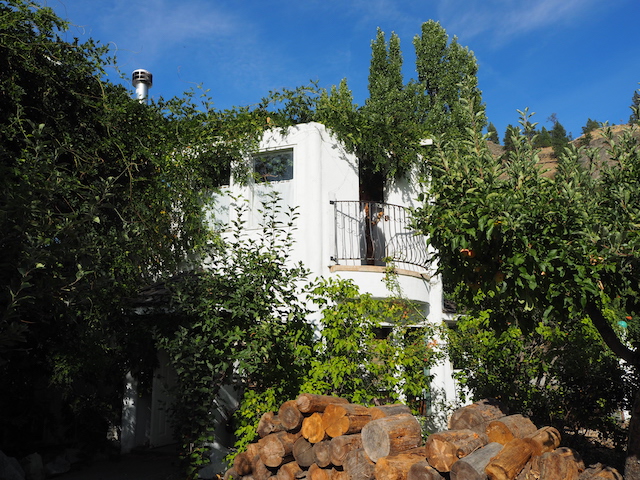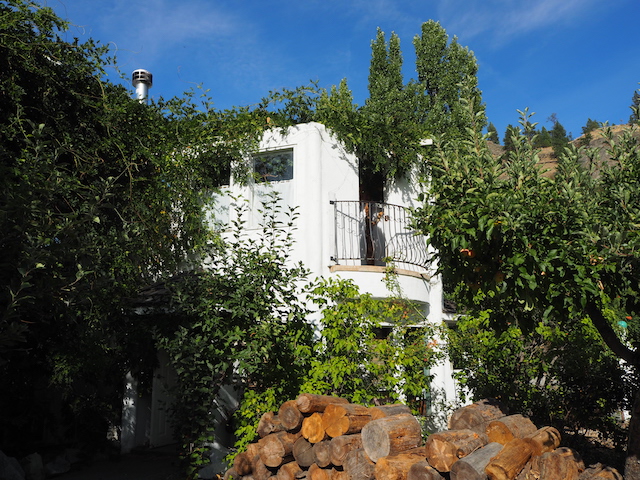 Last night, I slept in the roofless room at God's Mountain Estate, and it was among the most magical nights I've had.
But you might not like it.
If you're the sort of lodger who requires little bottles of fancy shampoos and soaps, mints on your pillow with turn-down service, sanitized spaces devoid of personal touches, and staff that cater to your every whim, then God's Mountain is not the place for you.
If, instead, you favour quirkiness over perfection, love character and eccentricity, rest and relaxation, and a sense of "there's no other place like this," then perhaps God's Mountain will speak to you as loudly it does me.
Proprietor Sarah Allen understands that feeling of "the home I didn't know I was searching for," because, over 15 years ago, she turned up the mountain lane to be a guest at this then-unknown variable. Arriving, she discovered this odd-but-stunning Mediterranean-style villa during a not-so-well-planned road trip home to Vancouver, and despite low expectations, fell madly in love. She stayed three more times as a guest before she decided her life's mission was to find a way to buy it.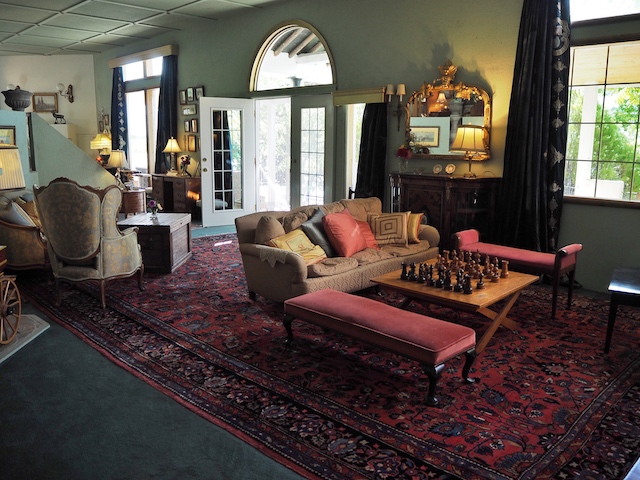 Here we are, 13 years into her ownership, and God's Mountain has become a repository of antiques, quiet spaces, scattered books, a smattering of amusing quotes on walls, and a sprawling 115-acre mountainside retreat complete with vineyards and fruit trees and a kind of magic one doesn't find very often. This isn't a hotel, it's Sarah Allen's home, and we are her cherished guests.
Sarah knows this place isn't for everyone. It's a special visitor who loves this – and they're usually people who covet book time in comfy chairs, who disdain televisions and ambient music on their holidays, who adore nature and the rustling of wind in the endless trees around the place. And yet, you'll find it hard to get a night here, because the repeat business is so strong – so much so that I was confused why I was granted a free sponsored media stay, since Sarah doesn't need the press. When I asked, she simply smiled and replied, "Well, I thought it would be a special experience for you, so why not?" And geez, was she ever right.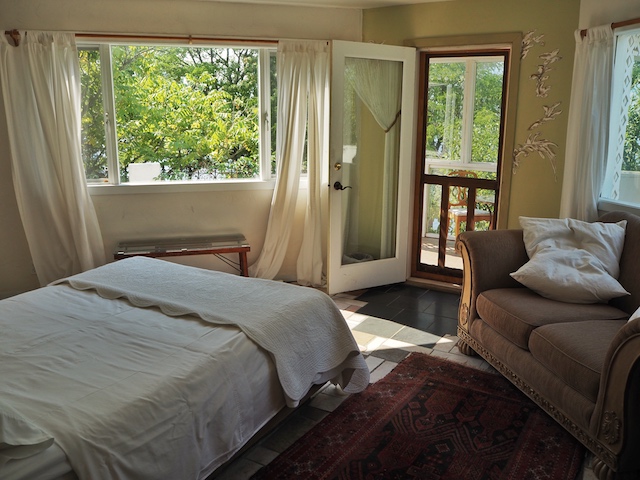 My perfectly-imperfect roofless room gave me a starry night of respite and reflection. For one night, I dubbed this "Goddess Mountain" as I enjoyed solace and peace I seldom find in my nomadic life. I filled the deep-soaking tub and kept my spectacles on for stargazing at the heavens as I sipped my bold red wine from Fairview Cellars. With wind whooshing through the vines covering half my roofless room, I found myself contemplating how to attain a similar life of beauty and simplicity at the dawning of my third year of living life as a nomad.
My perfect night of relaxation capped a fantastic dinner served up by Joy Road Catering, who host outdoor dinners on the property, overlooking the vineyard below, Skaha Lake, and the mountains opposite. Weeks of forest fire smoke blew off the day before, producing stunning views and crisp air. Before long, the team of diehards at Joy Road got busy serving us up a four-course meal, complete with wine pairings, high-lighting the Okanagan bounty. Food nerds to the nth, owners Dana Ewart and Cameron Smith raise their own pigs on a diet of beer mash from local brewers and whey leftover from the cheesemaking processes at Upper Bench Creamery. Dana's the baking whiz and Cam's the well-travelled highly-trained chef, but together they make foodie magic in many ways.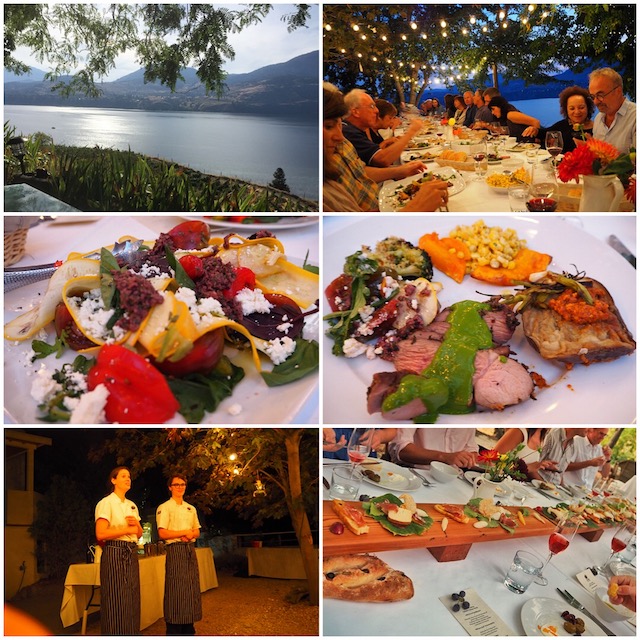 During the feast, Upper Bench's cheeses were highlighted, along with local lamb, veggies of all kinds, and fantastic breads made with organic wheat. Served long-table style under the trees with incandescent bulbs glimmering as dusk fell, it was a two-plus-hour dinner of chatting with 49 other eager diners. One doesn't know what they'll be eating as they descend upon a Joy Road Catering experience, but they do know it will be an experience indeed.
Across from me sat Caitlyn, a vegan doing noble work in the cancer wing of the regional hospital, who received the dinner as a wedding gift for her and her new husband. She didn't know what to expect for vegan substitutions but was blown away by the care and attention she received as the odd diner out. From gazpacho to cobbler, she too enjoyed a locally-sourced feast for the senses and said she felt special and cared for, not as if she were a burden.
As the dishes were cleared and the crowd departed, stillness and peace descended again upon God's Mountain. For me, I've always loved staying in quirky lodgings where the owner's passions show through. No, these places aren't for everyone, and thank God they aren't. For those of us who do enjoy these spots, where the owner's soul and values show through, it's an experience we long for and seldom find.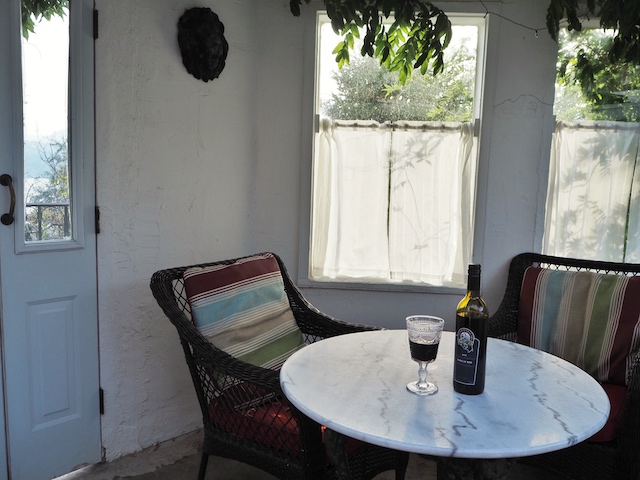 God's Mountain Estate's tiny, beautiful, but decidedly uninformative pamphlet has its address and contact information, and only one other brief passage: "How beautiful it is to do nothing, then rest afterward," a Spanish proverb.
Indeed. The nothing I have done here is everything I had hoped for.
If rustic imperfection in a gloriously sprawling Mediterranean-style estate, nestled in the heart of all things wonderful about the Okanagan is what you're looking for, perhaps you'll be lucky enough to find one of the rare vacancies God's Mountain Estate's 2018 season. With space available in just 13 rooms, over a short May to Thanksgiving season, it's the lucky and the few who can visit. Stays begin at *$225 night and include a wonderful breakfast spread that feature everything from bruschetta to veggie-filled scrambled eggs and charcuteries and sausages, served at nine a.m (don't be late or you might find slim pickings).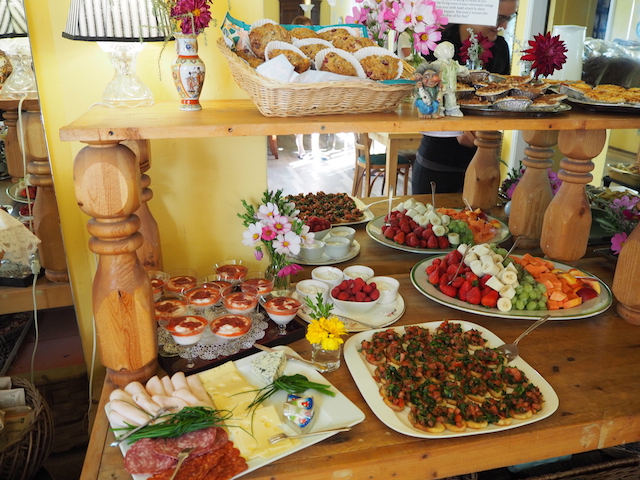 To enjoy both God's Mountain Estate and the wonders of Joy Road Catering, stay over on a Sunday night. The Joy Road Catering experience is *$115 + GST for four courses and wines. Sometimes they do Thursday night dinners at the Estate while working with particular wineries as a food/wine-pairing evening ($125 + GST). You can also find Joy Road's famous baked goods and some other treats at the Penticton Farmer's Market. The word on the street is the cinnamon rolls are worth fighting over, but you didn't hear it from me.
* Prices listed are those available at the time of publishing.