G Day For Girls is a new global social movement anchored by day-long events that celebrate and empower tween girls ages 10-12. The next one in the Vancouver area is coming up in October and will be open for over 100 girls aged 10-12 and 100 adult Champions in an intergenerational, empowering community celebration of girls as they transition from childhood into adolescence.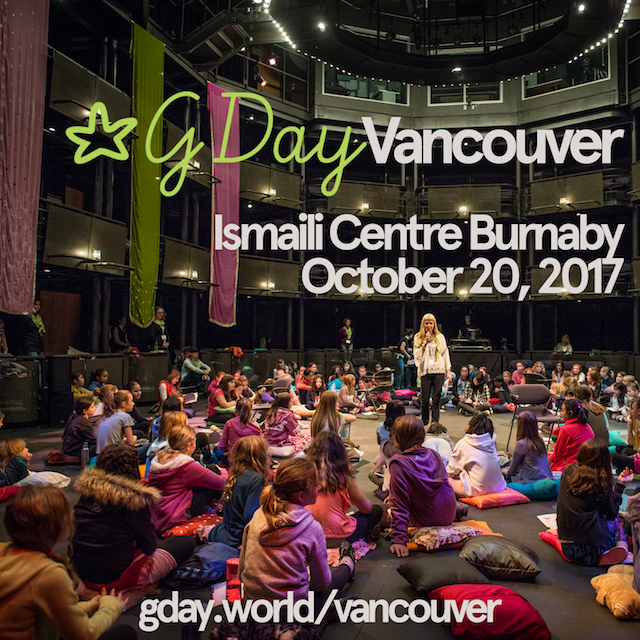 G Day for Girls
When: Friday, October 20, 2017 9:00am to 3:00pm
Where: Ismaili Centre Burnaby, 4010 Canada Way, Burnaby,
Tickets: On sale now for $50 (plus service charge) for girls and adult champions. A limited quantity of sponsored tickets are available for girls who would not otherwise be able to attend G Day for financial reasons.
Speakers include trans rights activists Michelle and Tru Wilson, Minister of Advanced Education, Skills, and Training, Hon. Melanie Mark, YWCA Metro Vancouver Culture Shift project lead Lori Boland, CEO & Co-Founder of Webnames.ca Cybele Negris, and musician & CBC Searchlight Competition winner Desiree Dawson.
G Day began in the spring of 2014 with over 500 girls and their champions attending both 2014 events in Vancouver. In 2015, G Day was met again with incredible community support and attendance in Vancouver. G Day Toronto launched in April 2015, and G Day Victoria took place in September 2015 and 2016. This year's event is produced by the charity United Girls of the World Society, which anticipates Toronto, Whitehorse, and Calgary as future G Day host cities.
Follow G Day for Girls on Facebook, Twitter, and Instagram for more information.