The Greater Vancouver Food Bank is hosting the 2nd annual Vancouver Citywide Food Drive on September 16th, online and in person, making it easy to give where you live this season.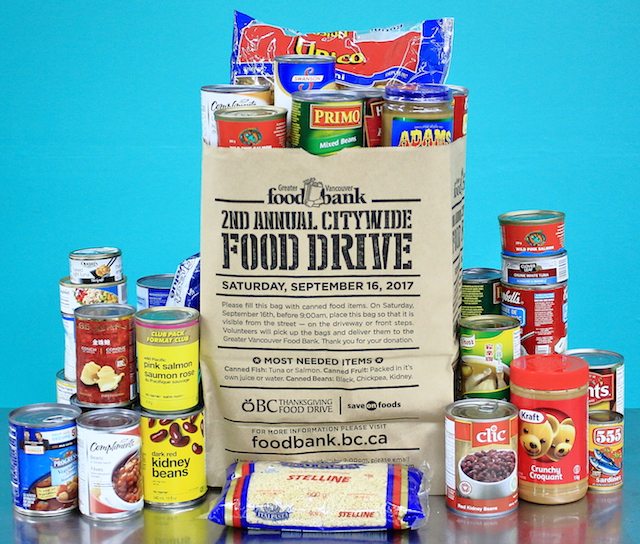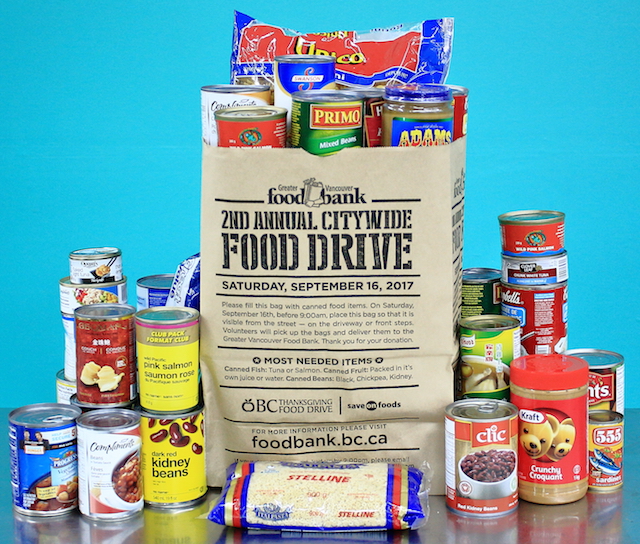 At Your Door
You can contribute by leaving nutritious, non-perishable food items on your doorsteps before 9:00am on Saturday, September 16, 2017 using one of the 38,000 paper bags that will be left in front of local homes in advance. Greater Vancouver Food Bank staff and volunteers will then collect bags from doorsteps in Vancouver, New Westminster, Burnaby and the North Shore.
The food bank is looking to collect 100,000 lbs of food, almost doubling last year's haul of 53,000 lbs. The best food items for donation are: canned fish, canned chicken or turkey; canned black beans, chickpeas, and kidney beans; whole grains and whole-wheat pasta; and canned vegetables and fruit.
Drop-Off
Volunteers and staff will be onsite at three locations on September 16th to collect food donations from the public: Save On Foods on Brooksbank in North Vancouver, Save On Foods on Kingsway & Willingdon in Burnaby and The Church of Jesus Christ of Latter-Day Saints on West 41st in Vancouver.
Online
Donate to the Greater Vancouver Food Bank directly online, where each $1 donated can be leveraged, with the food bank's bulk purchasing power, to provide $3 worth of food to the over 26,500 individuals in Greater Vancouver who access their services every week.

Every week 26,500 people access our services at locations in Vancouver, Burnaby, North Vancouver, and New Westminster. 20% are children and 19% are seniors. Each year, the Greater Vancouver Food Bank distributes 4.1 million pounds of food. This campaign leads into Hunger Awareness Week in Canada.
Follow along on Facebook and Twitter for more information about participating in the Citywide Food Drive on September 16th.