To celebrate National Coffee Day on September 29th, 7-Eleven® Canada will host its first ever Bring Your Own Mug Day. Coffee lovers are invited to bring their favourite mug and fill it for FREE at any 7-Eleven Coffee Bar across Canada.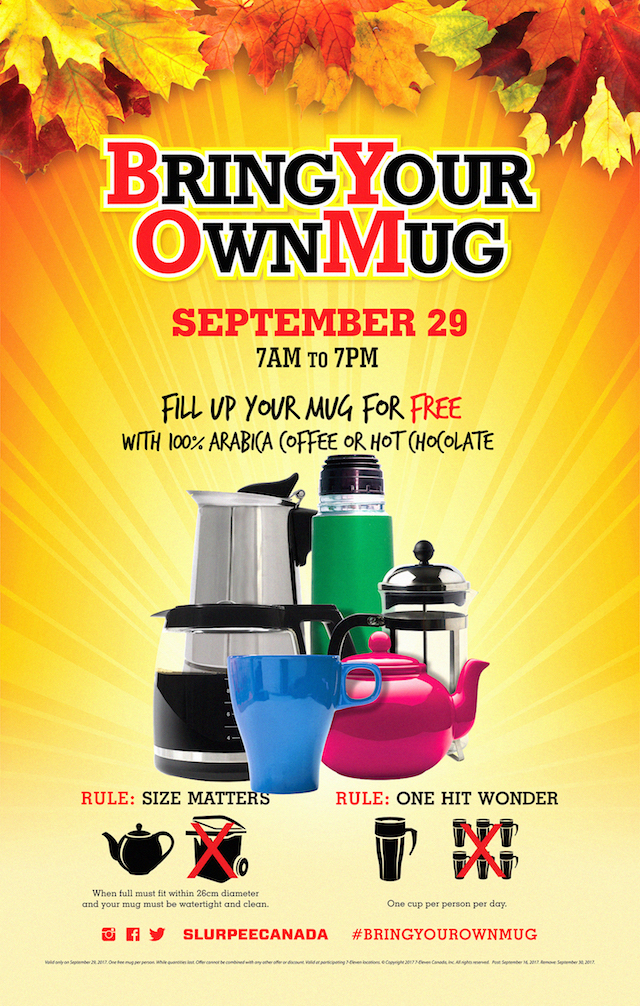 7-Eleven Bring Your Own Mug Day
Where: All 7-Eleven stores across Canada
When: Friday, September 29, 2017 7:00am to 7:00pm
Bring your trusty travel mug, carafe, coffee pot or cup and fill it with your favourite warm drink. Customize it with syrups, topping and condiments are always no extra charge.
Enjoy a mug full of Canadian-roasted, 100% premium Arabica Coffee (7-Eleven's exclusive blend won the Silver Medal at the 2016 Golden Bean Awards), the seasonal favourite of Pumpkin Spice Latte or Hot Chocolate.
Size does matter in this case, as your mug must be less than 26cm in diameter, clean and water tight. To ensure that all java enthusiasts get to enjoy Bring Your Own Mug Day, there is a limit of one mug per person.
NEW! With the 7Rewards points program, every 7th cup is still free and customers can earn points towards free drinks and snacks.
For more information, follow 7-Eleven Canada on Facebook, Twitter, and Instagram using the tag #BringYourOwnMug.