What's better than a family picnic on a summer afternoon? How about one that also supports and amazing local charity. On Sunday, August 13th, join the 5th annual Whole Way House family picnic in Stanley Park.
Whole Way House Family Picnic in Stanley Park
Where: Prospect Point in Stanley Park (6200 Stanley Park Dr)
When: Sunday, August 13, 2017 1:30pm to 4:30pm
Tickets: Donate here to book your tickets. All donations will be matched by BC Housing and Maven Consulting Inc.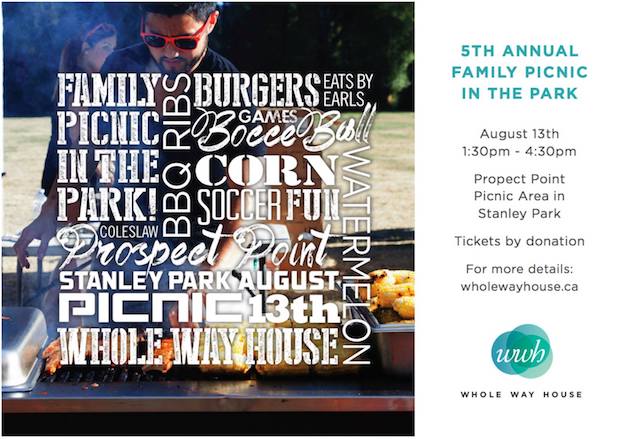 Bring your friends and family out for a fun day in Stanley Park with games, music and great food. Earls will be grilling up a fantastic meal all in support of the programs and residents at the Veterans' Manor in the Downtown Eastside. There will also be a silent auction where you could win some great prizes.
Donations at the Whole Way House Family Picnic will specifically go towards the purchase of a van to ensure that the veterans can stay connected to their community by going grocery shopping, going on outings, getting to appointments and more.
Whole Way House was co-founded by Jenny & Josh Konkin in 2013 and currently serves the residents of The Avalon Hotel. Whole Way House is dedicated to creating a safe and welcoming environment where we can build meaningful relationships and a community that instills worth, value and dignity.
Follow the Facebook event for more info, and follow Whole Way House on Facebook and Twitter.