It came down in 1959 and just last week it rose again. Sai Woo's iconic neon rooster has been recreated and installed at 158 E Pender St in Vancouver's historic Chinatown, thanks to donors and pledges.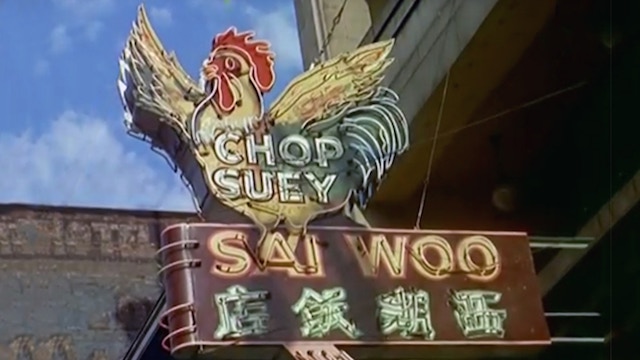 Neon Sai Woo Sign Returns to East Pender
The project to restore the sign began earlier this year when current Sai Woo owner, Salli Pateman, was trying to track down the original.
"Sai Woo first opened its doors as a chop suey house in 1925. Its delightfully garish neon sign, which featured a giant rooster with spread wings, was likely taken down when the original restaurant was closed in 1959. The existence of the sign was known from archival footage." [Source: CTV]
Sai Woo teamed up with TDH Experiential Fabricators to recreate the restaurant sign. TDH has created some of the most creative and recognizable signs across the west coast – including Gastown's "Time is Precious", Bao Bei's neon sign, and Vancouver Aquarium's sign. Salli picked TDH as they have a long history with neon signs and were willing to recreate the rooster sign exactly as it was going off only one frame of a 1959 video clip.
The cost to replace the sign rang up to $18,712 so she launched the Kickstarter campaign "Bright Lights, Van City".
Word of the mission spread, and the community came together and raised $18,190 to recreate the sign, just shy of the goal. $522 short, with just hours left to find additional backers, Steven Wong of East Pender's Modernized Tailors hand-delivered a check for $522 to Salli before the campaign ended.
Steven's father frequented the original Sai Woo restaurant in the 1950s, Vancouver's legendary Neon Era, when 19,000 neon signs illuminated the city when the sun went down. Steven's donation was in commemoration of his father who passed away this year at the age of 96.
This year, several historic East Pender landmarks have risen from the ashes. On the 100 block of Pender St there was the return of Jade Dynasty restaurant in the recently restored Mah Society Bldg, which includes a new retro sign based on early examples found in the area. The new Chinatown BBQ shop is opening shortly a few doors down from Sai Woo and the HO-HO is under construction which will bring back this iconic restaurant and a new version of the 3 storey high neon sign which was last seen in the late 1990s.
In 2011, Vancouver's Chinatown was designated a UNESCO World Heritage Site. Want to see more of Vancouver's old neon? Check out the Museum of Vancouver's permanent exhibit: Neon Vancouver Ugly Vancouver.