The incomparable Nardwuar, music historian and interviewer extraordinaire, is celebrating 30 years on the CiTR airwaves in September with a two day marathon of archived interviews followed by an anniversary show on Saturday, September 23rd.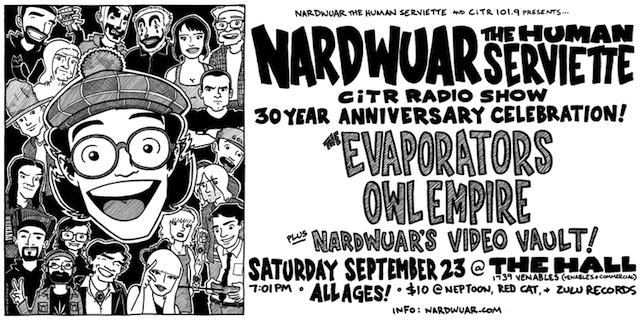 30 Years of Nardwuar on CiTR
Enjoy Nardwuar's incredibly unique and entertaining interviews recoded for CiTR since 1987 starting Thursday, September 21st at 9:00pm through to 5:00pm on Friday, September 22nd. Jay-Z to Michael Gorbachev, from Destiny's Child to Wesley Willis to everything in between.
"Nardwuar, the Human Serviette is a journalist famous for his interviews with all your favorite artists, but you've probably never heard of him. If you have, you know that he's hands-down the best interviewer in music journalism today and you know that's not an exaggeration." (Meet Nardwuar, The Best Interviewer In The World, Buzzfeed 2014)
Nardwuar is a living legend, a Vancouver icon! His YouTube videos along have millions upon millions of views, and celebrities across the planet covet a Nardwuar interview.
"… his destabilizing zeal and musical knowledge operate as a merry infection. Somehow he gets media-savvy entertainers to switch off their autoresponders, to abandon their publicist's advice about composure. No wonder the interviews are billed as title fights or Godzilla movies: "Nardwuar vs. Flying Lotus." "Nardwuar vs. Snoop Dogg." "Nardwuar vs. Lady Gaga." Nardwuar wins if he can hammer his subject into a state of unguarded glee." (New York Times: Letter of Recommendation, 2015)
On top of all of this, Nardwuar is just a really nice human. Our paths have crossed at the Vancouver 2010 Olympics, South by Southwest in Austin, even on the street in Vancouver and he's always gracious and up for a photo op. Also the holiday season doesn't officially start in our household until we receive our Nardwuar Christmas card.
Anniversary Show
Nardwuar also has his own band, The Evaporators, and they'll be playing an anniversary show with Owl Empire, and featuring Nardwuar's Video Vault.
When: Saturday, September 23, 2017 at 7:01pm
Where: The Hall at 1739 Venables (Venables & Commercial)
Tickets: $10 at Neptoon, Red Cat, and Zulu Records or online. All ages welcome.
Follow Nardwuar on Facebook, Twitter, and be sure to browse his collection of interviews on YouTube. Tune into CiTR (101.9 on your FM dial) on September 21st & 22nd and see you at the show on September 23rd.