In honour of Canada 150, this summer Vancouver TheatreSports League ("VTSL") takes a loving and comedic look at what makes us uniquely Canadian. On now through September 2nd, Oh, Canada – The True North Strong and Funny, pokes fun at Canadian stereotypes.
Oh, Canada – The True North Strong and Funny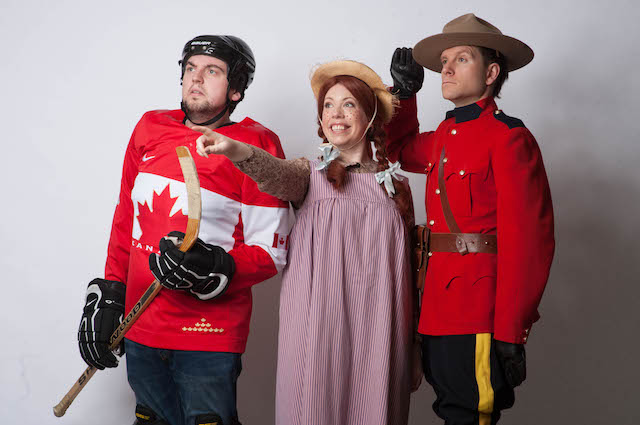 Canada is known internationally not just for its polite manners and harsh winters, but also for the quality of its comedy and improv comedians spanning as far back as Wayne and Shuster (1950s-70s), SCTV (1970s – 80s), Bob and Doug Mckenzie (1980s), John Candy, Dan Aykroyd, and Mike Myers (1980s – 2000s) through to current improv legends, and VTSL alumni, Ryan Stiles and Colin Mochrie. Oh, Canada pays homage to this rich comedic heritage.
In a series of vignettes and improv games, VTSL's quick-witted improvisers lampoon Canadian 'institutions' such as Anne of Green Gables, Heritage Minutes, the Mounties (who remembers Dudley Do-Right?), the Great White North ("take off eh"), Hinterland Who's Who, our obsession with hockey, maple syrup, double-doubles to name only a few of the endless, and entertaining, possibilities.
As in all VTSL shows, the plot, characters and action are co-developed with the audience – utilizing their suggestions to drive the action and create on-the-spot, unscripted, theatrically-infused comedy. Being an improv show means that no two performances can ever be the same, but all are guaranteed to be hilarious!
Oh, Canada – The True North Strong and Funny runs every Thursday through Saturday evening at 7:30pm this summer. All shows take place at VTSL's home theatre, The Improv Centre on Granville Island. Tickets start from as low as $10. Show information and tickets for all VTSL productions can be found online.
All performances are at The Improv Centre on Granville Island (1502 Duranleau St). Be sure to try a Canadian themed cocktail in VTSL' Neil Macrae Bar & Lounge!
Follow VTSL on Facebook and Twitter for more information and book your tickets today.