Surrey Women's Centre will be collecting diaper donations from August 1-18th, benefitting under-privileged mothers who have a difficult time providing for their families.
Surrey Women's Centre Diaper Campaign
Being a mom is hard enough. Let's help make it easier.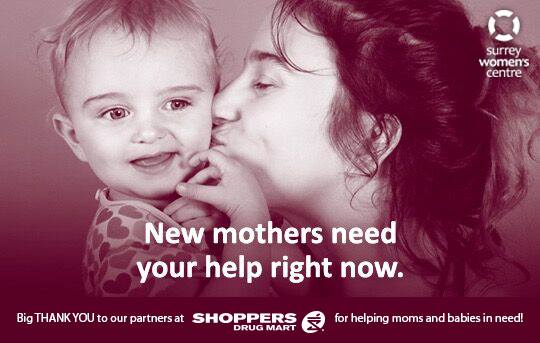 Chantal, a young single mom, can't always afford diapers for her daughter Skye – and she is not alone. Many single moms struggle to provide the basics for their babies. "I sacrifice my food for Skye," explains Chantal. "I'd rather have her eat and have diapers than me eat for a whole day."
Many moms, like Chantal, end up working part time and depend on welfare because of the difficulty finding affordable childcare. The irony is, if they had affordable childcare, they would be able to go to work full time.
According to the Canadian Diaper Bank, most childcare facilities require a parent to provide a supply of disposable diapers ahead of time. Many do not accept reusable, cloth diapers – which are usually cheaper.
"It's hard. I'm struggling, but better me struggle through life than me have nothing at all," says Chantal.
How to Help
Supporting the cause is as easy as sharing this post on Facebook. For every 5 shares it receives, Shoppers Drug Mart will donate a box of diapers to mothers.
You can also donate a box of new, unopened diapers to the Surrey Women's Centre between August 1-18th, 2017. Call Amanda at 604-589-1868 Ext. 243 for more details on drop off location and times.
The third option is to click here to send some eCards. For every 5 sent, Shopper's Drug Mart will donate a box of diapers.
In 2015, Surrey Women's Centre and Shoppers Drug Mart partnered up, and with your help, provided over 200 moms with diapers. This year they aim to do the same. This August, you can help Chantal and other moms in need.