by

Disclosure: Sponsored Post

— Published in partnership with the City of Coquitlam Please review the Policy & Disclosure section for further information.
Free outdoor music! Need I say more? Coquitlam is amping up its entertainment offerings this summer with a number of concerts and festivals centred at its amphitheatre-style stage at Town Centre Park. Think live music in the open air, the scent of coconut sunscreen, and picnic blankets spread out over the grass. This is summertime at its best – and it's open to all ages.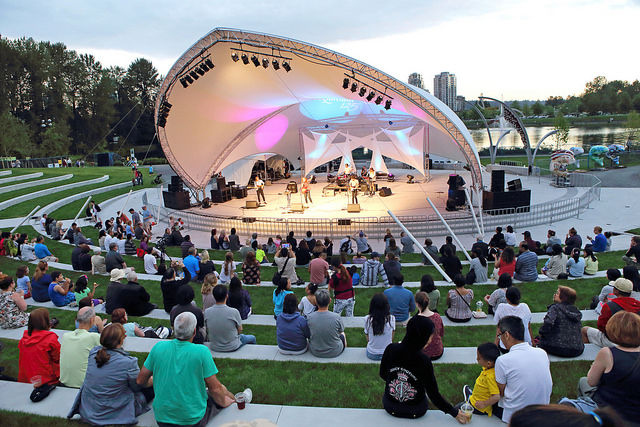 Hop on the SkyTrain to Lafarge Lake-Douglas station, which drops you off at Town Centre Park. From there, follow the music and the crowds to the outdoor plaza, which has plenty of seating plus grassy areas to stretch out. Mark your calendars for these highlights!
Free Outdoor Music in Coquitlam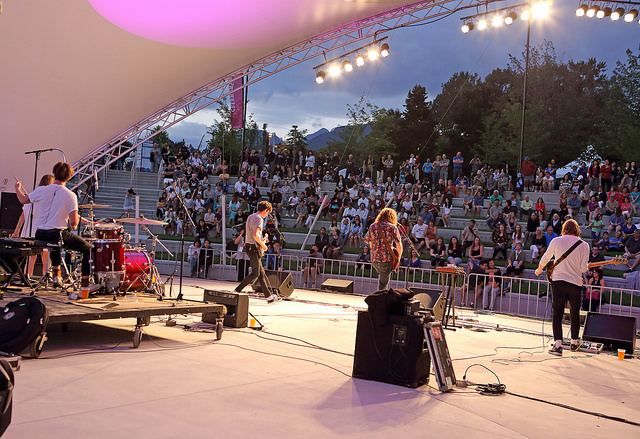 Summer Concert Series presented by Envision Financial
Pack a picnic or grab a bite to eat at one of the food trucks on site as musical acts take the stage under the white canopy at Town Centre Park Plaza. The first concert on Friday, July 14 features Joe Fernandes Band and Megan Twist from 7:00pm to 9:00pm. Also mark your calendars for concerts on August 11 and September 1 from 7:00pm to 9:00pm. Free admission!
Place des Arts presents A Midsummer Night's Dream
Place des Arts' summer teen theatre troupe performs a wild, fun-filled adaptation of Shakespeare's comedy, featuring lively music and audience participation. The free performances take place at Town Centre Park Plaza at 7:00pm. each night from Wednesday, July 26 to Saturday, July 29, or watch the matinee on Sunday, July 30 at 2:00pm.
Kaleidoscope Arts Festival presented by Kia West
BC's beloved rocker, Bif Naked, takes the outdoor stage as the headlining act to this highly anticipated, full-day arts festival set for Saturday, August 12. The musical lineup also features The Matinée, The Paperboys, West My Friend, Derrival and Jennifer Hayes. Other festival highlights include dancers, circus performers, storytellers, artists, an artisans market, kids' activities, local food trucks and craft beer. Free admission!
While You're Here
Have children in town? Their eyes will bug out at the sight of Town Centre Park's playground, skate park and spray park. The park also has free foosball and table tennis located near Percy Perry Stadium (just pack your own paddles and ball).
The park is located in Coquitlam's City Centre, so there's plenty to do in the area, including shopping, dining and unique dessert options. If you're in need of an espresso, the nearest café is Caffé Divano, or take a short stroll down to Glen Drive for a huge selection of restaurants from around the globe.
Other Fun Events this Month
Music on the Grill: Evergreen Cultural Centre takes the entertainment outdoors for its popular Music on the Grill series. Sit down for a BBQ dinner served al fresco on their patio with pre-show entertainment, followed by the evening's marquee presentation in the Studio Theatre. The lineup includes The Bills with Mildly Wild on July 8, Big Little Lions with Ben Beveridge Trio on July 22, and Tiller's Folly with Dawson Rutledge on August 19. The cultural centre is located at Lafarge Lake-Douglas SkyTrain station. Tickets required.
CanWest Games : Athletes travel from the US northwest and western Canada from July 28-30 to compete in this event, deemed the largest Functional Fitness Competition in Western Canada. Watch the athletes at Percy Perry Stadium (at Town Centre Park), shop in the vendor village and chill out in the beer gardens.
Hard Rock Casino Ultimate Car Show: Interested in exotics, classics or muscle cars? Get revved up at this July 29 event held at Hard Rock Casino Vancouver from 10:00am to 3:00pm Admission is free for spectators.
Free & Fun: Whether you're interested in going for hiking, mountain biking or outdoor spray parks, Coquitlam's free Travel and Experience Guide has plenty of entertainment ideas. Read about all of these events and more online, and share your fun summer photos using #explorecoquitlam.