CBC Vancouver Musical Nooners are back this summer, with a full lineup of free daily lunchtime concerts. The popular series returns with a splash to the outdoor stage at the CBC Vancouver Broadcast Centre on Friday, July 7th at 12:00pm, featuring a special two hour concert with Juno award-winning indie rock band Said the Whale, and opening act Fake Shark.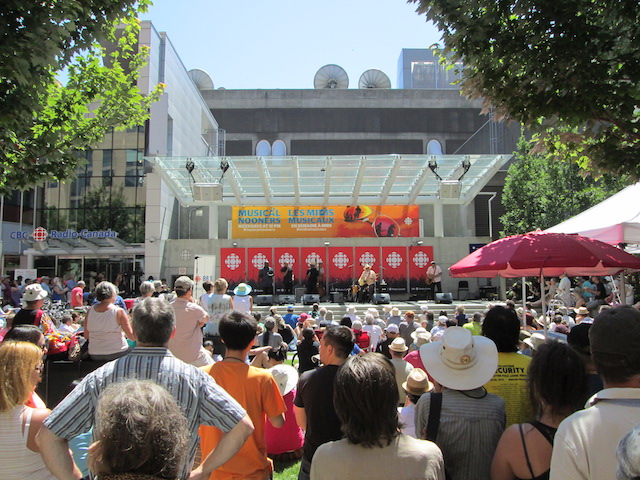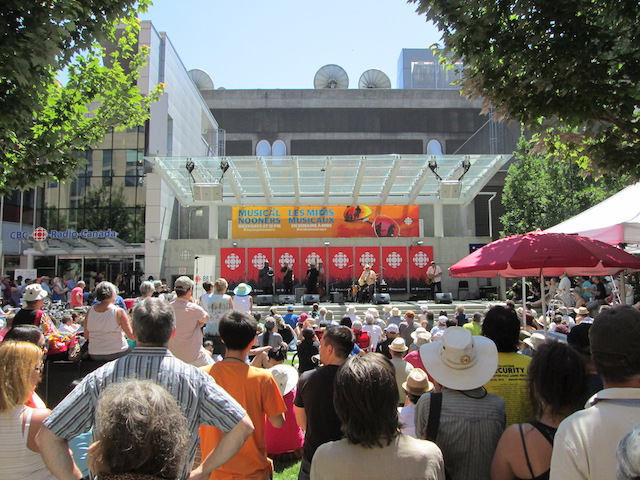 The first show of the series will be a special 2-hour performance that will see Hamilton Street shut down to vehicle traffic between West Georgia and Robson.
CBC Vancouver's Musical Nooners free concert series runs Monday to Friday, from 12:00pm to 1:00pm, at the CBC Broadcast Centre at 700 Hamilton Street (between Robson and West Georgia) from July 7 to August 25, 2017.
Musical Nooners Lineup
Friday, July 7 – OPENING DAY
Fake Shark – 12:00pm to 12:30pm
Said The Whale – 12:45pm to 1:45pm

Monday, July 10, 2017
Genres: Blues
Murray Porter

Tuesday, July 11, 2017
Genres: Reggae, soul, Americana
Buckman Coe

Wednesday, July 12, 2017
Genres: Folk rock, reggae
Jon and Roy

Thursday, July 13, 2017
Genres: Afro beats, reggae, rock
Wesli

Friday, July 14, 2017 ​
Genres: Electronic, pop
Melisande

Monday, July 17, 2017
Genres: Rock n' roll, soul
Old Soul Rebel

Tuesday, July 18, 2017
Genres: Folk, adult contemporary, soul
Khari Wendell McClelland

Wednesday, July 19, 2017
Genres: Indie Soul, singer-songwriter
Desiree Dawson

Thursday, July 20, 2017
Genres: Gypsy Jazz
Brishen

Friday, July 21, 2017
Genres: Mexican Folk, Cuban, Latin soul
Locarno

Monday, July 24, 2017
Genres: Rock, folk, pop
Paul Lambert

Tuesday, July 25, 2017
Genres: Alternative, pop
Cassandra Maze

Wednesday, July 26, 2017
Genres: Country, folk
Raquel Cole

Thursday, July 27, 2017
The Long War – 2017 Searchlight Winner
Genres: Indie rock

Friday, July 28, 2017
Genres: Indie rock
The Velveteins
​
Monday, July 31, 2017
Genres: Chamber, pop
The Ruffled Feathers

Tuesday, August 1, 2017
Genres: Singer-songwriter
Steph Cameron​

Wednesday, August 2, 2017
KIDS DAY
Will Stroet from CBC Kids
and more activities
12:00pm to 2:00pm

Thursday, August 3, 2017
Genres: Country, blues, rock
Miss Quincy
​
Friday, August 4, 2017
Genres: R&B, soul, Christian, gospel
Warren Dean Flandez

Tuesday, August 8, 2017
Genres: R&B, soul, songwriter
Emily Chambers

Wednesday, August 9, 2017
Genres: Blues, Gypsy Jazz, pop
David Sinclair & Keith Bennett

Thursday, August 10, 2017
Genres: Blues, world pop
Sister Speak

Friday, August 11, 2017
Genres: Canadian Blues, rock,
Jesse Roper

Monday, August 14, 2017
Genres: Roots, blues, rock
Main St. Muze featuring Babe Gurr

Tuesday, August 15, 2017
Genre: World
Ache Brasil

Wednesday, August 16, 2017
Genres: Latin, dance
Mazacote
​
Thursday, August 17, 2017
Genres: Latin, folk
Wooden Horseman

Friday, August 18, 2017
​Genres: Indie-rock
​Derrival

Monday, August 21, 2017
Genre: Blues, folk, singer-songwriter
Leah Barley

Tuesday, August 22, 2017
Genre: Fusion, world
Dave Bawa

Wednesday, August 23, 2017
​Genre: Singer-songwriter
​Fionn

Thursday, August 24, 2017
Genre: Singer-songwriter
Roy Forbes

Friday, August 25, 2017
​Genres: Funk, world fusion
​Coco Jafro
​
Following last year's overwhelming popularity and success, Kids' Day will be back this year on August 2nd. Will Stroet of Will's Jams from CBC Kids will be on stage to delight young fans and their parents alike. Guests can mingle with Scout from CBC Kids' and Parka from Parks Canada, make creations at the craft centre and participate in an adventurous scavenger hunt.
View the full series lineup here »
For more information on the Musical Nooners series and CBC in British Columbia follow along on Twitter or with the tag #musicalnooners.