The Vancouver Heritage Foundation is celebrating its 25th anniversary with 25 Ways to Heritage, a list of 25 ways the public can engage with heritage.
25 Ways to Heritage
From taking a moment to appreciate the details and craftsmanship of Vancouver's historic buildings, to learning more about the diverse history of our city, planning a special visit, or even rolling up your sleeves and getting hands-on, there are lots of ways to take part and help us celebrate 25 years.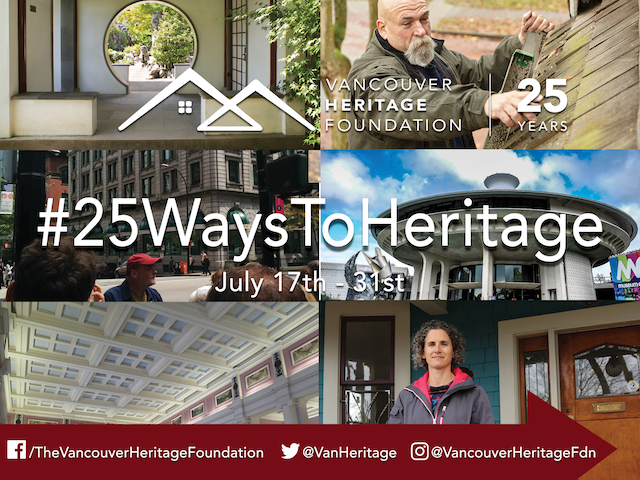 Examples — just 2 of 25!
Join John Atkin for a free walking tour of the West Hastings Street corridor on July 28th. See how this important historic street has evolved from fashion centre to business district, and learn about some of its impressive buildings.
Look up from your daily commute at the incredible ceiling of Waterfront Station. Completed in 1916 by Adelaide Langford, the paintings depict the Rocky Mountains from Calgary to Vancouver.
Read the full list of 25 Ways to Heritage »
Go on a heritage adventure in your own town by visiting a heritage site or doing a heritage task. Then post a selfie or photo of your group to Facebook, Twitter or Instagram of your heritage adventure using #25waystoheritage to be entered for a chance to win a VHF prize pack valued at $70.
Help VHF ensure a positive future for historic places and all the benefits they bring to our city, and make heritage part of your summer!
Follow the Vancouver Heritage Foundation on Facebook and Twitter for more information.