BC's stars of film and television took the red carpet on Sunday night for the second night of the Leo Awards that weekend, and third night overall, celebrating the industry's best. From short films and documentaries, to stunt work and supporting actors, everyone looked their very best for the ceremony and dinner held in the Hyatt Regency's ballroom.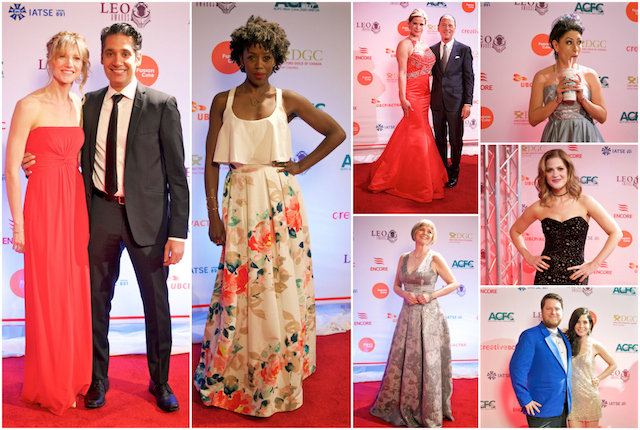 Leo Awards Winners
There was a record number of entries for the Leo Awards this year, with 1,295 submitted in 14 program categories, broken down into 183 program and 1112 craft entries. There was a total of 486 nominations from 182 separate programs confirmed after two months of deliberation.
Some of the winners are:
Best Motion Picture
Hello Destroyer
Haydn Wazelle, Daniel Domachowski – Producers
Best Direction Motion Picture
Hello Destroyer
Kevan Funk
Best Lead Performance by a Male Motion Picture
Hello Destroyer
Jared Abrahamson
Best Lead Performance by a Female Motion Picture
The Hollow Child
Jessica McLeod
Best Dramatic Series
Rogue
John Morayniss, Matthew Parkhill, Robert Petrovicz, Nick Hamm – Producers
Best Lead Performance by a Male Dramatic Series
Van Helsing – Help Me
Jonathan Scarfe
Best Lead Performance by a Female Dramatic Series
Motive – Natural Selection
Kristin Lehman
Best Music, Comedy or Variety Program or Series
Letterkenny
Mark Montefiore, Patrick O'Sullivan, Jared Keeso, Jacob Tierney – Producers
Best Youth or Children's Program or Series
Scout & the Gumboot Kids
Tara Hungerford, Eric Hogan, Dave Valleau, Bruce Kahkesh, Tracey Mack, David Roncin, Natalie Glubb, Robert Murdoch – Producers
View the full winners list by program on the Leo's website »
Red Carpet Photos
As usual, there was a lot of fun to be had on the red carpet. From twirling in a stunning gown or posing creatively for the camera, to Carmen Moore's encore walk down the aisle with take-out drink in hand or Michael Eklund's GIF-worthy stretches.
Red carpet #LeoAwards17 @MichaelEklund @leoawards pic.twitter.com/CDMvniFXoY

— Rebecca Bollwitt (@Miss604) June 5, 2017
View the full album on the Miss604 Facebook page and please feel free to request high-res/non-watermarked versions »
Follow the Leo Awards throughout the year on Facebook, Twitter, and Instagram to stay on top of what's happening in BC's film and television industry.