I stepped through the doors of the Billy Barker Days office in Quesnel and I was suddenly transported back to being an adventurous 10 year old hopping out of our family's camper van in the middle of a road trip. The Billy Barker Days logo, posters, and buttons jogged my memory: I have been here before! The recognizable depiction of "Billy" and the recollection of my old button collection led me to this conclusion.
For over 40 years, the parade, fireworks, business decorating, free entertainment and costumes have been a part of this free community festival that is accessible and open to all. While I was in tostwn on assignment for FestivalSeekers, I had a grand old time channeling Billy Barker himself when I went panning for gold on the Quesnel River with a modern day prospector, Clair Schmidt of Grubstake Gold Adventures.
Click here to read my full FestivalSeekers story about Billy Barker Days »
Click here for the Billy Barker Days website to plan your visit »
"Look for flat rocks and black sand," Schmidt old me as we arrived on a river sandbar with Highway 97 traffic whizzing by on the bridge above us. We were in the heart of Quesnel, and I may have been carrying on iPhone to take photos and video, but in a few moments we'd be transported to another time.
He explained that the magnetic iron (black sand) is heavy and it comes together with gold since they're about the same weight. He dug a few quick holes in the sand that was covered by smooth stones, and poured each load into a pan for each of us to work with. Before we began the next step, he advised: "Always fill in the hole because you don't want caribou falling in there and breaking an ankle!" Continue reading…»
It was so much fun to be in Quesnel and not only hear about Billy Barker Days this year, which sounds amazing, but experience part of the area's heritage while gold panning. I highly recommend you plan a visit, and spend some time in this Northern BC city.
While You're in Quesnel
Start your day with coffee at Granville's in the heart of Downtown Quesnel, it's a very popular spot! From there, you can walk part or all of the 11km Riverwalk path along the scenic Fraser River.
After a walk, grab lunch and sip some local craft beer at Barkerville Brewing. In the afternoon, head over to the Quesnel Museum where there are industry displays, family artifacts, a phenomenal archival photo collection from CD Hoy, and … Mandy the haunted doll!
When you're ready for dinner and to rest your head do so in style when you book your stay at the Billy Barker Casino Hotel. I was setup in the super glam Hollywood Suite during my visit.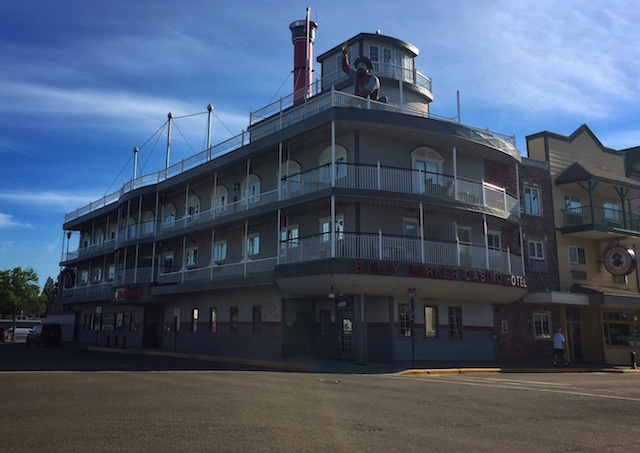 Finally, end your night with some live music at The Occidental, where they have live shows and local local Barkerville beer on tap.
#ExploreCariboo and Quesnel