by

Disclosure: Sponsored Post

— Published in partnership with FestivalSeekers Please review the Policy & Disclosure section for further information.
Setup camp under a grove of aspens next to a pristine Northern BC river and settle in for two days of music, fun, creativity, and entertainment, in a beautiful setting.
Arts on the Fly (July 13 & 14, 2018) in Horsefly, BC not only attracts those that love outdoor festivals, small town charm with big town taste – really, try the Soul Food food truck – but it's full of talented, ingenious musicians and artists that come together, with you, for a weekend of fun.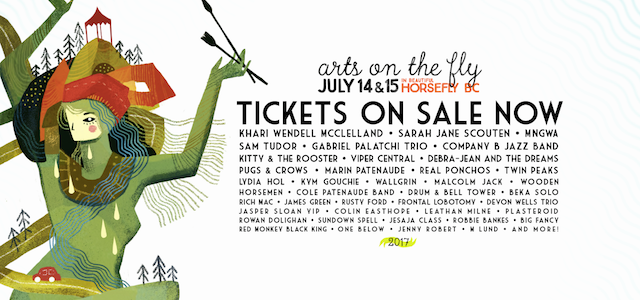 I explored Horsefly on a sunny summer morning, touring the museum, meeting award-winning musicians, and picnicking by a waterfall. You can read my full story on FestivalSeekers here »
Horsefly has been a community since 1859, pre-dating even Canada. It is said to be the site of the first gold discovery in the Cariboo and it was once called Harper's Camp. On a day like today at the pancake breakfast, you can see a convergence of ranchers, loggers, miners, artists, families and friends that make up this diverse community. It's this blend that Brandon (Hoffman) and the team bring to Arts on the Fly.
Brandon Hoffman, Artistic Director for Arts on the Fly, toured me around for the day and as a special treat, I got to meet the world-renown folk duo Pharis & Jason, who call Horsefly home.
Crossing the Horsefly River, and passing the grove where the solar-powered stage will be during the festival, we winded down a gravel road until we came to a home at the very end. We parked in front of a workshop building with a sign: "J Romero Banjos." A woman made her way to us from across the grass, her youngest child, a flower crown, and some crimson stalks in her arms. "Do you need any rhubarb?" she offered with a smile.

Pharis and Jason Romero are a JUNO-Award winning folk duo who write hauntingly harmonic songs, sing vibrant duets, and play handmade banjos. They also have a picturesque property on one of the area's many lakes. Continue reading… »
Culture, arts, innovation, all can be found in the town of Horsefly, which is also within driving distance of some amazing fishing and swimming lakes. It's not only an ultimate summer BC road trip destination, when you go for Arts on the Fly you'll be inspired, well-fed, rejuvenated, and certainly entertained.
Plan Your Trip to Arts on the Fly
Horsefly is a part of the Cariboo Regional District, home to a bounty of adventures and history. It's about an hour east of Williams Lake, north of Kamloops just off scenic Highway 97.
Explore more, search #ExploreCariboo for more on the region and #ExploreBC on social media.