One of my favourite Vancouver date night activities with my husband is a dinner and a show, which is why I'm so excited to partner with the Jessie Awards this year to bring you monthly theatre listings.
The Jessie Richardson Theatre Awards are an annual awards ceremony and party produced by the Jessie Richardson Theatre Award Society to celebrate and promote the outstanding achievements of the Vancouver Professional Theatre Community.
May Theatre Listings for Vancouver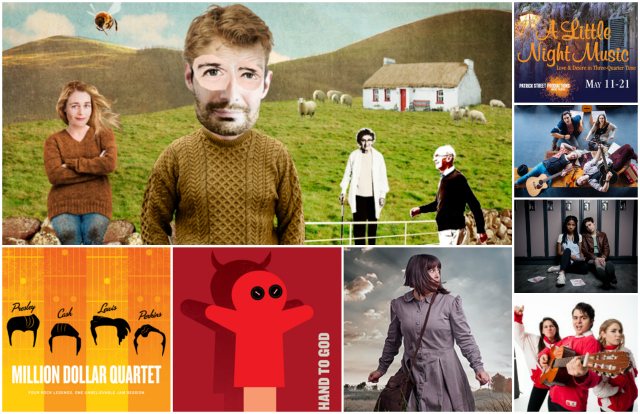 Pacific Theatre Presents:
Outside Mullingar
Pacific Theatre (1440 West 12th Ave, Vancouver)
May 19 to June 10, 2017
A pair of introverted misfits, Rosemary and Anthony's families have lived on neighbouring farms as far back as anyone can remember, where they battle over property lines and childhood stories but never what matters most.
Urban Ink Presents:
Children of God
at the York Theatre (639 Commercial Dr, Vancouver)
May 17 to June 3, 2017
In this powerful musical, the children of an Oji-Cree family are sent to a residential school in Northern Ontario. This is a story of redemption: for a mother who was never let past the school's gate, and her kids, who never knew she came.
Firehall Arts Presents:
Circle Game
At Firehall Arts (280 East Cordova St, Vancouver)
May 3 to May 20, 2017
The enduring music of Joni Mitchell is re-imagined in this energetic musical experience. Conceived and directed by Vancouver's theatrical powerhouses (and spouses) Andrew Cohen & Anna Kuman.
Arts Club Theatre Company Presents:
Million Dollar Quartet
at the Stanley (2750 Granville St, Vancouver)
May 11 to July 9, 2017
Inspired by true events, this rocking jukebox musical takes you into Sun Records Studio on December 4, 1956, to witness the famed recording session that brought together rock and roll legends Presley, Cash, Lewis, and Perkins—for the first and only time.
Arts Club Theatre Company Presents:
Hand to God
at the BMO Theatre Centre (162 W 1st Ave, Vancouver)
May 25 to June 25, 2017
In a church basement in suburban Texas, three troubled teenagers meet weekly to express themselves through puppetry and learn to avoid the devil at all costs.
Patrick Street Productions Presents:
Little Night Music
at the Anvil Centre Theatre (777 Columbia St, New Westminster)
May 11 to 21, 2017
Stephen Sondheim's sophisticated and luscious musical, inspired by Ingmar Bergman's film Smiles of a Summer Night. The story is a series of trysts, twists, and revelations that climaxes (so to speak) during a weekend gathering at a country estate.
Staircase Theatre Presents:
The Hunger Room
at PAL (581 Cardero St, Vancouver)
May 25 to June 10, 2017
A a dark thriller that explores loneliness, disconnection and violence. A crisis takes over a suburban high school when a mysterious stalker begins delivering notes written in blood to targeted female students.
Monster Theatre Presents:
The Canada Show
at Various Venues
May 29 to June 29, 2017
The complete history of Canada in one hour.
Follow the Jessies on Facebook and Twitter for more information about theatre in Vancouver.