This summer enjoy a variety of winery events right in our own backyard as Township 7 Winery and other local vineyards in Langley, host a range of activities, from painting to live music, bacon to Shakespeare.
Langley Wine Events Summer 2017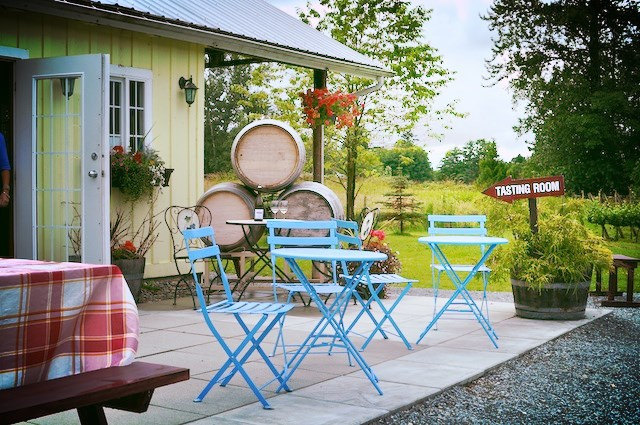 Campbell Valley Spring Wine Festival May 29 to June 9, 2017
Join the wineries of the Campbell Valley Wine Route (Township 7, Backyard, Chaberton, Glass House and Vista d'oro) for a fun filled afternoon in south Langley's very own wine region. This year each winery hosts two days with complementary culinary offerings and tastings of their newest releases, all while our vineyards are in bloom. More info »
Father's Day: Wine & Swine June 18, 2017
Celebrate Father's Day with bacon, wine and dad! The 6th annual Wine & Swine honours the special man in your life at Township 7's picturesque South Langley winery. They've partnered with the Water Shed Arts Cafe for a fantastic 3 course small plates swine inspired offering paired with our wines. Live music will also be performed at this casual, fun celebration. Book your tickets today »
Paint & Sip – Seascape: Pathway to Paradise June 15, 2017
Join resident artist, Felicity Holmes, at Glass House Estate Winery for a magical evening of painting and sipping. Included in the cost of your ticket is all your painting materials, a glass of wine, cheese & charcuterie and some other delicious treats.
Art in the Vines June 25, 2017
Over 30 established and emerging artists will be on-hand to discuss their works including crafts, jewelry, glass, pottery, paintings, photography, clothing, handcrafted cuisine, and more. Enjoy Township 7′s award winning wine, scrumptious food, along with delightful tunes. If you are a local artist interested in participating, please contact [email protected].
Bard in the Vineyard: Much Ado About Nothing July 7 to July 15, 2017
Experience Shakespeare's Much Ado About Nothing performed live in the vineyard. Full of sparkling merriment this sexy comedy sizzles as one set of lovers battles against a dirty trick and another simply battles each other in a "merry war". Delight in the play's witty dialogue performed by Bard in the Valley. Arrive early, bring a picnic and enjoy this talented local troupe paired with local wine all in an alfresco setting at Township 7. Purchase tickets online here »
Summer Music Series June 4 to October 1, 2017
Enjoy live music at Backyard Vineyards every weekend, all summer long. Talent includes John Gilliat, Fionn, Razzmajazz, Jayleen Stonehouse, Andrew Christopher, and more.
Campbell Valley Wine Route Wineries: