One of my favourite Vancouver date night activities with my husband is a dinner and a show, which is why I'm so excited to partner with the Jessie Awards this year to bring you monthly theatre listings.
The Jessie Richardson Theatre Awards are an annual awards ceremony and party produced by the Jessie Richardson Theatre Award Society to celebrate and promote the outstanding achievements of the Vancouver Professional Theatre Community.
June Theatre Listings for Vancouver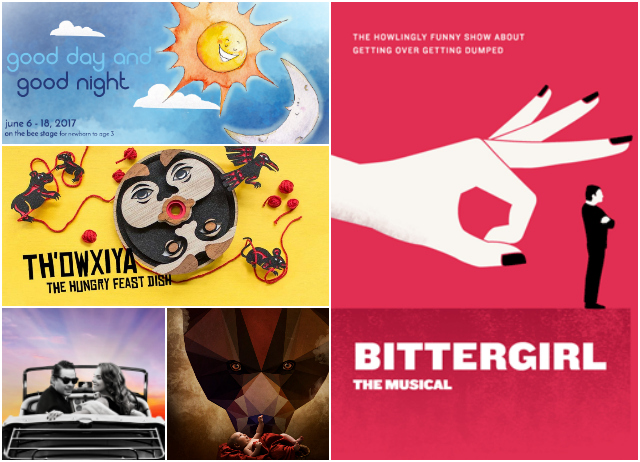 Arts Club Theatre Company Presents:
Bittergirl
at the Granville Island Stage (1585 Johnston St, Granville Island)
June 15 – July 29, 2017
This cathartic and catchy musical charts the romantic breakups of three women and the lively antics that ensue. '60s girl group music like "Be My Baby," "And Then He Kissed Me," "Ain't No Mountain High Enough," and "Where Did Our Love Go?" provide the perfect backdrop for the bittergirls' journey back to happiness. Who knew getting dumped could be so much fun?
Bard on the Beach Presents:
Much Ado About Nothing
on the BMO Mainstage at Vanier Park
June 1 – September 23
It's Italy in 1959, and a group of actors and filmmakers are celebrating the wrap of their latest movie. Movie stars Beatrice and Benedick are drawn to each other but refuse to admit it, and Hero and Claudio's marriage plans are about to be sabotaged by a journalist's mean-spirited scheme. Cue the paparazzi, then a faked death, and la dolce vita threatens to become not so sweet; but with a script full of surprises, love can still triumph before the credits roll.
Bard on the Beach Presents:
The Winters Tale
on the BMO Mainstage at Vanier Park
June 8 – September 22
A husband's fierce jealousy is the trigger for a magical and moving tale, set in Sicily and Bohemia, which begins with a cruel punishment and ends with a miracle. King Leontes believes his wife, Queen Hermione, has been unfaithful to him with his best friend, so he puts her in prison and orders that their newborn baby be abandoned in the wilderness. Sixteen years later, across the sea, two young people fall in love and their union becomes the catalyst for reunion, redemption and a family's healing.
Axis Theatre Presents:
Th'owxyia: The Hungry Feast Dish
at UBC Botanical Gardens (6804 SW Marine Dr, Vancouver)
June 24 – 25 and July 1 – 2
Six Storytellers from the Kwantlen First Nations Village of Squa'lets, spin the tale of Th'owxiya: the Hungry Feast Dish. The mouth of Th'owxiya holds the most wonderful foods from around the world. But if you steal from her, you will pay a terrible price, for Th'owxiya eats children. When a brave young mouse takes a piece of cheese from Th'owxiya, he is caught. To appease the goddess, he must find two young spirits to sacrifice to her before the moon rises or she will eat his whole family. With the help of two young bears, a raven and a sasquatch, the young mouse sets forth on a journey for knowledge and forgiveness. Th'owxiya: The Hungry Feast Dish has shades of the Hansel and Gretel fairytale and the First Nations story The Wild Woman of the Woods, told through mask and music. Suitable for ages 5–12 & family audiences.
Carousel Theatre for Young People Presents:
Good Day and Good Night
at the Bee Stage at Carousel Theatre (1411 Cartwright St, Granville Island)
June 6-18, 2017
Good Day and Good Night introduces infants, toddlers and their caregivers to storytelling and live music in an intimate drama experience that allows them to enjoy theatre on their own terms. The Sun is confident and popular. The Moon is shy and easily overlooked. One day, the Sun meets the Moon, and the two set off to explore each other's worlds. At first it seems they are too different to ever be friends, but through song, some animal friends, and a little help from the audience, they learn to accept each other's differences and become friends. They also learn that when they work together they make an excellent team. Good Day and Good Night is recommended for newborn to age 3.
Follow the Jessies on Facebook and Twitter for more information about theatre in Vancouver.