by

Disclosure: Sponsored Post

— Posted in Partnership with Explore Coquitlam. Please review the Policy & Disclosure section for further information.
If you were raised in Canada, chances are your childhood photo album includes a snapshot of your younger self holding up a trout to the camera. Fishing in the lakes is about as Canadian as wearing toques and watching hockey. And in Coquitlam, reeling in a trout has never been easier.
Coquitlam Fishing Guide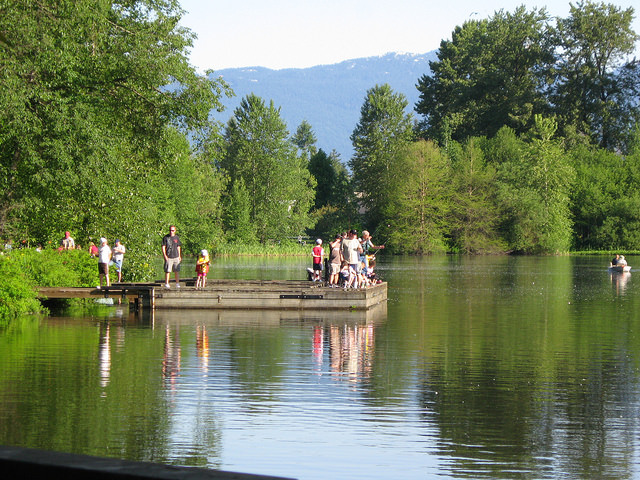 Did you know that you can step off the SkyTrain at Lafarge Lake-Douglas SkyTrain station, fishing rod in hand, and cast a line into the water?
Right now, the fish are biting. Both Lafarge and Como lakes were recently stocked with 1,000 rainbow trout each, and the months of May/June are among the best for trout fishing.
Como Lake can also be reached by transit and has easy shore access, with a loop trail for finding a quiet spot. Spin casting, bait fishing and fly fishing are all options at both lakes.
Free & Fun Fishing Events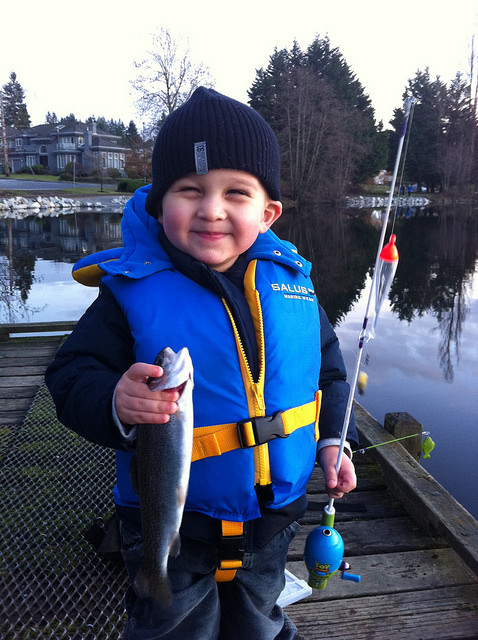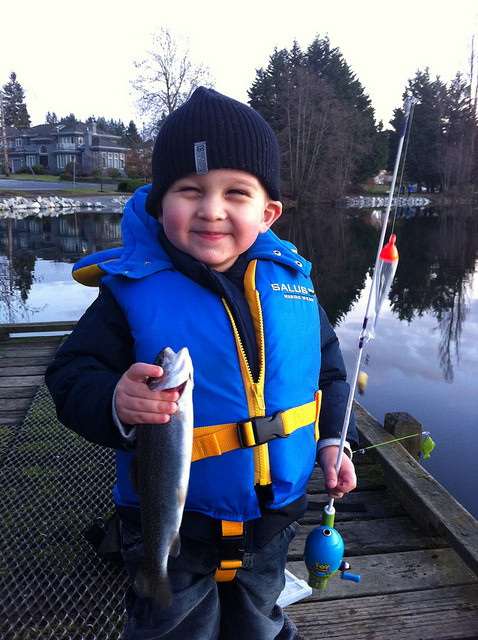 Como Lake Fishing Derby (May 28): Free, family-oriented fun for kids under age 16 at Como Lake, with prizes awarded for a variety of catches.
Lafarge Lake Annual Free Fishing Day (June 18): Fishy fun and prizes during BC's free fishing weekend, when anglers can fish BC's waters without a licence. The lake is stocked in the morning.
Learn to Fish (May-June): The City of Coquitlam offers free Learn 2 Fish events for kids age 5-17 in partnership with the Freshwater Fisheries Society of BC. For more info, see pages 17-18 in Coquitlam's spring recreation guide.
What Do You Need to Start?
BC freshwater sport fishing licences are required for recreational lake fishing for age 16 and over. You can purchase them online through the government of BC website (just $10 for the day for British Columbians). Note: Coquitlam is also known for salmon fishing, which requires a different licence. For more information, read pages 24-25 in the 2017 Coquitlam Travel & Experience Guide, available online
Rod, reel, line, hook, weight, bait/flies
Tackle box
Appropriate clothing: boots, sun hat, etc.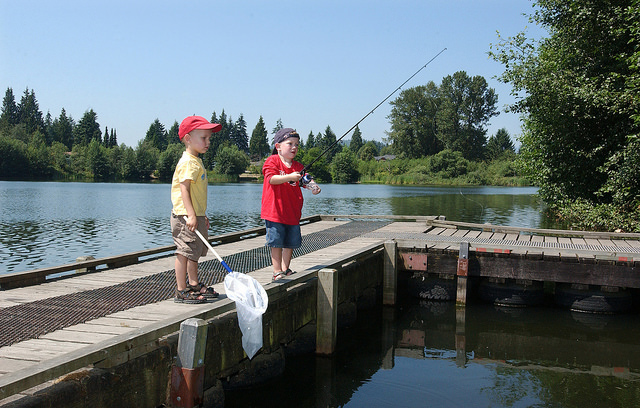 More May Events You Don't Want to Miss!
International Migratory Bird Day (May 13): Head to Colony Farm Regional Park between 1:00pm and 4:00pm for displays, children's activities and an introductory bird walk at 2:30pm. Meet in front of the community gardens, end of Colony Farm Rd.
Victoria Day Long Weekend (May 20-22): Looking for ideas to entertain yourself, your kids or your guests? From the Lower Mainland's largest indoor climbing wall to some of the region's best playgrounds, you'll find it in Coquitlam's Travel Guide.
Coquitlam's City-wide Garage Sale (May 27): Hunting for a bargain? Get ready to find some treasures.
Fraser Valley Food Truck Festival (May 27): Hungry? Feast your eyes on this foodie frenzy on Burlington Drive next to Coquitlam City Hall from 11:00am to 5:00pm.
Family Fun Day (May 27): Free fun from 10:00am to 1:00pm at Place Maillardville, featuring Bobs and LoLo, crafts, Tumblebus, face painting and a fire truck!
MEC Vancouver Century Ride (May 28): Choose between a 50km or 100km ride that takes you through Coquitlam's scenic countryside.
Explore and Share
Pick up your copy of the Coquitlam 2017 Travel & Adventure Guide at any City facility, or read it online, and share your photos online using #explorecoquitlam.