Established in 1990, Bard on the Beach is one of Canada's largest not-for-profit, professional Shakespeare festivals. This annual festival explores and celebrates the genius of William Shakespeare, surrounded by the natural beauty of Vancouver. Here's what will be on stage this season:
Bard on the Beach Summer 2017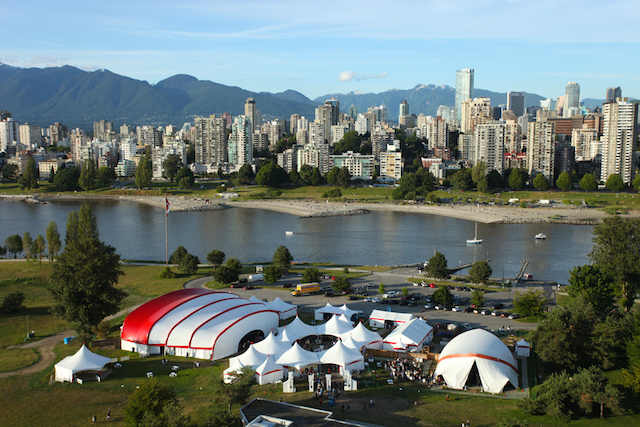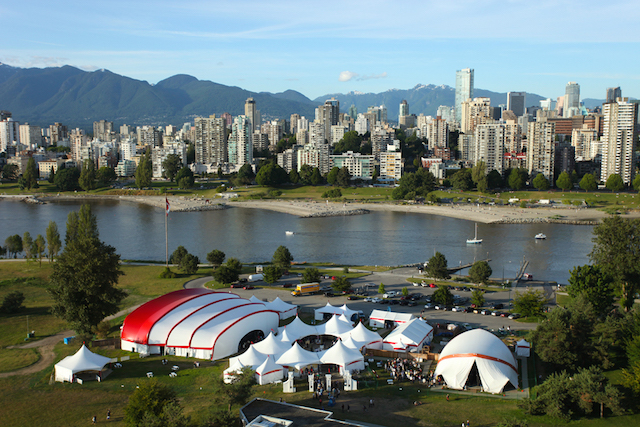 Much Ado About Nothing
June 1 – September 23 on the BMO Mainstage
It's Italy in 1959, and a group of actors and filmmakers are celebrating the wrap of their latest movie. Movie stars Beatrice and Benedick are drawn to each other but refuse to admit it, and Hero and Claudio's marriage plans are about to be sabotaged by a journalist's mean-spirited scheme. Cue the paparazzi, then a faked death, and la dolce vita threatens to become not so sweet; but with a script full of surprises, love can still triumph before the credits roll. Directed by John Murphy
The Winter's Tale
June 8 – September 22 on the BMO Mainstage
A husband's fierce jealousy is the trigger for a magical and moving tale, set in Sicily and Bohemia, which begins with a cruel punishment and ends with a miracle. King Leontes believes his wife, Queen Hermione, has been unfaithful to him with his best friend, so he puts her in prison and orders that their newborn baby be abandoned in the wilderness. Sixteen years later, across the sea, two young people fall in love and their union becomes the catalyst for reunion, redemption and a family's healing. Directed by Dean Paul Gibson.
The Merchant of Venice
June 22 – September 16 on the Howard Family Stage in the Douglas Campbell Theatre
A deeply fascinating study in contrasts, Shakespeare's timeless drama, set this season in modern-day Venice, exposes the consequences of how we treat outsiders in our midst. Portia and Bassanio discover true love but the merchant Antonio and the moneylender Shylock are driven by prejudice and the craving for revenge, as they move ever closer to a devastating judgement day. Directed by Nigel Shawn Williams.
The Two Gentlemen of Verona
June 29 – September 17 on the Howard Family Stage in the Douglas Campbell Theatre
Valentine and Proteus are best friends with an awkward problem – they're both in love with Valentine's girlfriend Sylvia. And it gets even trickier – Proteus already has a girlfriend of his own. Shakespeare's early romantic comedy is a lively riff on friendship, love and loyalty with the bonus of two very funny clowns plus a dog that just might steal the show! Directed by Scott Bellis.
Shylock
September 6 – 15 on the Howard Family Stage in the Douglas Campbell Theatre
Meet Jon Davies, an actor and a Jew, condemned by his own community for his portrayal of the Jewish moneylender in Shakespeare's The Merchant of Venice. When the production is cancelled, Davies uses his final post-show talkback to raise provocative questions about censorship in general and the political correctness of Merchant itself. Shylock was first produced in 1996 at Bard and has since been staged around the world. Directed by Sherry J. Yoon.
Play performances run Tuesday through Sunday with matinees on select weekends and weekdays and a range of special events on Monday evenings. All evening performances start at 7:30pm.
Special Events
Check out the full list of special events this season, from the Bard-B-Q fireworks, to Chor Leoni, Family Nights, Wine Wednesdays and more!
View the full schedule online here »
Tickets for Bard on the Beach's 28th season are now on sale beginning at $21. Early booking is recommended for best seat selection as many performances sell out in advance. Order online through the Bard website or call the Bard Box Office at 604-739-0559 or (toll free) 1-877-739-0559.
Follow Bard on the Beach on YouTube, Instagram, Facebook, and Twitter.