by

Disclosure: Sponsored Post

— This post is in partnership with Seekers Media and ZenSeekers Please review the Policy & Disclosure section for further information.
Seekers Media, publishers of SnowSeekers and FestivalSeekers, has just launched ZenSeekers – an exciting new media brand aimed at educating the world on nature, learning and cultural based experiences in Alberta and BC. To celebrate this new resource, they're giving away a series of amazing getaways and experiences in the #SnowToZen contest.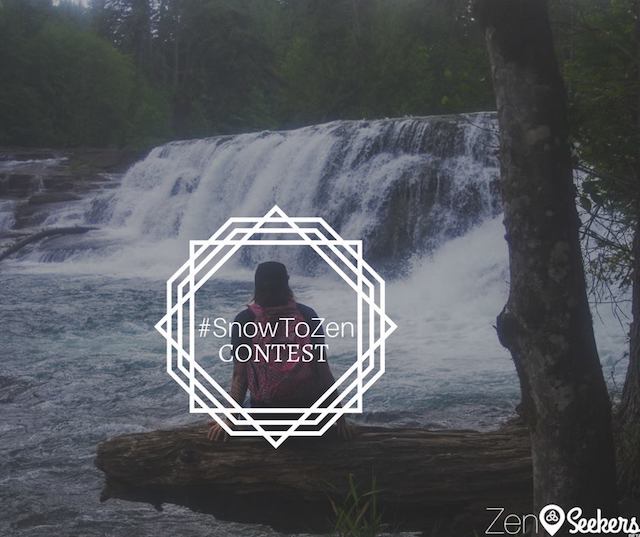 ZenSeekers
"The content focuses on outdoors pursuits with an eye to expanding world views. It will feature engaging video, photo and editorial content around experiences and destinations that allow audiences to get back to a state of zen," said Jim Barr, CEO of Seekers Media.
ZenSeekers appeals to people who seek out sensational moments on a holiday or even in their own backyard. It could be a peaceful hike in an ancient rainforest, climbing a mountain peak for the first time, or getting immersed in Western Canada's unique aboriginal culture. Seekers Media correspondents deliver an array of activities and destinations, such as the awe of watching the Northern Lights in Alberta; a magical wildlife encounter in the Rockies or what it's like to be a storm chaser – like Ricky Forbes.
"ZenSeekers is a rad hub of info and stories of travel that transforms you," says Ricky. "It's about moments that take your breath away, moments that help you find your Zen. Chase after your own ZenSeekers trip > get on over to ZenSeekers on Facebook, join the tribe, and enter to win 5 EPIC giveaways!"
#SnowToZen Contests
The #SnowToZen giveaway series is on now and you won't want to miss out on the opportunity to win some incredible experiences — and all you have to do is LIKE the ZenSeekers Facebook page and share their post to enter to win!
April 24 – 28 Experience and adventure giveaway #2: Road trip to the interior of BC for a weekend Chalet rental and Hot Springs session in Nakusp – hike, bike and a soak wrapped in nature.
April 29 – May 3 Experiences and adventure giveaway #3: Paddle into the wilds and watch for moose in Wells BC with Whitegold Adventures.
May 4 – May 8 Experience and adventure giveaway #4: Travel to the end of the 101 Highway @Lund BC and head on a Sunshine Coast experience with Terracentric Adventures + BC Ferries package (1 car + 2 guests to/from Vancouver).
May 9 – 13 Experience and adventure giveaway #5: Explore Dinosaur Provincial park via a palaeontology dig with a fossil prospecting tour. Who knows what you'll discover!
May 14 – 18 Experience and adventure giveaway #6: Destination Canada named Maligne Canyon as one of this country's top adventures. Head out with Maligne Adventures in the Canyon next winter or raft the Rockies this summer – the choice is yours! Then hop on the Jasper Tramway to take the easy way to the summit of Whistlers Mountain for one of the Canadian Rockies most stunning views.
Again, all you have to do is LIKE the ZenSeekers Facebook page and share their post to enter to win.
ZenSeekers is the only digital network that fuels your passion and desire for transformational travel experiences in BC and Alberta. Follow along on Instagram, Twitter, and Facebook for more contest info.