This post has been contributed by the Stanley Park Ecology Society, and edited by Edited by Kathleen Stormont, SPES Communications Specialist.
The Biggest Trees in Stanley Park
Many of our province's biggest trees are found right in Stanley Park, just a walk from downtown Vancouver!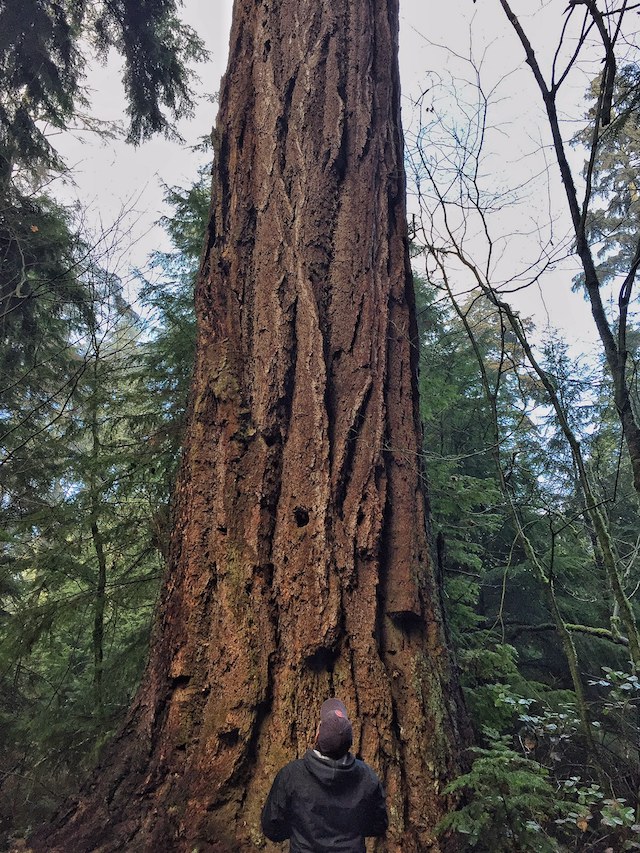 150 years ago the Lower Mainland would have been covered by lowland forest, but the rapid growth of Vancouver led to much of this forest being cleared. Stanley Park is one of the few areas of coastal rainforest that remains. Surviving logging, fire, and major windstorms in the Park, the big trees continue to stand sentinel in remnant patches of old-growth.
Bald eagles, owls, bats, and flying squirrels may be observed in or around these giants. The old trees' deformities or characteristics – like thick, corrugated bark on the Douglas firs – make them excellent wildlife trees, enhancing the biodiversity of the Park areas in which they stand.
If you've ever wondered what the forest looks like from the top of one of these giants, Stanley Park Ecology Society is hosting their third annual Big Tree Weekend on April 29th and 30th. Experts will offer tours around the base of the big trees, while others will take you into the treetops – by video camera – as they ascend to explore and reveal these biologically-rich micro-environments. For a sneak peak of the tree climb, check out this video shot during last year's Big Tree Weekend.
While Stanley Park isn't a pristine forest (massive stumps reveal its long history of human interference), it is a rich and varied habitat, and even more so since the 2006 windstorm when a fresh, forward-thinking Forest Management Plan was produced. Of the 16,000 saplings planted during the storm restoration, some trees are now two metres tall in sunlit patches of new forest succession.
Bird diversity has increased in the fresh shrubbery. Strategic forest trails were reworked with larger culverts and boardwalks to allow healthier water flow. Unsanctioned trails have been decommissioned to mitigate forest defragmentation, and invasive plants continue to be battled through strategic management. Fallen trees, now left by the Park Board, are serving as habitat and nourishment for wildlife and saplings.
Stanley Park is a lowland rainforest primarily made up of Douglas fir, western red cedar and western hemlock with a few Sitka spruce trees. Most of our forest is second or third growth – younger trees – but they are still huge. You can often tell whether an area is second growth by the scattered presence of stumps of trees logged many years ago.
To learn more about Stanley Park's forest and the big trees it houses, register for SPES' Big Tree Weekend events, April 29-30, 2017.