Red or white wine? Enjoy your favourite while supporting Big Sisters of BC Lower Mainland this month!
GrapeJuice Wine Auction for Big Sisters
Are you ready to wine down after a busy week? Join Big Sisters of BC Lower Mainland on April 26th as they celebrate the power of mentorship at their GrapeJuice event. This is the perfect opportunity for you to not only find some rare and unique wines from around the world, but also help raise much needed funds for Big Sisters BCLM.
Where: Aston Martin Vancouver and Bentley Vancouver (1770 Burrard)
when: Thursday, April 26, 2017 from 5:30pm to 8:30pm
Tickets: Available online now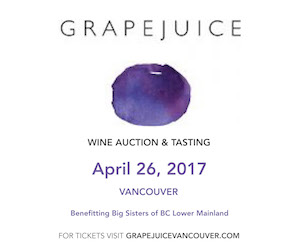 GrapeJuice will feature a cash bar, hors d'oeuvres, silent auction wine items and wine tasting stations. Featured auction wines include a bottle of 1934 Comte De Lauvia – a wine distilled from 'old-vine' Baco grapes and barreled for 70 years – as well as the Korbel Brut Rose Limited Edition Frank Sinatra bottle, designed by the legend himself in 1997. You might get to own one of these bottles, but you have to bid.
For 10 years, Big Sisters BCLM supporters, McNeill Nakamoto Recruitment Group and MLA Canada, have been putting on this delightful wine auction. Proudly presented this year by Capital Direct Income Trust, the event supports Big Sisters BCLM's mission to enhance the confidence, self-esteem and well-being of girls through supportive relationships with female mentors. Research shows that girls who have a positive mentor are less likely to engage in destructive behaviour such as bullying, fighting, binge drinking, drug use or dropping out of school.
It's a tough world for girls, but Big Sisters BCLM wants to change that. With your support we can help these girls achieve greatness.
Get your tickets here »
Can't attend? You can still donate a bottle of wine to the cause or sponsor a match in lieu of your absence!
Miss604 is a proud sponsor of Big Sisters' Mentoring Matters