Dress for Success Vancouver ("DFSV") has opened ticket sales for their highly anticipated annual fundraiser IMPACT 360. This year's theme is Opening Doors, showcasing the transition Dress for Success facilitates for women in the Lower Mainland. The event raises funds for DFSV's Sponsor a Woman and Professional Women's Group programs.
Dress for Success IMPACT 360
When: Thursday May 10, 2017 from 5:30pm to 8:00pm
Where: The Permanent (330 West Pender, Vancouver)
Tickets: Available online now for $175
Festivities will be held at the Permanent, a recently restored heritage space downtown Vancouver that once held the Bank of Canada. Elegant music and cocktails set the stage for a fashion show, live auction hosted by Fred Lee and door prizes in addition to exclusive networking opportunities.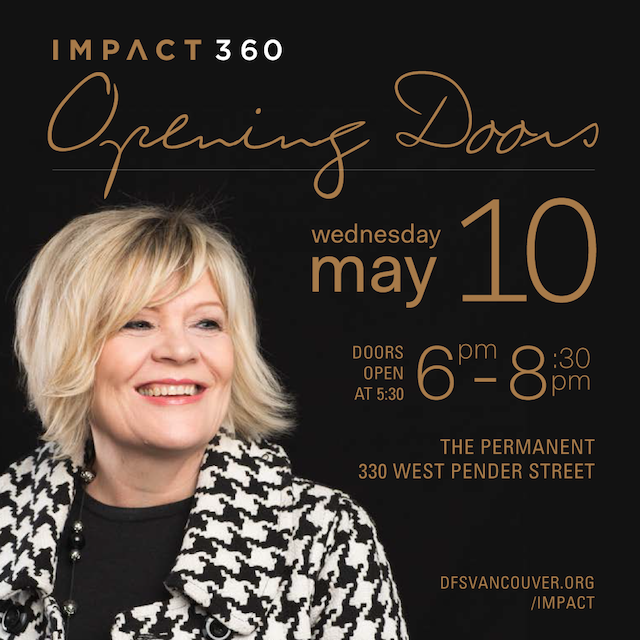 IMPACT 360 is an annually anticipated event bringing together Dress for Success Vancouver supporters, friends and corporate community.
"Every woman has a story," says Dress for Success Vancouver client, Cheryl-Ann Henning who will be walking the fashion runway at the event. "I want to be an example of courage for the donors that make these programs possible as well as other women who need a door opened for them."
Make an Impact by joining Dress for Success supporters on May 10th at their exciting new venue, the Permanent. The evening will feature spirit tastings, designer cocktails, hor d'oeuvres, music, entertainment and celebration. The goal of the evening is to help Dress for Success open the door for 100 women, at a sponsorship cost of $360 per woman, per year.
About Dress for Success
I had a tour of Dress for Success in Vancouver in 2014, and it's been a cause I've been happy to promote ever since. They are committed to empowering women into the workforce by providing a professional attire, career development tools and a career advancement program. An affiliate of the International organization Dress for Success, DFSV was established in 1999 as the first International affiliate and has served over 25,000 women in the Lower Mainland.
For more information about Dress for Success Vancouver, follow on Facebook, Instagram, and Twitter.