Last week, Metro Vancouver announced the creation of a new 75-hectare (185-acre) regional park on the slopes of Grouse Mountain that includes the popular Grouse Grind, BC Mountaineering Club (BCMC) and a portion of the Baden-Powell trails within its boundary.
A New Park in Metro Vancouver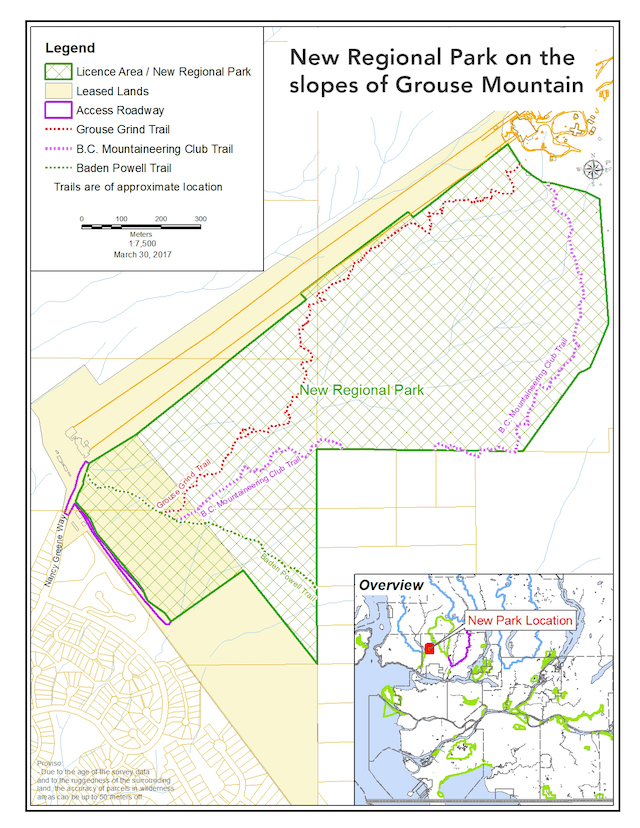 Effective May 1, 2017, the new park will become the 24th regional park in Metro Vancouver's portfolio. In addition to hosting popular hiking trails, this area of the North Shore contains mature forests and mountain streams that are home to a variety of wildlife including black bears, cougars, barred owls, black-tailed deer and northern red-legged frogs.
North Vancouver District Mayor Richard Walton is pleased to see the area becoming an official park, and remarked, "This section of Grouse Mountain is very well used by the hiking community, and its inclusion within a new park will ensure that additional resources are allocated to make it a safe and enjoyable space for the public." [Source]
The southern slope of Grouse Mountain, where the park will be located, was logged in the 1900s and trails were developed by hikers and climbers to access mountain peaks, notably the BCMC and Larsen trails. The Grouse Grind, a steep 2.9-kilometre trail up the face of Grouse Mountain, was added in the early 1980s as a climbers' conditioning trail and it has gained worldwide popularity over the years as a challenging and scenic hike, with several hundred thousand hikers tackling its steep ascent each year.
In order to establish this new regional park, Metro Vancouver Regional District entered into a long-term licence agreement with the Greater Vancouver Water District, which has owned the land for over 85 years. Metro Vancouver also worked closely with Grouse Mountain Resorts on elements of the park near the base of the mountain. The park will be adjacent to the privately owned Grouse Mountain Resorts.
Hikers are reminded that the Grouse Grind remains under a seasonal closure and will be opened to the public when annual spring maintenance works are complete and conditions are safe.
Metro Vancouver's Regional Parks receive more than 11 million visits per year. Residents are encouraged to celebrate this milestone by discovering a new trail, learning about wildlife or attending one of the many outdoor events taking place.