The Vancouver Cherry Blossom Festival runs March 30 to April 23, 2017 and organizers have made it easier than ever to find tens of thousands of blossoms all around Vancouver, and to enjoy themed events.
Where to Find Cherry Blossoms in Vancouver
A neighbourhood map is available, pin pointing over 2,100 cherry blossom locations in the city along with some of the best photo opportunities. About 50 different cultivars of flowering cherry trees are coming into bloom, lighting up Metro Vancouver and painting neighbourhoods in awash of colour from a blush of pink to pure snow white cherry blossoms. Click here for the full interactive map »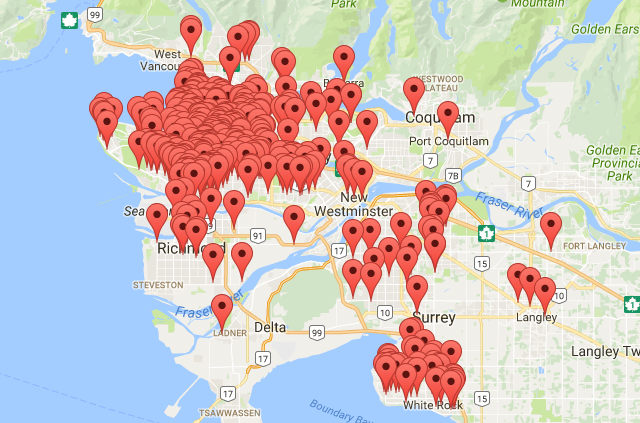 Vancouver Cherry Blossom Festival
Cherry Jam Downtown
Free on Thursday, March 30, 2017 from 12:00pm to 1:30pm
Burrard Skytrain station indoor concourse, 635 Burrard St, Vancouver
Tree Talks Walks
Free, starting March 30, 2017
Sakura Night Gala
Sunday, April 2, 2017 6:30pm: Evolve's Pink Effervescence Welcome,
7:00 to 9:00pm: Standing Dinner Reception
Stanley Park Pavilion, 610 Pipeline Road, Vancouver
Sakura Days Japan Fair
Saturday, April 8, 2017 11:00am to 7:00pm & Sunday, April 9, 2017 11:00am to 5:00pm
VanDusen Botanical Garden, 5251 Oak Street at 37th, Vancouver
The Big Picnic
Pending bloom, TBA
Queen Elizabeth Park @ W 33rd Ave and Cambie
You can also participate in the Haiku Invitational, March 30th to June 1st. Follow the Vancouver Cherry Blossom Festival on Twitter and Facebook for more information.