by

Disclosure: Sponsored Post

— The #SkiNorthBC series is in partnership with SnowSeekers Please review the Policy & Disclosure section for further information.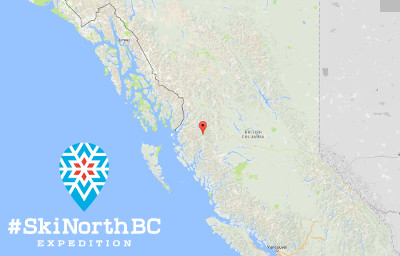 This winter I partnered with SnowSeekers, with whom I have done a few fun assignments, to share their #SkiNorthBC stories from destinations in Northern BC.
The team visited Powder King, Terrace, Smithers, Quesnel, Troll Ski Resort, spent 72 Hours in Smithers, explored Hudson Bay Mountain, and visited Terrace. The FINAL story is from SnowSeekers #SkiNorthBC expedition member Matt "Powder Matt" Mosteller who met up Paralympic bronze medallist Caleb Brousseau at Shames Mountain.
Shredding at Shames
Powder Matt's visit to Shames starts out with "parking lot attendant greets you with big smiles and blaring classic rock tunes" and escalates to a point where his excitement beams from his report, as he uses terms with which even I am unfamiliar.
"Taking a look at the ski touring map, you can easily picture yourself enjoying a lifetime of options further afar. Or, you could be easily entertained with yo-yo laps for hours, right from the top of the lift. Sure, this place has a good offering of cruisers, in-bound glades, moguls, groomed runs, in addition some steeps and a terrain park."
Above all else, Matt says that hands down, "the draw is one of North America's best lift-accessed backcountry ski touring."
From there, Matt met up with Caleb Brousseau, who recently won bronze in Socchi.
You can't miss the big smile and laughs, of Caleb Brousseau, who grew up in nearby Terrace, learned how to ski and ride on these family-friendly slopes. His laps were learned on the antique chairlift and t-bar, day in and day out, from sunrise, to sunset. No wonder this kid was hooked on this sport…

…"After all that training and commitment to my sport, it is so cool to be here. Shames is my hometown hill, it offers some of the deepest snow, I have ever seen, and it has hands down some of the best side country offering anywhere," says Brousseau.
Shames Mountain is a 30-minute drive from Terrace, and it is operated as the first community co-operative ski area in Canada. Read the full story about Shames Mountain via SnowSeekers here »
If You Go
#SkiNorthBC and explore more! For travellers, SnowSeekers has partnered with National Car rental to secure you a SnowSeekers preferred rate. Make a reservation online, or with an agent and in the Contract field enter XVC4SNO for a savings that could cover your ski pass cost every day.
Read the full story about Shames Mountain via SnowSeekers here »