by

Disclosure: Sponsored Post

— Published in partnership with the SnowSeekers #SkiNorthBC campaign Please review the Policy & Disclosure section for further information.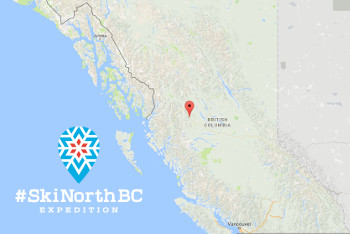 This winter I partnered with SnowSeekers, with whom I have done a few fun assignments, to share their #SkiNorthBC stories from destinations in Northern BC.
The team visited Powder King, Terrace, Smithers, Quesnel, Troll Ski Resort, and spent 72 Hours in Smithers. The sixth story is from SnowSeekers #SkiNorthBC expedition member Dax Justin, as he experienced Cabin Life at Hudson Bay Mountain.
Cabin Life at Hudson Bay Mountain
When Dax spent 72 Hours in Smithers, he did his first sunrise shoot from the peak of Hudson Bay Mountain. It was then that he discovered that there's a handful of people who live on the mountain and live the Hudson Bay life to its fullest.
"Nearly every person I talked to said they would never leave because they have a deep love for the mountain and close bonds with each other. One snowboarder told me, 'You can let your kids run wild on this hill with their friends; it's safe. All of our families look after each other.'"
Read the full story about Cabin Life at Hudson Bay Mountain on SnowSeekers here »
Dax skied in knee-high, untouched powder through snow-laden trees, all while slaying some incredible terrain. He writes that the best part was, it wasn't crowded and he learned to understand what brings pure joy to the people from Smithers' Hudson Bay Mountain.
A video that colleague Chris Wheeler produced for the Snow Seekers #SkiNorthBC campaign at Hudson Bay has gone viral, with over half a million views thanks to a share from Explore Canada. He and Dax met Jason Krauskopf's family (including two boys Toan and Tosh) and filmed as they jumped off their back deck into the pool of Hudson Bay powder below:
At the end of a sunrise-to-sunset day on the slopes, the crew was invited to Kelly McCormack's cabin. "We literally skied to her front door. I felt like I'd just walked into my aunt's house because we instantly hit it off," writes Dax. "The skies were drenched with colour and over a hot chocolate I talked to Kelly about what she loves about this mountain."
Read the full story about Cabin Life at Hudson Bay Mountain on SnowSeekers here »
If You Go
#SkiNorthBC and explore more! For travellers, SnowSeekers has partnered with National Car rental to secure you a SnowSeekers preferred rate. Make a reservation online, or with an agent and in the Contract field enter XVC4SNO for a savings that could cover your ski pass cost every day.
Read the full story about Cabin Life at Hudson Bay Mountain on SnowSeekers here »