by

Disclosure: Sponsored Post

— Published in partnership with the SnowSeekers #SkiNorthBC series. Please review the Policy & Disclosure section for further information.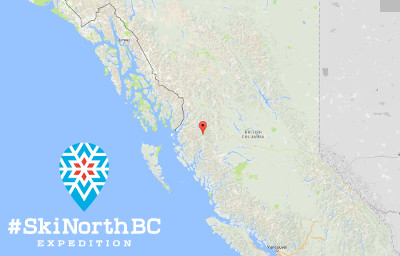 This winter I partnered with SnowSeekers, with whom I have done a few fun assignments, to share their #SkiNorthBC stories from destinations in Northern BC.
The team visited Powder King, Terrace, Smithers, Quesnel, Troll Ski Resort, spent 72 Hours in Smithers and explored Hudson Bay Mountain. The seventh story is from SnowSeekers #SkiNorthBC expedition member Dax Justin who shares what he got up to with 72 Hours in Terrace…
72 Hours in Terrace
Terrace was actually the first stop on the #SkiNorthBC expedition, and even before landing in this northern town of 13,000, photographer and adventurer Dax Justin got the inside scoop from a local who was seated beside him on the plane. Aside from talking to locals, the best way to get to know a region is to learn about its history. In this case, Dax went to Kitselas Canyon to learn about the Kitselas Nation.
"Long before this area was known for its recreational opportunities, it was home to the Kitselas people, a tribe of the Tsimshian Nation, who've lived in the area for thousands of years. I wanted to find out more meet some people from the community.
Kitselas Canyon, on the banks of the Skeena River, is just outside of Terrace. The Kitselas or "People of the Canyon" are among the five Tsimshian Nations to call the Northwest Coastal Region of BC home."
Dax and the team met up with Webb Bennett, a member of the band, who toured him around the area. "We have four clans represented by these totem poles. Wolf, Eagle, Raven, and Killer Whale. Your clan affiliation depends on what your birth mother was; so since my Mother is a 'Ganhada' (Raven), I myself and my siblings are Ravens."
Bennett told them how his people have been the "protectors" of this region. Preserving and sustaining the well-being of everyone in the four clans was the priority for the Kitselas. And everyone pitched in to make the community strong. If you were old enough to walk, you worked to help the community. Looking over at Kitselas Mountain, Dax asked him what the mountain would say if it could speak… read his moving reply in the SnowSeekers story ».
What else did Dax and the team get up to in 72 hours? Cross country skiing at Onion Lake, a rewarding evening of apres at Sherwood Mountain Brewhouse, a comfy stay at Skeena River House B&B, and deep, fluffy snow at Shames Mountain.
Read the full story about 72 Hours in Terrace on SnowSeekers here »
If You Go
#SkiNorthBC and explore more! For travellers, SnowSeekers has partnered with National Car rental to secure you a SnowSeekers preferred rate. Make a reservation online, or with an agent and in the Contract field enter XVC4SNO for a savings that could cover your ski pass cost every day.
Read the full story about 72 Hours in Terrace on SnowSeekers here »